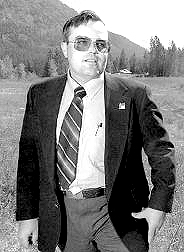 Much has been written about the young women of Bountiful, B.C., who are married off and having children as young as 15 -- although the leader of the polygamous community, Winston Blackmore, now assures the public that the marriageable age has been raised to the age of consent.
But what is it like to be one of "the Lost Boys," young men of Bountiful who are forced to leave their homes and families for disobeying the "prophet" Winston?
Jane Blackmore, the rebellious first wife of Winston Blackmore, has told The Tyee of troops of "boys that no one knows what to do with" who get shuffled from farm to farm for other wives to look after.
She described boys who have little recourse in a community where self worth is based on how many wives you are "given" by the prophet, based on merit that is decided by him and the God he alone speaks for. She spoke of a skewed community where, since most of the young woman are "given" to a few older husbands, the ratio of unmarried young men to unmarried young women is highly unbalanced.
In 2005, Jane Blackmore, with the help of community members, started a program to help these boys, most of whom leave school before grade 10, to integrate into wider society. The program offers them the support and career counselling they need to get themselves back into school and heading in a direction of their own choosing.
Two of these boys, Truman and Frank Oler, don't look like the brothers that they are. Truman is a tall, gentle, soft-spoken young man of 23, with prairie blond hair and clear blue eyes. Frank, 18, is dark, fast talking and sharp; he is full of ideas and plans, outspoken and opinionated. It is easy to see why he would have grated against the overbearing rules of the closed community.
On a sunny day in Cranbrook, the two discussed with The Tyee their experience growing up in the community of Bountiful, and how they felt the media attention had impacted the community and their own lives, and the changes that have happened over the past few years.
Both of you were working full time as loggers in Bountiful before you left. I gather logging is pretty good money -- how long ago did you leave and why?
Frank: Half a year ago. I don't want to spend my life doing that.
Truman: You're just basically existing; you're not going anywhere.
Frank: Well, I've been logging for three and a half years straight and it's the same thing every day. I want to have options instead of just going and jumping on a piece of equipment everyday...that doesn't sound fun.
So you started working full time at the age of 15? What about school?
Frank: I left school in grade eight to get away from home. If you left school to go to work you got to stay in crew houses. It was better than being at home (with all the women and children).
How many boys were in the crew housing with you?
Frank: A couple of hundred guys. Lots of my friends left to go to work because it was a better option. We made fence posts...they fed us and we could stay in the crew houses. (Frank pauses and looks at Truman.)
Truman: We worked 40 hours a week, and got paid $100 every two weeks.
What? You left school as minors to work full time as labourers, for a reputable Canadian business, and got paid $1.25 an hour?
Frank: Well, actually until you were 18 you got paid $60 every two weeks. So I would have been working full time for four years by then.
Truman: When I was about 19 they decided to start paying us $300 every two weeks, but we were supposed to start buying our own vehicles with that.
It sounds suspiciously like child labour.
Truman: Yeah, they had us convinced that we were doing the right thing.
You must feel angry now that you know how much other people make working those kinds of hours.
Truman: Yeah, well there's not a lot I can do about that.
(Both young men are silent for a moment.)
Truman: Some people when they got older they got given houses and trucks and what not...I guess if you worked hard, and if you were a good citizen in the church you were given a house and a wife too. Which was something you always looked forward to. You were not supposed to ever like someone. You were supposed to stay away from the girls, and we did for the most part, 'cause if you didn't you would never get married. I was 21 before I ever kissed a girl...
Frank: They (the girls) were in our school, but we weren't even allowed to talk to them. We were told to treat them like a poisonous snake.
Truman: Steer around them, and stay away from them so you don't get bit.
(They both laugh.)
Was there pressure to leave school?
Truman: I hated school. All the guys were kinda thinking that we didn't need an education if we were just going to be labourers all your life, because if you were working for the church that is what you were going to be. I just didn't want to stay at home. Now it does (bug me). When I left school, no one even cared. My father (Damon Oler) wanted me to go back. He said he wanted all of his children to be educated. But I was working for Winks, and he was the bishop of the church, and I was making him happy so I think that is why my father didn't really say anything.
You were working for "Winks"? Is that Winston (Blackmore)? The Prophet's nickname is "Winks"?
Frank: That's what we call him, Winks -- what the kids call him.
Frank: None of my brothers or sisters made it through to grade 12. Some of the older ones did back when the school still went to grade 12, but that was years ago. Most of everyone out of there needs upgrading from grade nine or 10.
Truman: Ever since I left the church (at 21) I wanted to go back to school.
What do you think an education is going to offer you?
Frank: The choice to work for other companies and not just focusing on religion and having that be the meaning of life.
Truman: I want to be able to tell someone what they are going to pay me, instead of them telling me.
Frank: I think the future looks good. I just wish I had my grade 12 so that I can be enrolled in college. So that I could be done.
What do you want to do?
Truman: I want to study heavy duty mechanics.
Frank: I want to be a lawyer.
How are you supporting yourselves to go through school right now?
Truman: My family is in the Warren Jeffs group. (Jeffs is currently on the FBI's most-wanted list for a variety of allegations; his whereabouts are unknown.) Jane (Blackmore) is pretty much the only one supporting me right now...
How do you feel all the media attention has affected the situation in Bountiful?
Frank: I think (people) are just realizing that the church doesn't really mean that much to them anymore, that there is more to the church. That they need an education to get anywhere.
Truman: Not necessarily to get anywhere but to make some real money.
Frank: The only thing that I have seen change in Winston is that he will let people do whatever they want now so people will stay with him.
So do you feel it would be better if the media and others left you alone?
Frank: They shouldn't be left alone but I don't know what anyone can do about it. If Jane (Blackmore) can't figure it out I'm sure it must be pretty complicated...
How do you feel about polygamy now that you know about other ways to live?
Truman: I think it's sick and wrong. I think my father made it look like something that was ok, but the fathers I see now really don't take that time. He had a big family but he took care of us all. If you were in the church I would understand how it would work, but outside it would be impossible. And I wouldn't even want to. It's hard on the women too. Lots of them are taken away, they are told to leave their husbands, and then they just do. I had five moms; one of them got taken away and married to another man...
If you could go back and have it be different, what changes would you have made?
Frank: It would have been nice to finish school, but as long as I was with the church it didn't really bother me. I didn't even miss it. I didn't really realize how the world works, and that you can live any lifestyle that you want.
Truman gets very quiet for a moment, and then gets up to leave. Right before he goes he turns and says softly, "I wish I would have done more for my own father than for Winston. All of my brothers except for one worked for Winston, and my dad didn't have very much help. There was always a lot of work to do, around the house, for a family that big, and my Dad pretty much had to do it all alone. I'd change that if I could..."
This interview was conducted last year. Earlier this week, The Tyee found Jane Blackmore in Cranbrook and asked for an update on the boys' progress.
Blackmore says that the education support program is bringing a lot of success. Truman has just finished his first year enrolled in a mechanics course. Frank has just this week graduated from high school, and -- with money that he received from a traffic accident -- has bought his first house. Not bad for a 19-year-old who dropped out of school at 14, and had very few options open to him at all until a year ago.
As the RCMP continues its investigation into allegations of abuse coming from the closed community of Bountiful, some residents have been quoted saying they feel persecuted by the media and police. In the past year, the polygamist Mormon community leader Winston Blackmore and those of his wives who remain loyal followers, have staged two media events in order to show the public that they are happy. Their message is that their religious freedom to practice polygamy is guaranteed by Canada's charter of rights.
The charter also states, however, that it is "founded on the principles that acknowledge...the dignity and worth of the human person...and the fundamental right to security of person." Which raises the question for some: while Blackmore and his wives have been loudly proclaiming their happiness and right to practice their religion, what about those members of the community who are not given the right to choose?
When the RCMP investigation soon comes to a close, Canadians may be forced to make an important decision regarding which freedoms come first: the religious freedoms of the parents, or the right to equal opportunity of education and work for all Canadian children.
Canadians will also have to decide who in Bountiful has actually been persecuted: the parents and prophet, or their children?
Amanda Euringer is a Vancouver writer. Her previous article on Bountiful for The Tyee can be found here.