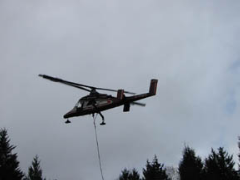 Debbie Geddes is grieving and very angry.
Geddes lost her boyfriend, 52-year-old Ted Gramlich, in a falling accident near Parksville, November 21. He was the 38th person out of 41 to die in woods-related deaths in the province so far this year.
Geddes feels sure that Gramlich wouldn't have died if sufficient attention had been given to safety precautions in the heli-logging operation.
"If safety was first, as they say, he'd be alive today," she said. "He'd be in hospital but he'd be alive. I'm very angry abut the fact that he suffered because they didn't get there in time, and he didn't have to."
Returned to logging
Geddes said that according to what she had been told, Gramlich died of internal bleeding after being struck by forest material, perhaps triggered by failure to have or use a metal bar that should have been used at that point.
"People get around that," she said, "They shouldn't, but they do."
That, says Geddes, is not the point, and she's furious that a representative of the BC Forest Safety Council - just established last year - recently responded to this year's near doubling of forest-industry deaths in BC by noting it's not a record, by any means. "We don't want to go back to those days," she said, recalling times when woods personnel were hardly more than canon-fodder in the battle for profits.
Geddes says Gramlich got out of logging, his line of work since he was 19, after he broke a leg a couple of years ago. The couple set up a small business of their own to try to generate an alternate income. But Geddes says her boyfriend wanted to be able to give her more, so he went back.
He began working, as so many do now, for a very small outfit as his own contractor with a partner. As the BC logging industry shifts to more private, small contractors, safety factors are eroding say union safety officers and other experts tracking the trend.
Delayed response
Tragically, the two men were working some distance apart and not able to see each other when the accident occurred. Geddes says Gramlich was thrown 75 feet by the force of the blow and lay bleeding internally for 45 minutes before his partner suspected something must be wrong and raised the alarm.
Then, because there was no helicopter landing pad nearby, she says it was another two hours before they were able to airlift him out to hospital, not in nearby Nanaimo because of fog, but in Duncan.
He died, she says, on the way to hospital. Had he got there quicker, she feels he would have had broken bones but would have survived the accident.
"He was very cautious and he always had the right gear," she said this week. "The WCB (Workers' Compensation Board) and the company still haven't managed to get in there to complete their investigation."
'If I can save one life'
Geddes said she worked in industrial first-aid in Alberta prior to linking up with Gramlich and she intends to upgrade her training to work in the forest industry to try to help his colleagues out in the woods.
"If I can save just one life that would be wonderful. He has lots of 'brothers' out there."
The B.C. Forest Safety Council, which is working on programs to have both qualifying fallers and truck-loggers certified as fully trained, including in safety matters, has a policy that "all accidents are preventable."
That, said Geddes, merely supports the tendency of too many logging companies to shift the blame as much as possible to the failures of individual workers, whether their own contract employers or as direct employees of larger companies. It reduces, say industry critics, the larger companies' own responsibility for ensuring they provide a suitable safety-program "net".
It is not known whether a formal inquest will be held into Gramlich's death. The main forest union says that full, formal inquests should be part of the BC Coroners Service's inquiry into all such industrial fatalities.
For more on pressure faced by the Coroners Service to hold inquests on logging accidents, read today's Tyee article here.
Campbell River journalist Quentin Dodd is a regular contributor to The Tyee.