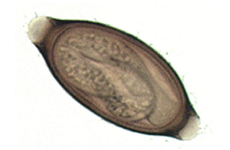 Some drinks in the world are sweet, some are bitter and some are laced with 2,500 live worm eggs.
Sixty daring souls with bowel disorders swallowed such worm-egg cocktails for six months as part of a research project that suggests drinking worms may be a viable treatment for Crohn's disease and ulcerative colitis - a novel idea in an industry that seldom chooses live organisms as medical treatments.
Preliminary results of the research, underway at the University of Iowa, are encouraging. More than half the patients improved, showing decreases in pain and less inflammation. The investigators believe the improvements are due to the innate ability of the worms to sooth inflammation in the bowel.
So, for two diseases that currently have less-than-satisfactory treatments, the eggs are an intriguing possibility. "It sounds like an interesting idea," says Scott Leslie, a Victoria resident who has suffered with Crohn's disease for 17 years. Although it might be surprising to some, Leslie's reaction to the worm-egg cocktails isn't "ick" -- it's "tell me more."
Pre-pharmaceutical
The treatment, which is reminiscent of the leeches and maggots sometimes used in ancient medicine, involves the use of pig whipworm eggs. The invisible eggs are suspended in a commercial drink-the researchers won't reveal which product -- and are fed to people every three weeks for six months.
"Volunteers were easy to get," says Dr. Joel Weinstock, director of the center for digestive diseases at the University of Iowa and leader of the worm studies. "Patients didn't seem to have a problem completing the treatment."
The doctors stress that the worms are harmless in humans. But they could, if necessary, be eliminated with the use of drugs.
Pigs and eggs
The whipworm eggs used in the experiment are breed in pigs and undergo a battery of tests to ensure they are pathogen-free. These eggs are a non-human parasite that can reside in the bowel and briefly mature, but are soon flushed out by our immune system. "We felt it was the absolutely safest organism were could pick," says Dr. David Elliott, a physician who participated in the studies.
"[The eggs] are as good, or better, than any of the new biological therapies we have," says Dr. Remo Panaccione, Assistant Professor of Medicine at the University of Calgary, who was not involved in the studies but is a Crohn's Disease expert. However, Panaccione does caution about the early stage of the research.
'Dozens of pills'
Crohn's disease and ulcerative colitis, often called chronic inflammatory bowel disease, are extremely painful, causing fatigue, vomiting, and anemia. On occasion, the bowel of a patient is removed.
Treatment of these diseases often involves powerful anti-inflammatory drugs, which are expensive, can have side effects like bone thinning and cancer. And in some people, the treatments do not work.
"To control the disease people often have to take dozens of pills every day," says Weinstock, "and the treatment is not satisfactory for many people."
"There are no fully successful treatments for Crohn's and certainly no cures," says Leslie, who is currently on two different drugs that modulate his immune system and is experiencing some unpleasant side effects. New treatments are definitely needed, he adds.
Why... worms?
Although the cause of chronic inflammatory bowel disease remains a mystery, the symptoms are linked to an over-reactive immune system. And the incidence is increasing.
"Inflammatory bowel disease was once rare and is now common," says Weinstock. In fact, the disease only started becoming more common in the 1950's, an appearance that seems to be linked to geography -- you can find it quite readily in industrialized countries but will have a hard time locating it in poorer countries.
A parasitologist by training, Weinstock wondered if de-worming -- in this case the removal of a group of worms called helminths by improved sanitation-contributed to the emergence of inflammatory bowel disease. While it may sound like a far-out idea, it has a scientific basis. Helminths can modulate the immune system that goes awry in inflammatory bowel disease.
Evil creatures?
"You're supposed to paint [worms] as always being awful and terrible," says Weinstock, "but there isn't much data showing these creatures are evil."
To see if the theory had merit, Weinstock and his colleagues turned to mice. "When we first started this, it was thought of as an interesting concept, but kind of out there," says Elliott, who began to explore the theory in mice. He found that mice with a condition similar to human colitis got better when fed immature worms.
Sipping worm eggs
With this in mind, the researchers decided to feed worm eggs to humans. "We figured if we didn't do the experiment, it would probably never get done," says Weinstock. His team is one of the only groups in the world with access to both worms and patients with inflammatory bowel disease.
In the first study, 29 Crohn's patients who no longer responded to conventional treatment volunteered to swallow the live whipworm eggs. Twenty-one patients improved, apparently due to the ability of the worms to decrease immune factors that are unnaturally elevated in these patients. The results of the study were published in journal Gut in January.
But the Crohn's study, could not rule out that some improvements are due to a placebo effect. To eliminate this, the Iowa group undertook a randomized double blind study of patients with ulcerative colitis. Thirteen of the 30 patients getting worms improved, as compared to four of 24 patients receiving a placebo. The results are published in the April edition of the journal Gastroenterology.
"What's really neat is that this is a clinical study with people and it looks like its working," says Dr. Derek McKay, associate professor of pathology and molecular medicine at McMaster University, who was not involved in the study but is an active researcher in the field.
Too clean?
The two studies also add credence to the "hygiene hypothesis," which points to a link between conditions like asthma, allergies, and inflammatory bowel disease and cleanliness. The idea is that a lack of exposure to pathogens early in life increases some people's susceptibility to the conditions, says Weinstock.
In the case of inflammatory bowel disease, the worms may induce immune responses that help protect against the disease. The exact mechanism is unclear and factors such as genetics likely play a role, but Weinstock suggests excess hygiene could be one piece of the puzzle.
More research and a larger trial are needed if whipworm eggs are to become a treatment option, the doctors say. Alternatively, the whipworm research may point to new ways to design drugs to decrease inflammation, says McKay.
'Nothing crawls out of you'
However, there is always a concern that patients may not want to use such a product for psychological reasons, says Panaccione.
All told, the worm eggs don't scare Leslie, who has been battling with Crohn's since he was 19. "If I were to understand the risk factors, I would be willing to use the treatment," he says. However, "I do think you will find certain people reacting badly to it," says Leslie, "but, I think, if you offer people with Crohn's disease relief from their symptoms, then people will gladly take you up on it."
Weinstock agrees and says he hasn't seen people shy away yet. "Nothing crawls out of you," he says. "It's not a gory thing."
David Secko is on staff at The Tyee with a focus on science.