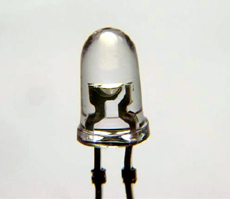 Most people flip a light switch without a second thought, but for a First Nations community in the Chilcotin region of British Columbia such thoughts don't come so easily.
The Xeni Gwet'in First Nation community is off the province's electricity grid, forcing them to use expensive generators, propane systems, or even batteries to generate electricity. As a result, many of them don't light their homes in the evening.
Carolanne Inglis took a dark view of that situation. So she headed out to the Chilcotin region as a soldier of the Calgary-based Light Up The World Foundation. LUTW's mission: to make sure every household in the world has affordable lighting.
That's no easy task, since about two billion people worldwide do not have access to electricity. For them, nightfall equals darkness. And many of them live not in the developing world, but right here in BC.
Wherever there is no electricity, people get their light from candles, biomass, propane and kerosene -- all of which can be expensive and dangerous. That's why Light Up the World and many others are turning to solid-state lighting.
What's a WLED lamp?
"It amazed me to hear that a number of First Nations communities in Canada are off the electrical grids and in some cases use flashlights for light in the evening," says Inglis.
Inglis, a recent graduate of the University of Calgary, spent the last year of her degree working on a pilot project in Xeni Gwet'in First Nation community to see if lighting technology developed by LUTW could help solve the community's lighting woes.
Along with Nicholas Heap, from the Pembina Institute, a not-for-profit organization dealing with sustainable energy sources, and a grant from the federal government's Natural Resources Office of Energy Efficiency, Inglis installed 25 white light-emitting diode (WLED) lamps in various homes in the Chilcotin region.
WLED lamps are inexpensive and use a fraction of the energy normally required for conventional lighting, in this case allowing the lamps to be directly connected to the battery powered phone system present in each of the homes.
"The lamps draw virtually no energy from the phone system," says Inglis, "but in turn allow people to stop using flashlights or expensive propane systems to light their homes." This saves each household approximately $220 a year, estimates Inglis, while also providing a quality source of light on demand.
"People in the Xeni Gwet'in community really took to them," says Inglis.
'Fundamental shift'
The Xeni Gwet'in community is just one example is how solid-state lighting, of which WLED lamps are an example, is making an impact in the fight for light. In fact, not since fluorescent tubes became widely available in the 1950s have lighting engineers seemed so happy.
TIR, a Burnaby-based company that is a world leader in solid-state lighting, states on their website that it "is a fundamental shift in the technology of lighting, an industry that has seen very little change since it began in the 19th century." A change TIR equates to the electric light bulb replacing the oil lamp.
Solid-state lighting generally refers to the technology built around bringing WLED light sources into use. WLED technology is based on a diode that conducts electricity in one direction through various materials, like phosphorus, germanium, or arsenic, which light up as electrical current passes through them. Such diodes are inexpensive to make, exceptionally bright, and shine continuously for 30 or 40 years.
"When a WLED lamp is turned on in the darken lab it's an exciting moment," says Rodolfo Peón, who helps design lamps at LUTW as director of research and development. In fact, some of the original lamps were so bright Peón and his colleagues had to engineer a dimmer switch for them.
WLED lighting not only has a long life, but may help us curb our electricity use. Twenty-two percent of electricity use now goes to lighting, and in a recent issue of Science, Fred Schubert and Jong Kyu Kim, two experts on LEDs, suggests this number could be cut in half by moving to solid-state lighting.
With emissions of greenhouse gases due to energy consumption a continuous concern, solid-state lighting may therefore be an environmentally-friendly choice (barring we don't use 11 percent more WLED lamps) in urban centers that tend to be lit all night long.
Small solutions
However, the WLED lamps developed by LUTW are not intended for Vancouverites. Instead, they are destined for communities in third world countries.
Credit Dave Irvine-Halliday, a professor of electrical engineering at the University of Calgary, for a vision that came to him in 1997.
Irvine-Halliday was in Nepal at the University of Tribhuvan in Kathmandu when he was struck by the poor living conditions of villagers in the area. Without electricity, most villagers in Nepal rely on kerosene-burning lamps, which provide little light, produce toxic smoke, and are expensive to use for already poor families. Irvine-Halliday set out to change this.
"Dave was a backpack philanthropist is those days," says Ken Robertson, executive director and co-founder of LUTW. Irvine-Halliday would hike through the mountains of Nepal with his wife, as the went installing WLED lamps in villages.
"Then in 2001, [Dave and I] created the foundation as a not-for-profit organization to try and expand the work we were able to do," says Robertson. They were spurred on by the World Health Organization's estimate that two million children died from acute respiratory disease in 2000, with many of these deaths related to air pollution from kerosene-burning lamps.
The developing world spends on estimated $96 billion U.S. per year on kerosene, which in Nepal, equates to one-third of their gross domestic product. "Kerosene is a real scourge," says Robertson, "and we think we have a small solution to a large problem through the substitution of WLED lighting systems for kerosene- and wood-burning lamps."
With numerous volunteers, LUTW is now running lighting projects in places like Ghana, Pakistan, Nepal, Sri Lanka, and Costa Rica.
Rethinking light
Robertson believes the time of solid-state lighting has arrived, pointing to the success of companies like TIR.
These various lighting technologies, not only those made by the LUTW, but also those made by other companies and researchers around the world, are making everyone re-think how to light your home, says Robertson.
In fact, this arrival has attracted Canadian Hydro, the World Wild Life Fund Philippines, Lumileds Lighting, and various other organizations and companies, to partnerships with LUTW.
In addition, "Carolanne Inglis's work in B.C. was a North American first and opened many eyes," says Robertson, who adds that the foundation has been now been contacted by a Navajo reserve in the United States whose 17,000 residents are in a similar situation.
Overall, Inglis hopes that the recognition that even some Canadians are living without access to electricity will help increase these partnerships and allow solid-state lighting to make a difference. "There is a lot of potential in these lights and people should see what they have to offer," says Inglis.
Dave Secko is on staff of The Tyee with a focus on science.