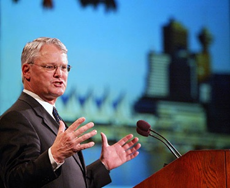 Back in 2001 when the BC Liberals were running for their first term in office, they promised to take firm steps to eliminate cronyism in the awarding of government contracts.
BC Liberal leader Gordon Campbell had been infuriated when, after Ujjal Dosanjh became premier in February of 2000, some of his leadership campaign supporters got jobs in the premier's office.
"I was wondering why the premier felt it was appropriate to hire people into his office who worked on his leadership campaign . . ." Campbell asked during estimates debates on June 29, 2000.
"I think what the premier doesn't understand is that this is about leading by example," Campbell added. "The example the premier sets to his cabinet colleagues is that it's all right for him to appoint his leadership supporters to $100,000-a-year jobs or $90,000-a-year jobs."
Running in 2001, the Campbell's party's "A New Era for British Columbia" document promised to "act to initiate" to "[r]estore open tendering on government contracts to allow fair competition for businesses and provide better value for taxpayers." And to do it within 90 days of being elected.
But contracts awarded to a media and events production company with long ties to Campbell's party raises questions about how serious the BC Liberals have been about following through on that promise.
After the BC Liberals were elected in 2001, even before the new cabinet was sworn in, Campbell's Liberals awarded a government contract to a company called Western Pro Show Rentals Ltd., a Vancouver firm that was very close to the BC Liberal party.
The contract was awarded directly, without going to tender.
Over the next four years, Pro Show, headed by Tim Lewis, was to pick up an estimated $2 million in public funds from the BC Liberal government, and its first few contracts were all awarded without competitive bidding.
Just weeks before winning the contract to produce and televise the cabinet swearing-in ceremony, Pro Show had been busy with another important job: Organizing Campbell's leader's tour for the successful 2001 campaign. That job, of course, was paid for by the party.
In other words, one of the first contracts awarded, without tender, by the newly elected BC Liberals was to a BC Liberal insider.
Rules for untendered contracts
According to the B.C. government's Core Policy and Procedures Manual, there are four "exceptional conditions" under which a ministry may award a contract to a company without competitive bidding. They are: when the ministry can "strictly prove" that only one contractor is qualified; when an "unforeseeable emergency" exists and the service could not be obtained in time by a competitive process; when open tendering would interfere with security or health; and when open bidding would compromise government confidentiality, cause economic disruption or be "contrary to the public interest."
In the case of the swearing-in ceremony, the justification for not going to tender was that it amounted to an "unforeseeable emergency." There simply wasn't time to carry out the lengthy process of open competition; the fact that the winner just happened to be a Liberal favourite was a complete coincidence.
However, soon afterwards, Pro Show was given additional contracts, also by direct award.
Just six weeks after the election, Pro Show won a $57,500 contract to produce the first two so-called "open cabinet" meetings, held on June 27 and July 18, 2001. That contract too was untendered, the justification being that it was also an "emergency."
A confidential briefing note prepared for Campbell shows they were prepared for some flak.
"It's no secret that Tim Lewis and Pro Show provided excellent service to myself and my campaign organization during the last election," said the briefing note, obtained by The Tyee under a freedom-of-information request.
The note went on to observe that Lewis had provided equipment and expertise for Bill Gates' wedding.
"The fact is that they are successful," continued the note, dated August 15, 2001. "And they are successful because they are very good at what they do."
There is no question about Pro Show's competence. But the way in which they were hired contrasts with the campaigning BC Liberals' stated aims. Why make such an issue out of governments hiring party insiders, particularly without tendering, if they were to do the same thing before the ink on the 2001 election returns was barely dry?
Long term contracts
In June, 2001, the work of producing the "open cabinet" meetings was indeed put out to tender. Four companies bid, one of them Pro Show. Two, according to the government, failed to meet the basic requirements. The two-name shortlist was then evaluated by a team, including senior, non-political officials. Western Pro Show did well by all criteria.
In addition, according to an official summary of the contract process: "Finally, they presented an impressive resume of comparable big-ticket events."
It is not clear whether the official summary, in mentioning "comparable" events, was including the two cabinet meetings Pro Show had already produced, via the untendered contract.
On August 30, 2001, the winner was announced. Western Pro Show Rentals Ltd. was the successful tenderer.
The contract handed Pro Show up to $220,000, plus $60,000 in expenses, to produce the open cabinet shows from August 30 till the end of the fiscal year, on March 31, 2002. (For more on these shows, see Will McMartin's analysis )
While the tendering process was under way, the BC Liberals took another step that they'd chastised the New Democrats for doing while in office: On July 19, they extended Pro Show's original untendered contract, adding another cabinet meeting and $23,150 to the original $57,500 contract.
Pro Show was to go on to produce every one of the 34 open cabinet shows, at around $20,000 a piece.
More work for Pro Show
Tim Lewis and his company do more than produce the open cabinet shows. The names of Lewis, or those of his staff, pop up on many of the passenger lists for premier Gordon Campbell's chartered flights around the province. Copies of the invoices were obtained under additional Tyee freedom-of-information requests.
For instance, when Campbell and crew flew from Vancouver to 100 Mile House, Revelstoke and then to Kamloops in June of 2002, Pro Show's Mark Fisher and Chuck Davidson were among those in the entourage.
In the nine-month period from April 1, 2003 till December 31, 2003, taxpayers shelled out almost $48,000 for private planes premier Gordon Campbell chartered from Pacific Coastal Airlines to travel around the province, according to the invoices. The premier's office has previously justified these charters as being cheaper than commercial flights, though security has also been a motivating factor. On almost every trip, Lewis of Pro Show. is there, too, accompanied by 350 lbs of equipment.
When an MLA goes along for the ride, his or her fare is covered by the MLA's own travel budget. But to judge from the invoices, the cost of carrying Lewis is, without exception, billed to the government's propaganda wing, the public affairs bureau .
Given that the premier had already hired the plane, this setup might well be the cheapest way of doing things. But it's highly unusual for a government contractor to move about like this.
Hired again
This spring, when it came time to organize Gordon Campbell's campaign tour, it was Pro Show that the BC Liberal Party chose.
According to an April 27 story in the Vancouver Sun, Pro Show provided and operated sound equipment for each of the premier's staged events, as well as organizing the tour itself. Political parties, of course, are free to hire whomever they want to do their work, and need not report the size of any contracts they award.
During the 2003-2004 fiscal year (the latest for which figures are available), Pro Show earned $508,000 from the BC government, according to the province's public accounts.
In the 2002-03 fiscal year Pro Show picked up $530,000 from Victoria. In 2001-02, during which the Liberals were in power for just 10 months, Pro Show collected $441,000.
Assuming that Pro Show earned similar government cheques in 2004-05, the company will have been paid more than $2 million in taxpayers' funds over the last four years.
When the BC Liberals were in opposition during the most recent NDP government era in BC, they complained bitterly about a range of government contracts handed to NDP-linked NOW Communications Ltd.
Running for re-election this spring, the BC Liberals campaign document "A Proven Plan for a Golden Decade" includes the phrase "open tendering" just once. Their 2005 platform promises to support BC Ferries' plan to build new ferries through "open tendering" - a process that so far has led to sending the work overseas.
Veteran Victoria Legislative reporter Russ Francis writes for Monday Magazine and regularly contributes to The Tyee.