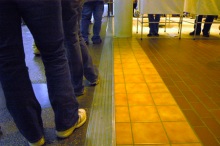 A record number of voters turned out for the advance polls held over four days last week.
Elections B.C. reports that 204,651 voters cast their ballots during May 11 – 14. That's an 87 per cent increase over the 2001 advance poll. While there are now nearly 700,000 more British Columbians registered to vote than there were four years ago, that amounts to just a one-third increase in the register of voters.
In other words, the boost in this year's advance poll turnout appears to be mostly the result of greater voter interest in the election.
But who were the advance voters? Was it the business community getting out its troops, terrified of an NDP victory? Or were previously lackadaisical New Democrats sensing that they might actually have a chance of forming the government?
An analysis by The Tyee of voter turnout for the advance polls in four key ridings suggests it's a bit of both, but with New Democrats significantly more motivated.
The Tyee examined advance voting for 2001 and 2005 in two safe Liberal seats--Vancouver-Quilchena and Vancouver-Langara—and in two safe NDP seats, Vancouver-Mt. Pleasant and Vancouver-Hastings.
NDP voters motivated
In both elections, advance turnout was considerably higher in the two Liberal ridings, perhaps because their residents are more likely to have flexible work hours.
However, the increase in advance turnout was somewhat larger in the two NDP seats, suggesting that NDP voters are more motivated for this election than Liberals.
In Vancouver-Quilchena, precisely double the number of voters cast advance ballots in 2005 than did four years ago. For Vancouver-Langara, the increase was 92 per cent.
However, the jump was even bigger for the two NDP ridings.
The advance poll voters increased by 113 per cent in Vancouver-Mt. Pleasant and by a huge 175 per cent in Vancouver-Hastings.
In summary, to judge by the comparisons of these four ridings, New Democrats appear to be showing significantly more interest in this election than Liberals.
Another way to look at the changes is through the percentage of registered voters in each riding taking part in the advance poll.
In 2001, 5.4 per cent of Vancouver-Quilchena registered voters took part in the advance poll, growing to 8.6 per cent in 2005. Advance turnout in Vancouver-Langara jumped from 4.4 percent four years ago to 6.1 per cent in 2005.
For the NDP's Vancouver-Mt. Pleasant, advance turnout increased from 4.2 per cent in 2001 to 6.2 per cent this month. For Vancouver-Hastings, the increase was from 2.4 per cent to 4.9 per cent.
More motivated
One longtime political analyst, who has worked for a number of B.C. governments, says the Tyee figures suggest that both sides are now more motivated to vote than four years ago.
"That's significant," said the analyst, who asked that his name not be used. "It suggests a lot of close races." But given the much larger increase in advance polls in the NDP ridings, it also suggests that New Democrats are notably more motivated than Liberals.
Given that even premier Gordon Campbell is emphasizing the importance of voter turnout, the NDP has reason for optimism in the advance voter turnout.
Russ Francis is a veteran political reporter based in Victoria.