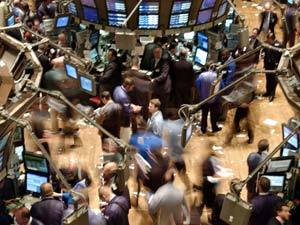 Politicians as pork bellies, just another future commodity to trade like stocks. That's the best way to think of BC parties if you want to predict who wins on May 17.
So say professors Tom Ross and Werner Antweiler, the directors of the University of British Columbia's Election Stock Market. Want stock in the BC Liberals? Ross and Antweiler can sell you some. NDP shares are cheaper at the moment. The two business professors who set up this futures market believe they can give pollsters a run for their money in predicting the election.
"When it comes to predicting popular vote share we can often do better than the polls," says Ross.
In fact, opinion polls aren't designed to predict elections, and instead are simply used to assess the mood of the electorate at some point in time. They are often referred to as a "snapshot" of public opinion. Furthermore, although in many cases opinion polls are quite accurate, they can be misleading, as in the case of the last federal election where some polls predicted Stephen Harper as the next prime minister.
This has led people like Ross and Antweiler to look for alternative methods for predicting elections, which in the case of UBC-ESM, a financial market that trades political contracts, also allows insights into the inners workings of free markets.
"I think it [the UBC-ESM] is a great idea and a fun thing to watch," says Kyle Braid, Vice-President of Ipsos-Reid. "It's a good way for voters to participate and engage themselves in the process."
'Just like pork bellies'
The UBC-ESM opened for business on February 1 and will close on May 17, 2005, the day before the provincial election. It involves real money. As of yesterday evening, 82 had invested $18,528.00 in last three months, and the B.C. Liberal party was trading at $0.611, a market prediction equivalent to the party winning 61.1% of the provincial seats.
"The UBC-ESM is a futures market just like trading pork bellies," says Antweiler. In fact, elections are uncertain, just like the future prices of commodities (e.g. pork bellies and oil) allowing people to take a position based on the available information and attempt to predict their outcome, says Antweiler.
Four types of markets are run at the UBC-ESM. One is based on the number of seats provincial parties will win (that stood at 61.1 for the Liberals, and 36.2 for the NDP on May 1).
There is a market to predict how the popular vote will be divided up (Liberals selling at 43.5, NDP at 36.5, the Greens at 12.6 and Other Parties going for 5.4 on Sunday).
There is a market on whether a party will win a majority government (that was trading at 89.2 for the BC Liberals, 9.0 for the NDP on Sunday).
And a market for the referendum on electoral reform. (The 'no' was going for 56.4 and the 'yes' lagged behind, selling at 40.0 Sunday).
People can invest anywhere from $25 to a maximum of $1000. This investment allows participants to buy individual contracts from the UBC-ESM system or other traders. These contracts can be traded just like stocks, but in essence, they are promises from the UBC-ESM to payout money based on the results of the election.
"If you have a liberal contract in the seat markets, then after the election we will pay you [a trader] $1 times the faction of seats the Liberal party gets," says Ross. "So, if the Liberals get 60 percent of the seats, we give you $0.60 for that contract," he says. The other markets work in a similar fashion and the UBC-ESM makes no profits from the venture.
What the payouts do is allow the buyers and sellers on the UBC-ESM to try and make money off their interpretation of how provincial parties will fair. "People will buy and sell, and stock prices will change, as the campaign unfolds," says Ross, "a mistake or misstep can therefore push down a party's share price."
This free market strategy gives a truer prediction of the views and thoughts of the public on the election outcome, says Antweiler. (The price of BC Liberal shares, while strong, has dipped a few points in recent days.)
Good, but not perfect
The idea of an election stock market got its start in Iowa in 1988. It was conceived at lunch one day after the Michigan primary that year by three economics professors from the University of Iowa.
"Jesse Jackson won that primary and it was a huge surprise," says Forrest Nelson, professor of Economics at the University of Iowa and one of the originators of the idea of election stock markets. "All the polls were predicting Dukakis would win and that Jackson wouldn't even make a decent showing," he says.
At the time, Nelson and his colleagues joked that if the financial markets in Chicago did a similar job in predicting the November price of corn they would be out of business. But, in this joke was a fruitful idea, recalls Nelson, and soon they were running the Iowa Electronic Markets in a bid to try to predict political outcomes.
In 17 years, the IEM has run 49 markets dealing with 41 elections in 13 countries. "Our latest market, dealing with the last U.S. Presidential election, had around 2,500 traders with a total investment around of $200,000 (U.S.)," says Nelson.
In 2000, a study of 15 of these IEM markets, available on the IEM web site, revealed that the IEM outperformed the polls in 9 cases, and quite dramatically in the 1988 and 1992 U.S. presidential elections. In a similar fashion, the UBC-ESM also accurately predicted the 2001 B.C. provincial election and 2000 federal election in Canada. Although, just like the polls, both stock markets don't always get it right.
Nevertheless, the theory behind their accuracy is that people trading on the stock markets will think deeply and give truthful answers about how other people are going to vote. There is also a form of feedback that comes with such financial markets, in that people will dig out more information to see if their views conform with others, says Nelson.
"In this sense, comparing them [IEM and UBC-ESM] to polls is a little unfair, since polls aren't proposing to forecast things, and at the election stock markets want people to predict the outcome of a real election," says Nelson.
But, the election stock markets can be reflective of public opinion, says Evi Mustel, owner of Mustel Group, a market research group that released an opinion poll on the B.C. election on April 14, 2005. "The UBC-ESM still uses the polls…but also adds an interesting face to the horserace of trying to predict the actual winner," she says.
Teaching tool
Ross and Antweiler are also using the UBC-ESM as a controlled experiment to see how people act while investing, as well as using it as a teaching tool at the UBC Sauder School of Business.
"We have a very good understanding of this market since we know who the traders are and we set the parameters," says Ross. "We can test questions like whether trader preferences for political parties are ignored or influence their investment behavior," he adds.
UBC-ESM is already revealing that a financial market can get people really interested an election, persuading them to follow issues and developments during a campaign.
"It's like developing a big panel of experts," says Ross, "where people in the markets are thinking hard, checking out and processing the new polls, and coming up with a prediction."
David Secko is an intern at The Tyee.