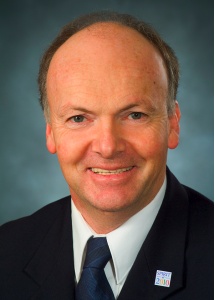 A BC Liberal Party official has resigned in the wake of Monday's Tyee report which detailed how at least one Northern BC town was duped into donating local tax dollars to the Liberal party. Opposition leader Carole James has called on Premier Gordon Campbell to release a full account of the dollars-for-access affair.
The BC Liberals' Skeena riding association president Lael McKeown stepped down Tuesday, after the District of Kitimat discovered that the $360 it paid to attend a forum was a political contribution to the Liberal party.
Last May, when officials from several Northern BC towns were invited to a forum on economic diversification, the invitations were issued on government letterhead, giving the impression the event was official business. But the BC Liberal Party collected the attendance fees, according to Elections BC records. An official from Kitimat told The Tyee his municipal government was duped into donating to the Liberals.
Pledge to return money
Liberal MLA Roger Harris' campaign office also did not return The Tyee's calls late Tuesday. "It was never meant to be a fundraiser," Harris told the CBC. "Today, I am notifying all of the municipalities involved that we're going to be returning the money to them. At the same time my riding association president had resigned and I've accepted that."
"It was an innocent mistake," the premier's press secretary Mike Morton told The Tyee.
"I think it's been dealt with," Campbell reportedly said. "I heard that Roger had heard about it for the first time today. He's dealt with it, the dollars are going back and I understand that the president of the constituency association has resigned." The Canadian Press reported Campbell also said municipalities shouldn't need to donate to political parties to get the ear of government.
As The Tyee reported Monday, Fort St. James and Coldstream also paid taxpayer dollars in exchange for access to cabinet ministers. The CBC is now reporting that Terrace, Prince Rupert, Smithers and Stewart also paid to attend Liberal party events.
New Democratic Party leader Carole James was not satisfied by Campbell's response. In an open letter to the Premier made public Tuesday morning, she asked, "Exactly how much money has the BC Liberal Party raised by requiring local government officials to donate to the BC Liberal Party in exchange for meetings with you or other members of your government, or your government's officials?"
'Not enough'
James issued a second news release Tuesday afternoon, shortly after Campbell's statement was distributed.
"Not nearly enough, Mr. Campbell," James said in her statement. Again, she pressed the premier to go public with answers.
"If it's the constituency association that was responsible for this fundraising scheme, how did they come into possession of Legislativce Assembly letterhead? ... If Harris' office was involved, will Campbell do the right thing and remove him as a candidate?
"How widespread is this fundraising practice in the BC Liberal Party? ... Are there other events like this that are not required to be disclosed under the Elections Act but that were similar?"
After The Tyee broke the story, it was picked up by the Times-Colonist paper in Victoria and other news outlets, including by Michael Smyth in his column for the Province. "The dirty fundraising flap hit the provincial election campaign with a wallop yesterday," said Smyth, who asked, "Why don't we just go ahead and call this one 'Son of Sponsorgate.'"
"The Liberals should pay all of this money back to municipalities, release a full public accounting of the transactions and explain what steps will be taken to ensure it doesn't happen again," wrote Smyth.
Dee Hon is reporting on the election for The Tyee. An earlier version of this story was posted yesterday afternoon on The Tyee'sElection Central blog.