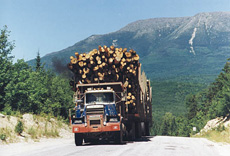 Jim thought he was getting used to fifteen-hour days driving a logging truck on Vancouver Island. But one bone-tired day last summer he dozed off at the wheel, sending his rig plunging off a logging road "into the weeds" as he put it. He has no memory of what happened. Someone found him "wandering around" and hauled him off to hospital.
"I guess I was concussed," he says, adding that he received eight or 10 stitches, was discharged shortly afterwards, and then had to be taken to a plastic surgeon that evening to have a "caved in" cheek bone "straightened out".
"I could have been dead, or worse, I could have killed someone else," he admits. "I knew the hours were getting to me, and I got my bell rung pretty well."
Jim, who asked not to be identified by his real name, no longer drives a logging truck. But others who do worry that the number of similar accidents in B.C.'s coastal forest industry will climb with the arrival of a new shifting system which may have some loggers, by the time they are finished commuting, working fourteen hours a day or more.
Imposed contract unclear
Central to their concern is a new binding contract which was imposed on the industry earlier this year by arbitrator Don Munroe.
The contract requires companies to pay for a minimum 40-hour work week and says the work day must be no longer than 10 hours for certain kinds of jobs, but fails to define just what those jobs are, apart from saying they're the ones that are "dangerous or physically demanding".
That could apply to just about every job in the industry, say IWA union officials.
Weyerhaeuser has imposed an 11.5-hour "standard" day for its employees, and a number of contract operations already have some of their personnel working 15 to 16 hour days, especially in summer. On Vancouver Island a truck driver's wife recently emailed the IWA that she feels "the potential for catastrophic accidents is just a matter of time". She said she worries more now that her husband is driving on-highway than when he was driving off-highway.
And she said she does not want her children on the highways now with logging trucks pushing the speed limits. "Factor in drivers who are exhausted and frustrated," she wrote. "Let the public beware."
Longer days, added pressures
Weyerhaeuser NIT human resources supervisor Don Carlyle and divisional manager George Nyland told The Tyee that Weyerhaeuser employees are always welcome to draw attention to potential safety problems at the workplace, and stressed that the company has no intention of putting its personnel into peril.
But IWA representatives say the longer days combine with other added pressures in the logging industry that are creating mounting hazards, including:
Smaller and fewer crews working harder and faster too much on top of each other, so that down-slope personnel are in danger;
Truck drivers cutting corners on safety practices and hauling faster and-or for longer hours;
Logging roads closed to the public so that potential incidents, problems, issues and concerns are less likely to be reported;
Accidents being downplayed so that action is not taken against the individual by the company or against the company by the regulatory authorities, Workers' Compensation Board or insurance organizations;
Reduced earning capacity pushing some employees into working excess hours and even during days off, increasing the likelihood of fatigue leading to increased accidents and injuries or fatalities.
Union representatives and members predict the new longer "standard" shifts being spearheaded by Weyerhaeuser will lead to more fatigue and more drivers falling asleep at the wheel or not paying sufficient attention to safety.
They also point out that if an accident does occur -- perhaps with a rollover or losing a load -- dozing off at the wheel or driving too fast is a firing offence and can lead to termination, so drivers aren't likely to admit it.
IWA boycotts safety committee
Union officials paint a picture of truck drivers stressed by having to haul huge loads at speeds to meet three-times-a-day delivery requirements, then commuting hours a day between the marshalling yards and home.
An increasingly bitter standoff between Weyerhaeuser and the union over the way the company operates its own sites and has been running its contractor sites has led all IWA safety reps to resign en masse from the company's Accident Prevention Committee (APC) meeting in the North Island Timberlands (NIT) division.
The department representatives said they would continue to represent their sectors but, in protest, would not be attending the APC meetings.
Weyerhaeuser has said it was instituting 11.5-hour standard days on a four-on, four-off system because in a seven-day week, having to pay for a minimum of 40 hours a week and having personnel only working 10 hours a day meant they could only run one 40-hour shift and one 30-hour shift. That meant, the company said, that it would have to pay for an average of five hours per shift which had not been worked.
Three deliveries a day
IWA Local 1-363 president Rick Wrangler contends the new shift system is part of an overall program to get rid of the union in the industry. Bill Routley, president of the Duncan area's Local 1-80, says the companies have moved increasingly into very expensive job-cutting machinery and need to have it running as close to 24 hours a day as possible to make it pay for itself.
Wrangler and Routley said the longer work-days have been a practice with some industry contractor operations on the coast for some time. One driver said the longer days have been common on the coast for about two years and much longer in the B.C. Interior.
Weyerhaeuser NIT confirmed that three deliveries a day is now standard in the division.
Routley acknowledged that worsening the problem is that some truck drivers have taken to going to work for other companies when they are technically "off shift" with their main employers. A lot of them are trying to make up for earnings lost under the new contract, Routley said.
'Deadly shifts' letter sent to Premier
More companies are expected to introduce some form of Weyerhaeuser's 11.5-hour standard day within the next few months, Routley said, predicting that numbers of loggers, and especially truck drivers, will wind up working 12, 14 or even 16-hour days. Some are already reporting individuals leaving home at 3 a.m. and not getting home until 6:30 or 7 p.m. – just in time to have a bite to eat, tuck the kids in and then fall into bed themselves.
That was the life Jim was leading just before he fell asleep and crashed his truck. He claims to know many other truck loggers exhausted but in denial. He calls them "zombies."
"You're going to see some family dead by the side of the road one of these days," he warned. "I was just fortunate not to hurt myself too bad."
Routley noted that accidents claim up to 30 lives a year already in B.C.'s logging industry, widely regarded as one of the most dangerous in the province. Last month the IWA Council of the United Steelworkers sent a letter to Premier Gordon Campbell demanding his "immediate attention" to the issue of "deadly shifts."
The union requested a meeting with Campbell and Forests Minister Bruce to discuss the situation and "the serious implications of unilaterally implementing longer and longer shifts in the woods".
Quentin Dodd, based in Campbell River, reports regularly for The Tyee.