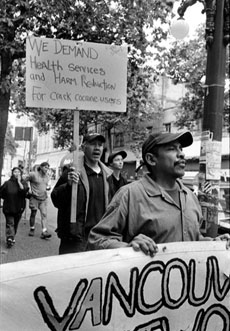 [First of a two part series]
Fighting drug addiction, it seems, is addictive. A year after opening North America's first safe injection site for heroin users, Vancouver is expanding hours, arranging prescription heroin trials, and hoping to add a safe inhalation room for crack users. Not only are Montreal and Toronto looking at opening their own safe injection sites, but so are smaller cities, most notably Kamloops and even tourist-quaint Victoria.
"People see Victoria as paradise," says mayor Alan Lowe in an interview with The Tyee. "But in the last 20 months we've seen a lot more IV drug users shooting up in parkades." Business owners and citizens are asking for a fix, and Lowe wants to find one.
Victoria is no stranger to confronting the idea of addicts, as 10 years ago it founded the first needle exchange in B.C. Lowe says they have developed their own "four-pillar" approach—prevention, harm reduction, treatment and enforcement—and are ready to move forward. The chief of police, a key ally, is on side.
Small cities, hard core problems
In the spring, a Vancouver delegation visited Victoria to talk about the safe injection site, which receives 600 visits a day. Recent Canadian Medical Association and Vancouver Coastal Health Authority reports show that it gets addicts off the street, improves public order, prevents the transmission of AIDS, hepatitis and other diseases, and saves people from overdose deaths.
Lowe says the city is considering smaller but multiple sites, and they recently applied to Health Canada for $50,000 to do a thorough consultation. "We don't know when we will hear back, but we are lobbying them to make sure they've heard our cry and see our need," says Lowe.
The smaller cities are just beginning to recognize their need. "We do have an active drug-use problem. It's grown so that it's much more visible. People are finding needles in back alleys and parks," says Kamloops mayor Mel Rothenburger. "However, this problem isn't any more acute in Kamloops than any other interior city." (See the Tyee article 'B.C. North a Hot Zone for HIV' on Prince George's heroin woes.)
"We know what we're doing now isn't working, so a safe injection site is something the city should discuss." However, he says that there are no specific plans for consultations, though he is willing to take cues from the Kamloops Community Action Team, which includes street nurses, the RCMP, and the AIDS society. Rothenburger says that he believes Vancouver's safe injection site is reducing harm to drug users, but that doesn't mean Vancouver's version will work for the people of Kamloops. "In fact, I don't know if they will want something this controversial," he says. "It wouldn't advance very far without the community buying in."
Harm reduction evangelist
If British Columbia towns are considering safe injection sites at all, that may be in large part due to the efforts of former Vancouver mayor Philip Owen, who in the last two years has toured the province from top to bottom (as well as visiting the rest of the country) with documentary filmmaker Nettie Wild, promoting Fix, her chronicling of Vancouver's drug problems and "harm reduction" activism.
On the road, Owen speaks to every mayor, and tries to ensure local politicians make the screening. He has seen many transformations along the way.
"When we went from Prince Rupert to Prince George, Terrace did not want anything to do with Fix. Six months later, they phoned and asked us to come," says Owen, on the phone from his second home in the Okanagan. "It was the same with Merritt and Kelowna. At first, they were in denial. But six months later Kelowna's mayor phones up and says he wants to talk about the four pillars. He set up a mayor's forum and 250 people showed up!" Other victories were surprisingly easy. "Penticton is a retirement town—but the theatre sold out, and we had to arrange a second showing," he says.
Not every town is coming around. "Though Nanaimo has a huge [heroin] problem, no politicians came," Owen says. "There is no political will there right now to deal with it."
Campbell pushing for more
In Vancouver, there is no shortage of political will—two years ago, mayor Larry Campbell rose to power on a wave of outrage about the apocalypse of the Downtown Eastside. Sitting at the conference table of his large, wood-paneled office in Vancouver's City Hall, Campbell says he will not rest on his laurels. There is more that could be done. "We just started expanding the hours of the safe site on Welfare Wednesday," he says. (The site is usually open from 10 a.m. to 4 a.m.) There are no plans to open any additional sites but, Campbell says, "I would put one in Kerrisdale if it was needed."
Campbell says he is most excited about the upcoming clinical heroin trials, which will be overseen by the Canadian Institutes of Health Research in Vancouver, Montreal and Toronto. The study will target hardcore addicts who have failed two or more times to get off heroin through methadone. Also, Campbell is pushing for a "safe inhalation" room, where crack users could get clean equipment, in the existing heroin site—and in fact the room exists, but is presently used as an office.
The glitch: since doing crack is illegal, the site needs an exemption under the Controlled Drugs and Substances Act from the federal government. Viviana Zanocco, a spokeswoman for the Vancouver Coastal Health Authority, says they have drafted a preliminary request letter that they plan to send to Ottawa shortly. "But I honestly don't think they will grant us that until the three-year trial period for the safe injection site is over, which will be two years from now," she says.
Face off with U.S.
Even if some of these radical treatment ideas are located safely in the future, enough has gone on to get the United States in a tizzy over the Vancouver experiment. When the safe injection site first appeared on the horizon two years ago, U.S. "drug czar" John Walters came to Vancouver to express his outrage and make his threats. In a private meeting with then-mayor Philip Owen, he said crossing the border would be a nightmare for Canadians if the city went ahead with its plans, as they ran counter to U.S. drug policy (which is arrest, arrest and arrest).
"It was the most unsatisfactory meeting of my life," Owen recalls. "The pressure was intense. John Walters had about 30 officers with him, special agents. At the door there was a guy with the bulge of a gun under his clothes." Larry Campbell was also present at this meeting, and he hasn't forgotten about it. At an international harm reduction conference in Melbourne, Australia, this spring, Campbell countered to the effect of "Let's see how they like it if we shut down our border—they'll be thirsty in the dark in L.A." The applause was deafening.
Meanwhile, John Walters stands firm. "The only way to reduce the suffering of addiction is to treat it, not encourage it—which is what the safe injection sites do," says Jennifer Devallance, a spokeswoman for his office in Washington, D.C. "Canada's drug policy is Canada's business," she allows. "Until the impact flows over into the U.S."
Them's fighting words. "It has broken down to the U.S. against the rest of the world," Campbell says. He insists that the American crackdown causes more drugs to be brought into Canada than vice versa. "Anyway, they can't do anything to me," he says. "Or Canada." He smiles. "We're tough, and we have 4,000 miles [of border] to retreat to …. It's a brave city that accepts what we're trying to do. It demonstrates the compassion and caring of its citizens."
Part 2: What's the U.S. Drug Enforcement Agency doing in Vancouver?
Vancouver based Alisa Smith has written for the Globe and Mail, National Post, Ottawa Citizen and Vancouver Sun.