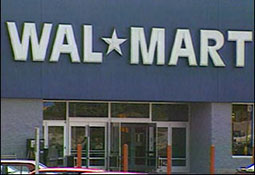 Call it a whole new take on the Canadian national anthem phrase "Our Home and Native Land".
Wal-Mart's expansion plans in Canada have been slowed by lengthy rezoning applications and public debate of its fly-swatter impact on some small merchants. Now the Arkansas-based retailer has a new strategy that may remove it from unflattering public scrutiny -- build its big box stores on First Nations reserves.
Since Wal-Mart came to Canada a decade ago, through the purchase of discount retailer Woolco, it has grown from 120 outlets to a formidable 213. Now it plans to add two new jewels to its necklace of 21 stores in B.C.The Cowichan Tribes in Duncan and the Adams Lake Indian Band in Salmon Arm are in the final stages of negotiations with Wal-Mart Canada, The Tyee has learned. Both have agreed to host Wal-Marts bigger than 105,000 square feet, scheduled to open by next summer.
Exempt from municipal requirements
Setting up shop on Native land is a clever scheme that could save Wal-Mart untold millions. The new trend, however, raises troubling questions about corporate responsibility to communities adjoining First Nations land.Wal-Mart will pay tax to the First Nations. But the company will be exempt from municipal taxation, unlike small storeowners and large competitors such as Zellers, who contribute to local schools, hospitals, libraries, roads and other community services.
To boot, Wal-Mart has adroitly sidestepped rezoning hassles. Local by-laws outlining what types of development can occur on certain tracts of land do not apply to First Nations reserves adjoining city boundaries.
Nor has Wal-Mart dished out money for high-powered city hall lobbyists and public relations consultants that champion its contentious rezoning applications in cities like Vancouver. It also hasn't paid for economic impact studies, often a requirement for rezoning.
Gone, too, are testy rezoning hearings with their line-up of detractors suggesting that Wal-Mart's unnerving ability to "sell for less" might have less to do with corporate altruism than with the company's questionable labour rights record at home and abroad. Neither have small storeowners, who might lose out to the world's largest retailer, had a chance to express concerns publicly.
Deals quietly done
Deals with Canada's First Nations are brokered privately through the federal Department of Indian and Northern Affairs rather than in city council meetings privy to the public. The first Salmon Arm Mayor Colin Mayes heard of Wal-Mart's potential arrival was last summer, when city officials informed him the company's Canadian developers had approached the planning department with a pivotal question. Would the city service an Adams Lake Indian Band property that Wal-Mart desired?
The property, which fronts the TransCanada highway two or three kilometers from Salmon Arm's traditional downtown, needed links to city sewer, water and hydro lines. In a complicated twist, the parcel Wal-Mart wants is deeded to an individual band member, but the band has a major say in how the land is used
Mayes told The Tyee he unsuccessfully tried to convince Wal-Mart to build on another available property within city limits. He says Salmon Arm council is bothered that a Wal-Mart on reserve land will pay no municipal taxes but, as Mayes explains, "we didn't want to get into any legal disputes over this." Several other large retailers on the Wal-Mart site, as yet unnamed, will also be exempt from municipal taxation.
"It's not really our choice," says Mayes. "It's on First Nations land and we've done our best as a council to make sure that the taxpayers are not subsidizing the development of the Wal-Mart within our community.
"We went to the Adams Lake Band and said, 'look, it's not fair'.to have a Wal-Mart competing with them [other retailers] on their land and not contributing to that global road infrastructure," says Mayes. The band willingly agreed to let city representatives sit at the negotiating table with Wal-Mart's developers, First Professional Management Inc.
Controversies with other indigenous groups
Wal-Mart's growing penchant for First Nations land and culture extends far beyond British Columbia. Wal-Marts have been welcomed by American Nations such as the Navajo and Oneida. Elsewhere, attempts by the retailing behemoth to build stores on traditional indigenous land have been met with negative publicity and lawsuits.
In Hawaii, a non-profit group representing indigenous peoples recently took Wal-Mart to court for disturbing a native burial site during construction of a 1,600-car parking garage and a two-story, 317,000 square foot Wal-Mart and Sam's Club. (Wal-Mart won the suit).
Wal-Mart has also raised the ire of the American Indian Movement (AIM) for selling products Native Americans find offensive. Together with the Interfaith Center on Corporate Responsibility, an association of 275 faith-based institutional investors, the AIM has unsuccessfully tried to persuade Wal-Mart to stop peddling wares featuring the word "redskins" and mascots that use traditions, images, symbols and names from American Indian culture.
In Britain, where Wal-Mart is the third largest grocer through ownership of the Asda chain, company managers were sent on a training course modeled after what the Sunday Mirror called "Red Indian" bonding and teamwork.
The 800 managers stayed in "hunting lodges" with walls adorned with animal hides. Sparking complaints from Native Americans, they held meetings in a giant teepee, carved Wal-Mart's mission and values instone, learned the ways of the squirrel, beaver and goose, and transformed commitments into a three-storey "totem pole" at corporate headquarters.
Documents offer glimpse of deal
For the 700-member Adams Lake band, Wal-Mart's overtures are akin to holding a winning ticket for the lucrative 6/49 lottery every few years. Instead of paying Salmon Arm $400,000 annually in municipal taxes, Wal-Mart will give that amount each year to the band, according to Mayes. Two malls close to the planned Wal-Mart, including one with competitor Zellers, each pay about $320,000 a year in Salmon Arm municipal taxes.
The Adams Lake Indian Band and Department of Indian and Northern Affairs declined to discuss any details of the agreement. Kevin Groh, Wal-Mart Canada's corporate communications manager, also declined to discuss details, saying that negotiations are still in progress. Groh did confirm, however, that "the Duncan lease will be a template for the Salmon Arm" agreement.
The Cowichan Tribes, too, refused to discuss Wal-Mart'simpending arrival.Documents obtained under the federal access to information act show the 3,100-member Cowichan Tribes wants a partial $1 million rental payment from Wal-Mart on the day the lease is signed. The balance of Wal-Mart's 49-year pre-paid rent -- an amount blacked out of the documents from the federal Department of Indian and Northern Affairs- would be paid on the day the retailer opens for business.
The documents show Wal-Mart's rent set at "a rate of not less than $10.32 per square foot", minus a percentage of the cost of preparing the land for construction and providing site servicing.Wal-Mart does not disclose what it earns per square foot in an average Canadian store. When ordered to last year by the Ontario Municipal Board, however, the company said it expected to earn $640 per square foot at a proposed Guelph, Ontario, store by 2008. Equivalent sales at the Duncan store would give the Cowichan Tribe approximately 1.56 percent of Wal-Mart's potential annual sales of $67.2 million.
'Everybody's resigned to the fact'
The Duncan Wal-Mart and its 553 parking stalls will be constructed on the former site of a Farmers' Market selling locally-produced food and crafts. The market has moved to a more prominent location by Duncan's downtown train station, at the terminus of a main street spotted with "For Lease" signs. One empty storefront recently carried an ironic advertisement for the film The Corporation.Duncan administrator Paul Douville says city council is relieved that the new Wal-Mart, replacing a smaller Wal-Mart in a former Woolco store, will be near the traditional downtown instead of on Duncan's outskirts.
"Everybody's resigned to the fact," says Douville. "What can they do? It's reserve lands and the Cowichan Tribes have a right to economic development.
The only thing we'll get out of it is a fire suppression contract with the Cowichan Tribes." The Tribes will pay the city of Duncana fixed amount each year to provide fire department services to the Wal-Mart and reserve land.A new Wal-Mart will provide economic benefits for Salmon Arm regardless of its location, says Mayes.
Wal-Mart patrons from Salmon Arm who currently drive to nearby Vernon to shop will stay at home. Wal-Mart will become the second-largest employer in the town of 17,000 although, as Mayes points out, company jobs "are not traditionally on the high end as far as the pay scale."Tony Pereira, president of the Salmon Arm Chamber of Commerce, says the chamber welcomes all businesses. "We do understand the impact [of Wal-Mart] can be great. We're not naïve to that.
Divvying up the Wal-Mart windfall
Salmon Arm appears to have negotiated a far better deal than the city of Duncan, which also had representatives at the bargaining table. Wal-Mart will pay Duncan a one-time $65,000 to $70,000 fee for connecting to city services such as sewer and water lines. But Duncan agreed to pony up far more, $165,000, for road and railway crossing improvements necessary for the new Wal-Mart. As Douville explains, "we wanted to improve these intersections anyway."
In Salmon Arm, Wal-Mart's developers agreed to pay a one-time $300,000 development cost charge fee. First Professional also said it would give Salmon Arm a one-time $200,000 road improvement and maintenance payment-far less than the $240,000 the city would have received annually as Wal-Mart's tax contribution to its city budget had the company built within city limits.
A new servicing agreement between the Adams Lake band and the city means the band will use some its Wal-Mart windfall to contribute to municipal services. The band is also asking the federal government for permission to collect the seven percent Goods and Services Tax (GST) on Wal-Mart sales, says Mayes.
The mayor says his main objective was to negotiate the best deal possible for Salmon Arm residents. "The fact is that Wal-Mart is the largest corporation in the world, and the only way they get that way is by having customers. You have to forgive the comparison but it's like the harlot or customer. Who's wrong? The harlot or the customer? If there were no customers there would be no harlot.
"Victoria journalist Sarah K. Cox sarahkcox@shaw.ca is working on a book about Wal-Mart.