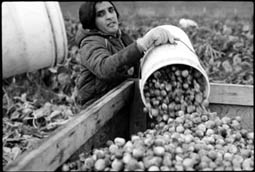 In India, they imagined that farm-work in Canada was done by machines. But once in Canada, these former landowners have discovered that the machines are them.
Every spring and summer across the Fraser Valley, an estimated 6000 immigrants from the Punjab pick berries in Third World conditions that would appall most Canadians but receive scant government or media attention. They aren't child labor. Most are grandparents in their 50s and 60s sponsored by offspring here who don't have the space or money to support them. Some get stiff necks or sore knees from working 12 hour dayspicking strawberries, raspberries and blueberries. Some work seven days a week, for under minimum wage, with no overtime or statutory holiday pay, for dodgy labor contractors who sometimes skim off their pay and sack anyone who dares to complain.
Amrik Singh Judge, 62, with a blue turban and a majestic grey beard, says he once commuted from Surrey to Kamloops and back every day: eight hours of riding a bus for eight hours work in the field. "We slept on the bus, because there wasn't enough time to sleep at night," he says. "Then we had to crawl on our knees like babies for 10 hours."
Too old for other jobs, unable to speak English, and unused to the Canadian labor market, Mr. Judge and others have to settle for jobs unattractive to Canadians and younger immigrants who prefer air-conditioned work indoors.
"Sometimes we have to work 15 days straight," says Sarwan Singh Malhy, 57. "The owner wants us everyday because the crop is ready. We can only get a break to see a doctor or for an emergency back home."
"When we migrate here, we are just like zero," says Dalbir Virk, 52, going into her third year of hand-harvesting. "We thought all work in Canada was done by machines. In our own country, we had our own land and property. Here, we have to rent out basements and work the fields. Otherwise we can't survive."
Government focus on rights, self-help
Having learnt about survival the hard way, Judge, Malhy, Virk and about 20 others come to the Surrey-based Progressive Intercultural Community Services Society, or PICS, for lectures by officials from the Workers Compensation Board, the Employment Standards Branch, and others. "When they first come to Canada, they have no knowledge whatsoever about even the transit system," says Param Grewal, PICS programs manager. "We're trying to teach them about their rights and obligations."
Critics, however, question the government's efforts to help the workers. When contacted by phone, Employment Standards Branch officials, including regional manager Ken White, said they were "not at liberty" to discuss the matter.
Betty Nicholson, communications director at the Ministry of Skills Development and Labour, says the government takes their plight "very seriously". "Our minister Graham Bruce has been very interested in working with employees who are vulnerable," she says by phone from Victoria. "There have been problems in this industry for more than 20 years. We've put in a number of new programs to help agricultural workers."
Last year the government began sending Punjabi speakers to educational sessions at halls, fields and agriculture fairs, she says. The ministry also signed a memorandum of understanding with the B.C. Agriculture Council of growers to "raise awareness of employer and employee rights". They've also posted info on their website in Punjabi and Hindi, as well as Spanish and French.
Three inspectors, including Punjabi speakers, randomly visit each work site at least once a year, passing out brochures about workers' rights. Nicholson says ministry officials, joined by counterparts from the Canadian Customs and Revenue Association, who check for income tax fraud, and Human Resources and Skills Development Canada, who verify the hours are correct for unemployment insurance, visited 59 sites in 2003 involving 1777 workers.
In order to be licensed, labor contractors have to demonstrate that they will pay workers by direct deposits into bank accounts, and they must pay at least twice a month, effective May 2003. She says that since rule changes came into effect in November 2002, Employment Standards Branch issued 45 fines of 500 dollars for first offences by employers or labour contractors who've broken employment standards rules. So far none have had to pay the 2,500 for second or 10,000 dollars for third offences. The previous year, 37 offenders were warned but not fined.
Punjabi landlords to Canadian serfs
Critics accuse the government of spinmeistering the issue. They say the government doesn't do enough to stop a fresh crop of new Canadians from falling into a system that has changed little in 20 years.
"They don't have enough staff to enforce it," says Charan Gill, Executive Director of PICS and secretary treasurer of the Canadian Farm Workers' Union, which he co-founded in 1977. "You have to constantly lobby the government to do their job, otherwise they don't do it. They're new immigrants so the government doesn't pay attention to them. They're just trying to save money."
"In no other field of employment are workers so vulnerable," says Graeme Moore, 50, a former industrial relations officer who plans to release a study for the B.C. Federation of Labour this spring accusing the government of neglect. "Instead of the exploited being Japanese, now they're Indo-Canadians."
In an interview, Moore explains how Punjabi landlords become Canadian serfs. At the local Sikh temple, or through relatives, new immigrants hear about fellow Indo-Canadian labor contractors -- middle men often accused of tax fraud, employment insurance scams, and withholding wages until months after the harvest.Unable to choose who they work for, they're taken to fields across Surrey, Delta, Langley, Abbotsford and Chilliwack in vans that sometimes lack seatbelts, exceed capacity and fail safety standards. Last July, a van carrying 19 blew a tire and crashed on the Trans Canada highway, killing the driver and injuring 18 workers. In November, nine were injured when a van with only two seatbelts for its 14 occupants collided with a truck near Abbotsford.A bushel of cons
Lacking port-a-potties or running water in some fields, they urinate or defecate in the bushes, and then, with those unwashed hands, pick berries that end up in consumers' mouths without much washing or treatment, says Moore. Payment -- by piece, not by hour -- often falls below the legal minimum wage of 8 dollars an hour, especially at the end of the season. "Worse, the man doing the weighing is often the man doing the paying," he says. In the U.S., pickers are entitled to choose the weigher. But not in B.C. Inaccurate bathroom scales make 20 kilos look like 15. In a jiffy, the ticket is punched, and it's too late to protest. And if they did, who would hear it?
Middlemen, meanwhile, can legally withhold 20 percent of their pay until he gets his cut from the grower. Sometimes, workers don't get paid at all. But what can they do? Call the cops? Hire a lawyer? Moore says many fear being deported or blacklisted.
Ideally, there should be 25 inspectors and cooperation among agencies, he says. Instead, the government's role has declined, he says, since he began working in the Employment Standards branch in 1981.
At that time, RCMP officers helped them stop buses at roadblocks and fine labor contractors who falsely posted bonds for 15 farm workers when they were actually employing 150. "We were very effective in flushing out bad actors," he says. They found a fruit cocktail of frauds. Husbands and wives on one ticket, their earnings listed on one card, in order to get more employment insurance. "They uncovered tens of thousands of unpaid wages," he says. "But it didn't look good on the TV news to have white men hauling away brown women. They were blamed for crop losses,and losses of wages."
In the mid-90s, mobile phones foiled roadside checks. "The first contractor checked would simply call others and tell them 'Don't take Highway 96'."
Inspectors cut and 'defanged'
In ensuing years, government agencies joined forces in the fields to check for tax and benefit scams. "It was popular with the pickers, but not with the growers. That was extraordinarily effective." He says they recovered "hundreds of thousands of dollars" in employment insurance fraud.
But he says the current government "defanged" the teams, slicing the number of inspectors from 11 to the current level of 3. "They didn't disband them, because that's too visible. Instead, they lack personnel or political backing. The government simply backed off. Now visits by inspectors are few and far between. You rarely see agents in the field."
Moore said he and several officers quit in 2002 after seeing the government become "anti-worker."
"There wasn't the same appetite to enforce labour standards," he says. "We went from being enforcers of labour standards to being wage dispute resolvers. The self-help kit, introduced in July 2002 basically said we're not here for you. Workers are vulnerable because they lack the skills to fend for themselves. It's like saying to victims it's your fault you got beaten up. You should learn coping skills. The attitude was 'we'll wait for them to come to us, but we're not going to help them come to us.'"
He said the Ministry's toll-free info line was only open during work hours Monday to Friday, when fruitpickers are in the fields. "They could have come out with a less hostile, user friendly method than a self-help kit that's hostile to the workers. All it did was reduce the number of complaints."
'Competitive playing field' with U.S.
He says new rules have deprived workers of overtime and statutory holiday pay (such as Canada Day). Ministry spokeswoman Nicholson maintains that this will "ensure a competitive playing field" with Washington state and other provinces who don't pay, and it will inhibit growers from releasing workers to avoid paying them overtime. "It's trying to cut through some red tape." She says the new system of payment by directdeposit will also help the workers.
But many workers say they don't want payment by direct deposit. They'd prefer payment by cheque, and insist they should be paid overtime. "If it's direct deposit, we can't tell how much money is coming," says Virk. Adds Mulhy: "Sometimes we don't get pay stubs. We don't know what was deducted." Moore says these new measures "have taken exploitation to a more sophisticated level."
Despite the problems, many workers maintain they're still happy to be working in Canada. "This is still the best country to live in," says Judge. "Our community is a very hard-working community. We love to work. But we want the government to properly investigate if we're gettingpaid properly for the hours we work."
Virk says she's found a good employer at a nursery where families "sing together" while they work.
Judge hopes to land a fish cannery job paying eight dollars an hour, "otherwise it's back to the farm."
Mulhy says he hopes to one day run his own farm. "I will hire any type of people, not only Indo-Canadians," he says. "I will treat them the best I can."
Vancouver-based C.J. Johnson [email protected] has written from Asia and Europe for numerous publications.