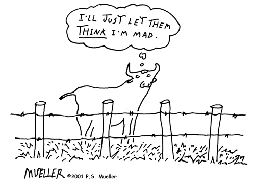 TheTyee.ca
In a post-mad cow world, Bill Freding's steers will fit in just fine. The Oliver, B.C.-based rancher doesn't raise his beef cattle on feed made from animals, and he hasn't for several years.
Freding isn't a radical or a greenie. In fact, he runs one of the province's larger feedlot operations, Southern Plus Feedlot. He just says that feeding his herd of 7,000 with blood from their own species, or meal made from dead pigs and chickens, doesn't yield any economic benefits. "There's absolutely no advantage to using it," he says simply.
Two recent cases of Canadian-born mad cow disease, or bovine spongiform encephalopathy, have left many consumers wondering why all our cows aren't raised like Bill Freding's herd. BSE is a rare but deadly brain-wasting disease that spreads by feeding cows offal and bone meal from their own kind. That practice has been banned in Canada and the U.S. since 1997, but most ranchers continue to raise their cattle on feed made from other animal byproducts, including cow blood.
Since our first mad cow last May, the Canadian Food Inspection Agency has been considering stricter rules on what cattle eat. The current regulations have two loopholes with the potential for major consequences.
First, high-risk cattle parts are still used to make hog and poultry feed, and everyone -from feed manufacturers to ranchers to CFIA inspectors-admits farmers sometimes break the rules and give this feed to cattle.
Secondly, the dairy industry depends on feed supplemented with cattle blood to increase milk yield. No one knows whether blood can carry BSE infection, although the possibility is strong enough that people who have eaten British beef for more than three months aren't allowed to donate blood in Canada.
Other countries have already created tougher rules. Last month, the U.S. Food and Drug Administration called off the use of cattle blood in feed, citing it as a potential risk for transmitting BSE. And the European Union banned feeding any animals to livestock years ago.
Now, with trade borders closed and a suffocating beef industry, even some ranchers are questioning whether Canada's rules go far enough to protect our food.
The offal truth
Every time mad cow disease hits the headlines, consumers are shocked by the detailed descriptions of what the cow that became their pot roast actually ate.
"Anything other than grain or grass surprises people," says Jo Robinson , author of Pasture Perfect and an advocate of grass-fed beef farming. Robinson's research has compiled a revolting list of ingredients fed to cattle, including telephone books, cement dust and bubble gum.
These ingredients may be strange, but most beef-eaters are more concerned about why cows-which are naturally vegetarian-would ever be fed meat or animal by-products. If there's no nutritional advantage, as Freding says, then why do it? The practice started in England during the Second World War. That country needed self-sufficient means of food production, and grain was in short supply but animal by-products were not. Then, as now, humans only eat about 60 per cent of a slaughtered cow. That means that when a 500-kilo steer is slaughtered, 200 kilos of waste is produced. Some was made into soap, or candles-as it had been for hundreds of years. But the government had a plan for the rest of it: they told farmers that at least five per cent of all cattle feed should contain animal products. It was a two-bulls-with-one-stone arrangement: there was less waste to deal with, and more grain to go around.
Since then, this "recycling" scheme has grown in popularity around the world and made rendering a $2-billion a year industry in Canada. But with hundreds of thousands of BSE-infected cattle in Britain -and handfuls in Japan, Italy, and now North America-it's also created a stampede of other troubles.
What should cows eat?
If the problem is an industry hooked on animal protein, Freding makes the solution sound simple: stop using it.
That could work for beef cattle, says Lyle Rode, a ruminant nutrition expert in Lethbridge, Alberta. But for dairy cows, he says cattle blood makes them produce more milk than anything else. Rode gives advice to cattle producers across western Canada and the western U.S. He says that when the U.S. announced it was outlawing blood in feed, his phone started ringing off the hook.
"It's the best protein supplement we have," says Rode. He explains that blood contains the right essential amino acids, and passes easily through a cow's four stomachs. "But there are other feeds we can do that with," he says, even if they aren't as efficient. For farmers who want a vegetable-based alternative, be recommends canola or soy.
But Robinson has a different take on the "best" way to raise a dairy cow. "For me, the ultimate goal is not the highest possible milk production from a single cow," she says. Robinson says that farmers can still earn revenue -and produce more nutritious milk-if they don't push a cow's system to the hilt with supplements.
"You go to the auction barn and see young cows -four or five years old-being sold off for hamburger," says Robinson. "It doesn't have to be that way," he observes, adding that grass-fed dairy cows can produce milk for more than 10 years. Revising the industry
The CFIA has been consulting with cattle ranchers, feed manufacturers and renderers for months about changes to the feed ban. There are options on the table that are even tougher than the new U.S. regulations: Canada might ban feeding cattle to other livestock, or follow Europe's footsteps and stop all feeding of animals to other livestock.
Grossed-out consumers may cheer these ideas, but any new rule on what our cows eat means higher beef prices and added costs for the industry. Yet surprisingly, some ranchers and feed producers are ready to give it a try.
Mark Canard is a livestock buyer in Kamloops. If cattle offal was banned from all feed, he'd get a lower price for his cows and have to pay to dispose of the waste. But he says the industry can't survive another year like 2003, and stricter measures might open up export markets.
"As far as the beef producers are concerned, yes. If that's what it takes to get our industry back to some semblance of order," he says. "I mean, we're pretty much at the stage of doing whatever it takes."
Freding says Southern Plus Feedlot alone has lost more than $1 million since mad cow hit last May. Stricter regulations wouldn't change what his herd eats, but it would mean he'd get less for them at auction. Still, he says the change might be worth it so that dangerous mistakes in a feed mill - mixing up feed meant for hogs and cattle, for instance-can't happen. "I guess it adds one more precaution," he says.
But not everyone agrees. Barry Glotman runs West Coast Reduction in Vancouver-one of the largest rendering plants in Canada. Every day, his plants on Burrard Inlet process animal bones, blood, meat scraps, feathers, offals and supermarket garbage. The end products go into paint, tires, pet food and, of course, livestock feed.
Glotman calls ranchers who support a stricter feed ban "short-sighted." "If that happened in Canada, there would be huge ramifications," he says. That may sound like a man only trying to protect his industry-clearly rendering companies, like his, would lose customers in the livestock industry, and millions of dollars.
But Glotman is also familiar with a reality of meat consumption that few Canadians ever see: the mountains of raw animal waste that our meat industries produce every year. More than 2.6 million tons of it-enough to fill about 4000 Olympic-sized swimming pools. "Now, we can make value-added materials from what would have been waste," says Glotman. But if farmers had to stop feeding a portion of this waste back to animals, he says, "What would you do with it?" Britain's solution-though a costly one-has been to burn animal by-products in power-generating plants. The only other choice is to leave the waste to rot in a landfill.
If we are what we eat...?
Many consumers won't be bothered at all by the idea of dairy cows eating cattle blood, or an Angus chowing on hog offal. Industrial agriculture has used these products for decades, with no known harmful effects. In terms of BSE risk, farmers probably don't mix up feeds very often. And some may even find animal "recycling" a compelling notion.
But for those of us who have almost lost our meat-eating appetites, is there any way to know what's gone into our beef?
Not really, says Robinson. "For most products on the supermarket shelves, there's no way anyone can tell what that animal was eating, and there's no way to find out," she says.
But there are some higher-end beef products that are happy to profess their organic, grain-fed or grass-fed origins. Feed consultant Rode is skeptical about the benefits of such a diet. "I think that's more about consumer marketing than an actual health issue," he says.
But Robinson says people will benefit from eating beef and dairy products from vegetarian cows. She notes that grass-fed beef contains higher levels of omega-3 fatty acids-which are thought to help against cancer and heart disease-and lower levels of saturated fat. Still, few cattle producers in Canada raise their animals this way.
The CFIA hasn't set any timeline for a possible new cattle feed ban; a spokesperson for the agency says only that they're in the "final stages" of decision-making. Until then, concerned beef-lovers will have to eat, think and be wary.