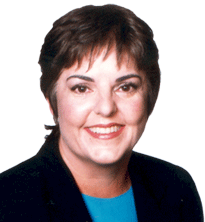 TheTyee.ca
It was a thoroughly modern photo op, the power trio of the New Democratic Party joining upraised hands on stage, basking in delegates' applause. All three of them were women. One a Chinese-Canadian. One a freckled Celt. And the third - the freshly minted hope for a revived NDP -- a Metis proud of her aboriginal roots. MLAs Jenny Kwan and Joy MacPhail grinned (perhaps with beleaguered relief) as their newly elected Leader Carole James pledged to "get around the province and remind people that there is an alternative to the Campbell government, and it is the New Democrats."
The night before, James had strengthened her edge with a rousing speech complemented by First Nations drumming and a slick video set to the tune of Spirit of the West's "Save this House." After winning the vote on the second ballot on Sunday, James introduced her common law spouse, Albert Gerow, an aboriginal from Burns Lake. He stepped forward and beamed handsomely, the crowd roared, and politics in this province just got that much more interesting.
With no delegate-stacking controversy like the last time around, and nary a former NDP premier in sight (Dave Barrett was there but Glen Clark and Mike Harcourt notably weren't) this NDP leadership convention lacked the rancorous energy of the previous one. Still, the way the vote broke down pointed to vital work ahead for James and her crew.
She'll need to deal with divergent wings represented by her remaining two rivals on the second ballot vote. NDP newcomer Nils Jensen, the councilor from Oak Bay, drew 162 votes, a significant faction embracing his message that the party must veer towards the moderate middle, project sober economic sense and loosen ties with labour (a message that didn't prevent him from gaining the support of the woodworkers and steelworkers unions). At the other end of the spectrum, self-styled party traditionalist Leonard Krog, who bragged of being third generation NDP, came in second with 215 votes.
James won with 395 votes, nine more than she needed. She did so with seasoned political advisors, funds said to be a good deal fatter than her opponents', and strong ties to public sector workers, especially in health and education. James, a 45-year-old mother of two and a foster parent, was Chair of the Greater Victoria School Board and President of the B.C. School Trustees Association. She has a reputation as a quick study with a warm, non-confrontational style. Over the course of the campaign, though, her speechifying grew sharper, more forceful.
Yet without a seat in the Legislature, James will be challenged to simply remain visible at the helm. Example: This week as the Liberals push through legislation privatizing BC Rail, the spotlight will fall on MacPhail and Kwan offering dissent in Victoria.
James says she'll be spending much of the next few weeks on the road "building a support base in communities across the province so that when it comes to May 2005 we're ready."
An hour after her election as Leader, James sat down with The Tyee for a brief interview. Drawing also from her Sunday press conference, here is what she had to say…
On being an aboriginal
The fact that I'm aboriginal, the fact that I'm a woman, the fact that I'm a parent - one doesn't weigh more than another. You bring your life experiences into every campaign.
On the economy
There are over 200,000 people in this province without a job. If people aren't working we won't have the tax base we need to be able to build hospitals and build schools. We need to run on a very strong economic platform and you'll see that rolled out in the next year and a half.
We need to build trust. People need to see that we understand the issues of the economy, that we have a balanced approach. I'm a believer in living within your means. I've always done that in my personal budget and I've always done that in any work that I've done. We've got two balanced budgets [when last in power] that we, the NDP can stand on. We need to remind people of that. But we also need to show them we have a vision for the future.
Government doesn't create jobs. But in government we have an opportunity to support industry and businesses to create jobs. Using taxes to provide incentives to industries and businesses who can show us they are going to create long term jobs, and jobs that are environmentally sound.
The film industry is one example, because the New Democrats gave some tax incentives and created some great jobs. The other area I hear about a lot in Prince George is secondary wood manufacturing. Another good example is in Kelowna where Beaver Aircraft was going to build a plant, and they asked government to put aside some seats in the college system to provide some training for workers for their factories. The Liberal government said no, we're not going to do that. There's an example where government can play a role.
On B.C.'s oil and gas industry and global warming
We need to look at alternate sources of energy. Depending on what Paul Martin does there could be some resources coming down around Kyoto. I think we have a chance of being a leader in this province to look for a way to get away from fossil fuels and toward alternative sources of energy.
I talk about an approach of having three bottom lines. We need to insure we have a good economic base. We need to insure we have a protected environment. We need to insure we have healthy communities. You don't weigh one off against the other.
On hammering Liberals' broken pledges
The first one was to build our economy. That was the number one promise of the Campbell government - they were going to strengthen the economy. Well take a look at their track record. We've got the highest unemployment rate we've had. We're tenth economically across the provinces. They've done a disastrous job.
The second one is the sell off of BC Rail. The Liberals stood up and said very clearly, we're not going to sell BC Rail. Well, they are, this week.
Third, we see schools closing, hospitals closing. We've seen health care cuts; although they've put more money in the budget we haven't seen it meet the needs that are out there.
On Green party competition
We need to go out there and bring all progressive voices together. There are a number of people who voted Green last time around who aren't Green party members. I think we need to reach out to those people. They were concerned with New Democrats. They felt we didn't follow a direction they believed in. I think when those people take a look at the New Democrats, the kind of policies and positions we're putting out there, those people will trust us once again. I encourage them to come and talk to New Democrats, help us strengthen our position as a party and join with us to make sure we get rid of this government.
I don't think forming an alliance [between the Greens and NDP] is in the cards. I'm certainly not hearing that from Adriane Carr or the Green party. We'll be running New Democrats in every riding in this province. Who's going to be the best alternative to defeat the government? That'll be New Democrats.
On Paul Martin
I'm very concerned about Paul Martin and the direction he may go. I'm worried that he'll take a look at cutting further support to the provinces. We need to insure that those payments to our province continue. BC deserves to get its fair share.
On BC Rail
I'm very concerned. I've lived in Prince George almost two years now. It's one more example of this government selling off the assets of this province. Those are assets that belong to this generation and future generations. They're selling off a railroad that's making money, the lifeline to the north. I want to stand strong to stop the sell off of BC Rail and to stop the privatization and the sell off of B.C.
On being a Leader without a seat
My job as leader will be to get out into communities. We'll be showing people what kinds of things are happening around the province, what the impact of the legislation is. Because I think often the decision makers in Victoria are doing things and forgetting that they are impacting real people, real families. My job as Leader is to bring that human face to what's going on in the Legislature. I think you'll see a lot of small town hall meetings. We build the party person by person. That'll be the job for me, a lot of one on one.
On how long she expects to remain Leader
I didn't put in all this energy over the past several months to be a caretaker. I'm going forward to win in 2005 and to lead government as we go into 2009 election as well.
David Beers is editor of The Tyee.