In the back-and-forth mini-U.S.-presidential-like election campaign nearing the finishing line in Ontario — featuring Liberal Kathleen Wynne, the Hillary Clinton with government experience, as premier; Progressive Conservative leader Doug Ford, the northern Donald Trump-lite populist; and the NDP's Andrea Horwath, the social-democrat equivalent of Bernie Sanders — the one major federal party leader most looking forward to voting day on June 7 is arguably federal NDP Leader Jagmeet Singh.
Unlike the 2014 provincial election, when Justin Trudeau actively campaigned to keep the Liberals in power and advance from a minority to majority government, and Wynne returned the favour a year later to back Trudeau and his federal Liberals in their successful bid to form a majority government, the prime minister has been absent on the hustings as the Liberals slide to almost certain defeat.
Federal Conservative leader Andrew Scheer has also not been seen with his provincial official opposition counterpart, which may be more the result of avoiding association with the infamous Ford-family brand than with Ford's electoral chances that still place him within reach of the premier's office.
By contrast, Singh has been omnipresent in the Ontario NDP campaign, glad-handing in more than 10 ridings (several of them represented by Liberals) since the electoral writ was issued on May 9. He has also appeared with Horwath at a Victoria Day campaign rally in Brampton, which is part of Peel Region where in 2011 Singh became the first NDP MPP when he won the now-former riding of Bramalea-Gore-Malton.
The NDP forming government in Ontario "will help set up the win federally" for the party, said Singh, who is expected to seek a seat in the Brampton area in next year's federal election.
He is, like Trudeau with Wynne, also learning the art of campaigning and the craft of positioning party policy through Horwath who is now in her third provincial campaign as NDP leader.
Ford's PC team "doesn't have a campaign platform," Singh offered, noting that by contrast, Horwath's NDP crew has one that includes universal pharmacare and dental care, and a plan to reverse the Liberals' initiative to privatize 60 per cent of Hydro One and return the province's largest electric utility "to public hands," while reducing hydro bills by 30 per cent.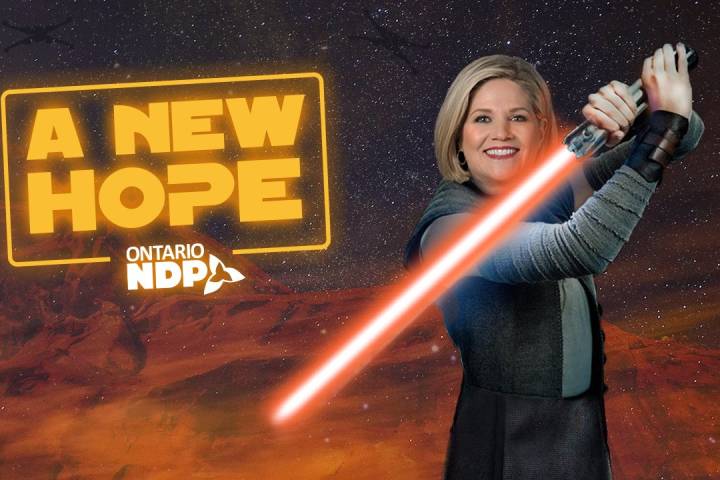 Such hot-button issues, along with Liberal fatigue and unease with former Toronto mayor Rob Ford's brother running another major economy, is paying off for the NDP in pre-election polls that have shown the party gradually replacing the PCs as the favoured alternative to the governing Liberals and in sight of forming the second NDP majority government (after Bob Rae's in 1990) in Ontario history. (Historic note: the governing Liberals at the time had a 24-point lead over the NDP in a June 1990 Environics poll, three months before the election.)
A recent Abacus Data poll, conducted before Wynne conceded on June 2 that she won't win re-election and released the next day, found the NDP has the largest pool of "accessible voters," with 64 per cent of 2,646 respondents surveyed indicating that they would be open to vote NDP. By comparison, 49 per cent said they would consider casting a ballot for the PCs, while 40 per cent said the same about the Liberals.
Abacus also found that 34 per cent are "certain to or likely to" vote NDP compared with 29 per cent saying the same for the PCs and 21 per cent for the Liberals.
In other polls, a June 1 EKOS survey gave the Tories the edge, with 38.6 per cent support, enough to form a majority government. Meanwhile, the latest Pollara–Maclean's poll conducted between May 30 and June 2, put the PCs and NDP in a dead heat with 37 per cent each.
And on June 3, CBC's Poll Tracker had the NDP at 37 per cent and PCs at 36 per cent. But because the Tories have a better regional distribution of votes, they're expected to form a majority government with 69 out of 124 seats compared to 52 for the New Democrats. Most shocking is that every one of the 56 seats the Liberals held in the legislature before dissolution is in danger.
On leader popularity, Abacus reports that Horwath's eclipses Ford's, with two people having a positive view of her for everyone who holds a negative view, and it is "the exact opposite" for Ford.
"Unless the Conservatives are able to mobilize their vote and arrest the NDP's momentum, the NDP can win," said Tim Powers, managing director of Abacus Data and a Conservative commentator.
Karl Bélanger, who served as former federal NDP leader Jack Layton's press secretary and was part of the Quebec campaign team that helped spawn the "orange wave" that propelled the party to unprecedented official opposition status in 2011, said that Horwath's team is buoyed by young voters who have witnessed NDP electoral successes in Alberta and British Columbia. But they should "stay focused on and repeat its message of 'Change for the Better'" and "not get distracted by the conservative-friendly media that used to go after Kathleen Wynne and are going after the NDP in a big way" as election day approaches, he said.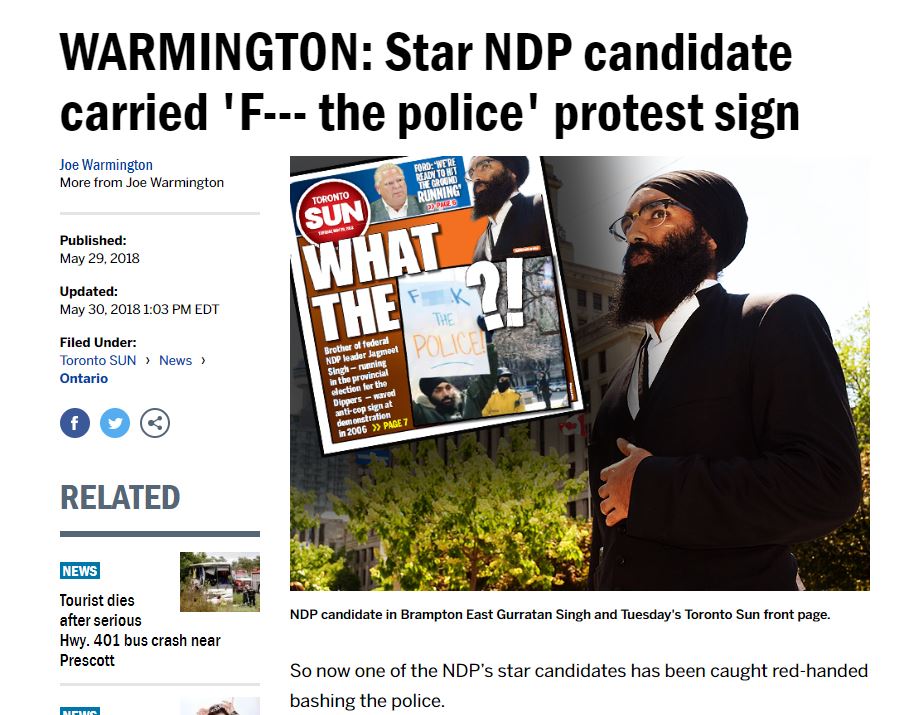 That has certainly happened. Singh's younger brother, Gurratan Singh, the NDP's star candidate in Brampton East whom the federal party leader credits as his "backbone" in helping him get elected as an MPP and rise up the NDP ranks, made the front page of the May 29 issue of the Toronto Sun. But the sensational story, by Joe Warmington, was hardly flattering as it focused on a photograph of Gurratan Singh holding up a "Fuck the Police" sign during a 2006 demonstration in downtown Toronto. "Everybody who has seen this picture is disgusted by it," wrote Warmington.
On that photo, Singh, a criminal-defence lawyer as his brother was, said in a statement that he was "deeply ashamed" and "apologize[d] unreservedly to police officers, their families and the policing community."
Warmington didn't stop with Singh, and his piece listed other NDP candidates targeted by the PC campaign, including one who allegedly referred to the Canadian military mission to Afghanistan in a 2011 Facebook post as a "slaughtering machine" and another who allegedly described Remembrance Day as an "annual ritual of war glorification" in a 2014 blog post.
But past comments by NDP candidates — or a costing error in the party's platform that understated the province's projected deficit under its watch by $1.4 billion in 2018-19 — don't seem to have affected voter interest in the NDP, according to Nick Tsergas, who in 2017 co-founded A Strong Canada, an Ontario-based, non-partisan grassroots organization aimed to engage people in politics.
"People know that after 15 years in power, the Liberals won't form the next government, and to keep Ford out, many plan to park their vote with the NDP," said Tsergas, who has been working on NDP, Liberal, PC and Green campaigns. "The surge in NDP support is coming from soft Liberal voters and people who would have been more than happy to vote for the PCs if the party was led by Christine Elliott or Patrick Brown."
Elliott, who succeeded her late husband, former federal Conservative finance minister Jim Flaherty, as the member of the Ontario legislature for the former riding of Whitby-Ajax, ran for the leadership that Ford won in March after Brown resigned over allegations of sexual misconduct. Brown has launched an $8-million lawsuit against CTV, which broke the story, and plans to release a tell-all book in November.
Tsergas said the PC's disadvantage is that, unlike the NDP or Liberals, the party's campaign is not focused on policy but — as with Trump with the Republicans in the 2016 U.S. presidential race — on its leader.
"Doug Ford is the platform," he explained. "Ford is like Trump, not based on veiled racism or sexism or homophobia or any of that — but that his message is based entirely on slogans and message-control rather than on substance."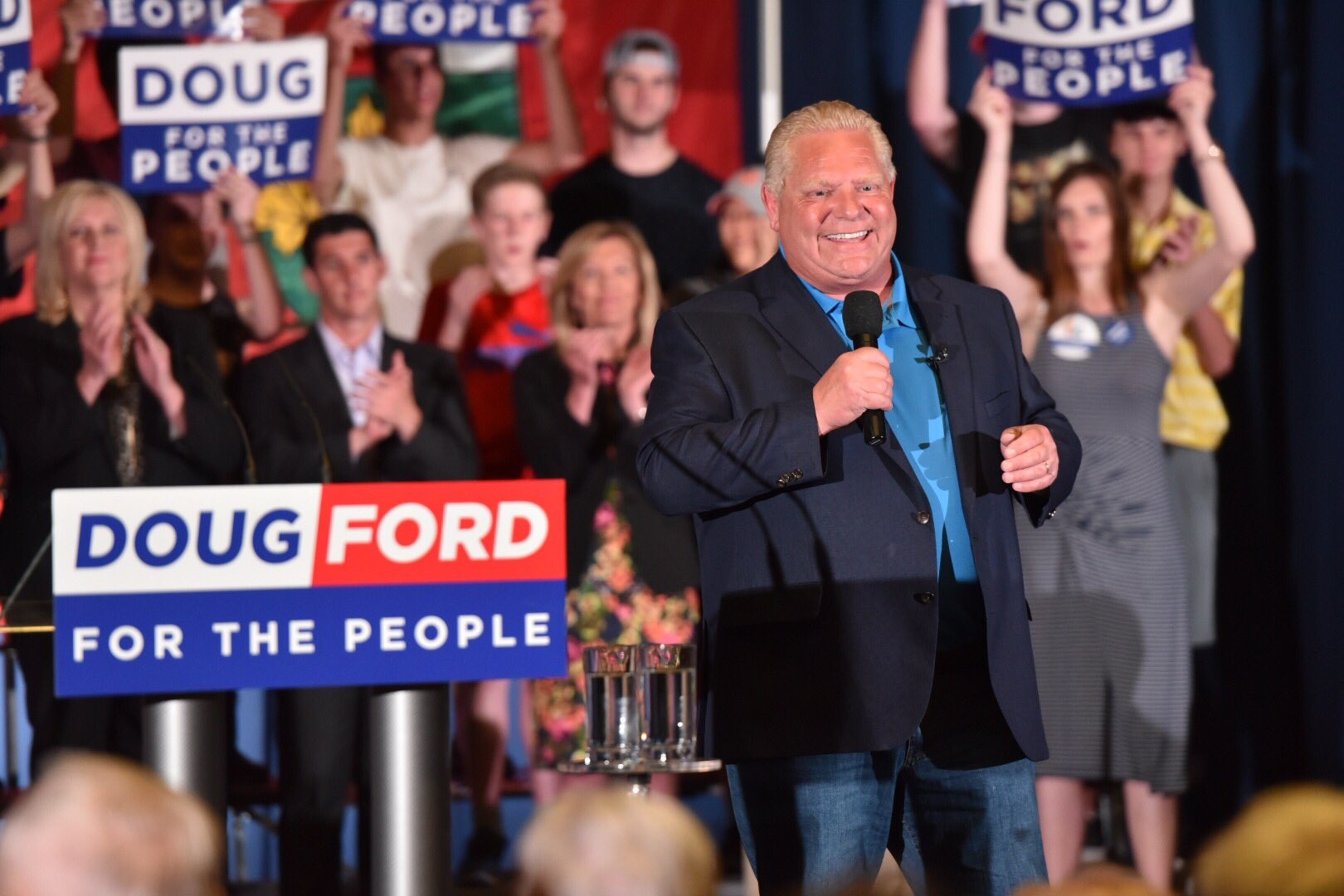 On the Trump front, Anishinabek Nation Grand Council Chief Patrick Madahbee has advised his community's members to vote strategically for a premier who will "consult with First Nations, honour existing agreements and advance First Nation priorities," and not someone who won't, which "just harkens to the Mike Harris era and current Trump-style politics."
While the PCs have found flaws with their NDP challengers, they have also faced their own scandals during the election campaign. Ford was accused of trying to get people to sign up for PC memberships without paying the requisite fee, before he became leader. An even more explosive charge, revealed by the National Post, involved two PC candidates (one of whom subsequently dropped out of the race) who were implicated in a scheme to steal customer data from a private Ontario toll highway in an attempt to sign up party members.
That alleged data breach, currently under police and Elections Ontario investigation, "has left a bad taste in a lot of people's mouths," said Tsergas. "People who can't support the PCs are either staying home on election day or voting for another party."
If not the NDP, the alternative is not the Liberals, as Wynne herself acknowledged over the weekend when she urged party supporters to at least elect some Liberal MPPs to prevent a Ford or Horwath majority government.
"The wild card is the Green Party, which is gathering a lot of energy and interest," said Tsergas. "Yet I wonder where their votes are coming from. The common wisdom is that the Greens split the votes on the left, but I don't think that's the case in this election. The Green Party is pulling votes away from the PCs from people who will not vote NDP."
The Toronto Star has endorsed Ontario Green Leader Mike Schreiner, who, like Horwath, is in his third election as party leader, in his bid to attain the first Green seat at Queen's Park.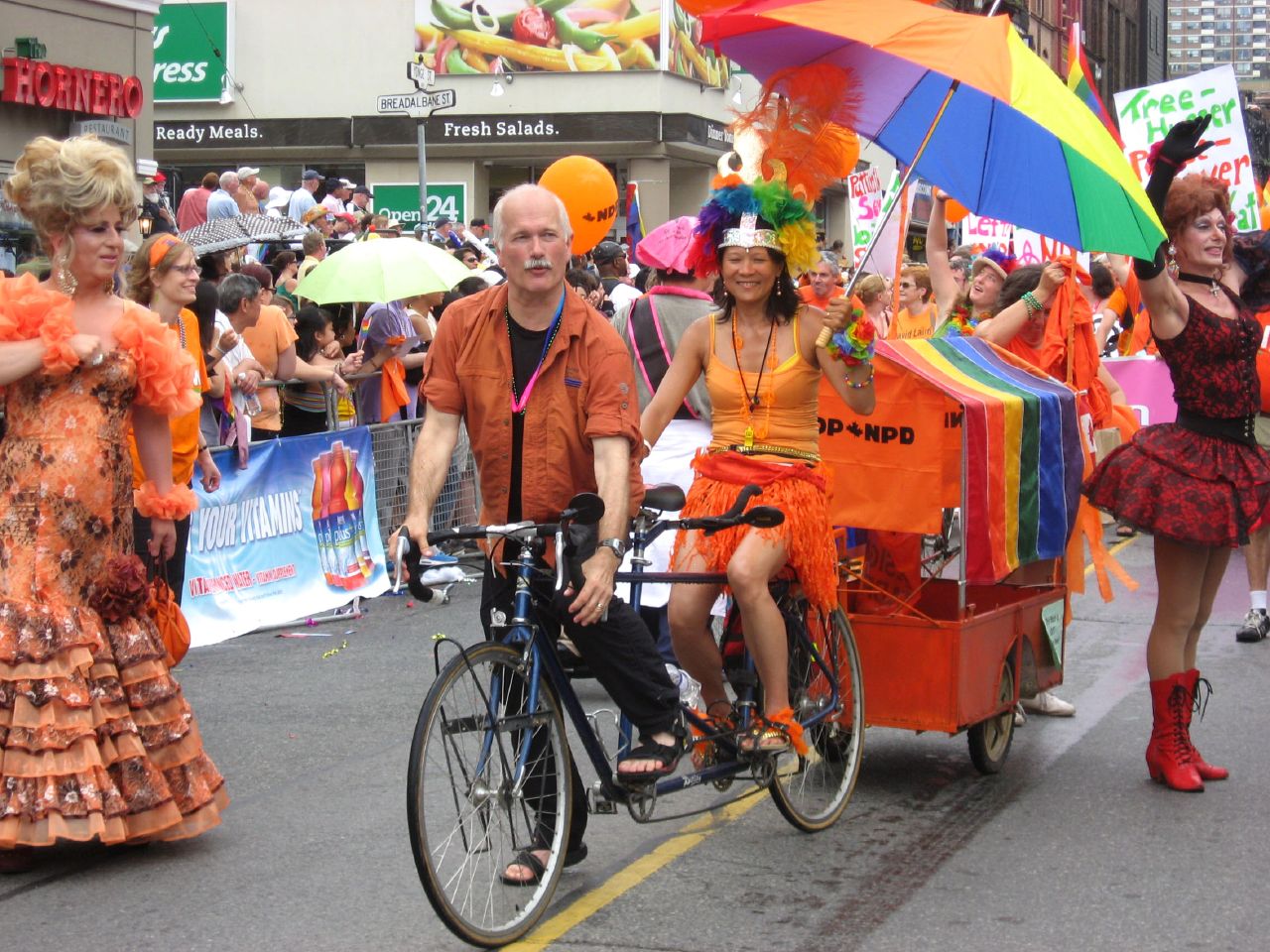 No one expects the Greens to come anywhere close to governing Ontario. But many PCs also did not expect the NDP to pose a serious challenge to the Tories, who began the campaign in the clear lead to succeed the Liberals, according to Powers, who also serves as vice-chairman of Ottawa-based public affairs firm, Summa Strategies Canada Inc.
"The feeling that the ghost of Bob Rae would still haunt whomever was NDP leader was so entrenched in the mindset that Tories couldn't believe that the NDP would be in the position they ended up in," he said.
"It's become a bit of a perfect storm for Andrea Horwath, with the Bob Rae ghost exorcised, the Liberals in free fall, and the NDP being the least scandalized of the three major parties with a leader being the most experienced." Rather than Rae, it is Layton whose spirit seems to be surrounding Horwath's path to victory.
"This election reminds me a little of the federal election in 2011 for different reasons," explained Powers. "The difference is that the Conservatives under Stephen Harper were always going to win. But the thing that is kind of eerie is the similarity between what was happening with the NDP and the Liberals then, and what is happening with the NDP and the Liberals now."
Said Powers: "In 2011, it allowed the NDP to catapult to opposition status at the federal level. This time, the NDP can have another orange wave and form government in Ontario."