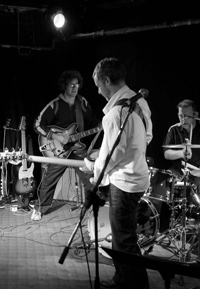 There are two uneven sides to Vancouver-based Northern Electric records. Heavyweights like Herald Nix and Rodney DeCroo crowd one end of the boutique label, being all dark and serious, and comic surrealists like David P. Smith do their thing on the other.
Since Chariots of Eggs takes its name from an SCTV skit, we can probably guess where the three-piece sits inside the NE spectrum, but the new, self-titled debut from this light and mobile unit showcases a gift for indelible melodies as much as it tickles the wry-bone.
Even the most overtly silly of its 13 songs, in this case "Robert Ludlum" -- the tale of a man whose partner is too engrossed in bad literature to put out -- plays like a great, lost Joe Jackson tune.
Cameron Dilworth of Vancouver's The Neins Circa has a fellow-traveller in Eggs vocalist-guitarist Matt Caruso, who makes clever and catchy little songs seem like a lost art, and unloads considerable wit on tracks like "Are You Feeling Blank?" -- which you can use as the theme to your next existential crisis. ("The guru you retained has gone insane / The guru you retained!")
But it's the towering figure of the Kinks' Ray Davies who exerts the biggest influence on Caruso's songwriting, especially in the hard-scrabble "Buffalo Bill," the potted character studies of "Sheldon" or the curmudgeon's hymn, "Let the Others Rush." All of which take unexpected, exciting, pretty melodic turns, owing something to the Arthur-era Brit as filtered through the sensibilities of men probably raised on Canadian punk.
Which all makes Chariots of Eggs great fun. And because it secretes its accomplishments inside a prickly and no-frills indie-rock production job, and then underneath a little bit of goofball humour, Chariots of Eggs wins our love without ever really demanding it.
Chariots of Eggs -- slightly cracked, but still fresh.
Chariots of Eggs will be holding its album release party at the Railway Club this Friday, Dec. 19.
Related Tyee stories: