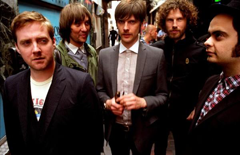 It may well be a satirical jab at England's lethargic youth, but I love anyone who can incorporate potato chips into their lyrics: "What do you want for tea? I want crisps."
Salty snacks aside, the Kaiser Chiefs lads enjoy taking a political swipe with their lyrics and titles; one of their first hits was "I Predict a Riot." And their third album, Off With Their Heads (Universal/Motown, October 2008) features more of where that came from.
With an obvious nod in the direction of fellow islanders Franz Ferdinand, the Kaiser Chiefs' first single -- the adrenal-charged"Never Miss a Beat" -- is already a bona-fide hit in the U.K. As for the rest of the album, while opener "Spanish Metal" seems somewhat out of place despite its hooky chorus (nobody can ever accuse these guys of not writing catchy choruses), "Good Days, Bad Days" and "Half the Truth" featuring rapper Sway, really hit the pop and small-p politics bulls-eyes.
Friend and Brit sweetheart Lily Allen lends back-up vocals to the decidedly Blur-esque "Always Happens Like That." But it's the melancholy "Tomato in the Rain" that is pop heaven to me: delicious Hammond organ with lyrics that almost make a commonplace quasi-veg seem romantic: "Like a tomato in the rain/I got that feeling again." And the luminous "Remember You're a Girl" (sung by drummer, Nick Hodgson), is a surprising, albeit pleasing, finale -- all lush 70s sound and sentiment.
Crafted under the watchful gaze of co-producer Mark Ronson, Off With Their Heads's most political move is staying true to fans -- not critics. The Kaiser Chiefs are, after all, one of the U.K.'s most popular and beloved bands.
You can focus on how they're influenced by such Brit bands as XTC, The Stranglers, The Kinks, The Small Faces and Blur, or on how it's just true, unapologetic Britpop. And I'll take unapologetic, well informed politics and pop wherever I can get them right now.
Off With Their Heads drops Tuesday, Oct. 28.
Related Tyee stories: