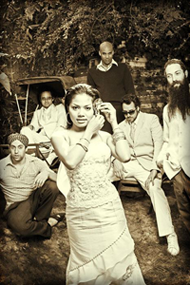 I don't write about women artists frequently enough for this column, and I definitely don't write about Cambodian women artists frequently enough, so feel my satisfaction at drawing people's attention to Dengue Fever.
Dengue Fever is what happened when Americans Ethan and Zac Holtzman found themselves obsessed with '60s vintage Cambodian psychedelic pop -- an unlikely enough phenomenon that was subsequently wiped out under the Khmer Rouge -- and set about looking for the right singer to work their weird musical fetish.
The brothers found their muse in a club in the Little Phnom Penh area of Long Beach, California, where singer Chhom Nimol had installed herself as a karaoke performer. A couple years later, in 2003, Dengue Fever released its self-titled debut.
This LA-based six-piece is playing at Vancouver's Biltmore Cabaret next Wednesday, Oct. 22, and I'd be there if it weren't for the other notable show happening the same night in Vancouver. Pardon me if I seem coy -- I've mentioned N*il You*g more than a few times here in Tyee-world, so I'll spare the reader my excuse -- but I'd urge every single one of you to show up for Dengue Fever on my behalf and then get back to me about how awesome it was.
Here's your incentive: "Seeing Hands," which kicks off the band's most recent album, Venus On Earth. If that particular lemon-wedge of seamless neo-psyche elevator muzak doesn't convince, by all means feel free to stick around for the rest. "Sober Driver" and "Tiger Phone Card" both showcase the other side of Dengue Fever: the perfect schizo pop thrill that blends American hipster fascination for exotica with the real thing, or thereabouts, all in the service of singing -- in that latter number -- about the advantages of budget international telecommunications.
It's easy to overlook the luminous quality of Nimol's voice inside such a cheap and cheerful package, but please don't. This is amazing bubble-gum pop that sounds like it should only exist inside a fever dream, but my God -- it's real!
Related Tyee stories: