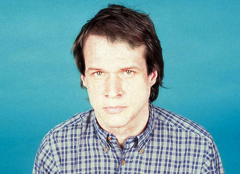 It is the curse of every generation to think that the music of the next generation is, to coin a phrase, as crappy as soggy pancakes. If you tune into the radio right, now you'll be treated to John Mayer informing you to "say what you need to say," a line he finds so compelling that he repeats it 27 times before calling it a day. You'll hear the Pussycat Dolls' dream of growing up (aren't they all 35?) and one day having "boobies." And you'll hear the one-named singer Cassie performing a ditty that is somewhat admirable for its complete disregard for traditional song structure. Devoid of a beat, melody, hook or verses, "Official Girl" defies you to like it -- or hum along. (And you have to love a girl power anthem that has a protagonist wishing to be the official girl of a guy who completely ignores her.)
Given this musical landscape, it's unsurprising that some of the best music can be found in advertising. Moby was the first to realize the lucrative nature of licensing, simultaneously raising a middle finger to choruses of "sell-out" while he drove dump trucks up to the bank. Astutely noting that radio wouldn't play his droning, repetitive soundscapes, he eschewed it altogether, turning instead to television spots. (Imagine what Moby could have done with YouTube...) Ironically, that very summer, Moby became so ubiquitous that radio seemed to have turned into one long Volkswagen commercial.
I can remember searching for "song Mitsubishi ad" a few years ago when the car company was presenting its vehicles as mobile discos. Do that now, and you'll find over seven million hits. Today, a song in a well-placed ad can actually make a band, and gone is the sense that artists need to keep their work pure by refusing commercial requests. Bob Dylan is well known, perhaps erroneously, for never refusing a licensing request.
And without advertising, it's possible I may never have come across Arthur Russell, which is a little ironic considering I can think of few artists less commercially viable than the classically trained cellist. Apart from the T-Mobile U.K. ad featuring a young man dragging his house down the street, I'm not sure how I would have heard his music. Russell, Wikipedia tells me, was a classically trained cellist who died in 1992 at the age of 40. He performed in a variety of different styles, but the one you will find on his 1994 release, Another Thought, can most easily be described as distorted cello pop.
The most interesting aspect of Russell's work is how readily you can hear -- in his composition, his phrasings, his choice of chords -- echoes of the celebrated indie bands of today. Maybe it's all my imagination, but I can't listen to "This Is How We Walk On The Moon," the T-Mobile track, without hearing Arcade Fire. And "A Little Lost" contains in its simple guitar-line the soul of practically every wistful tune written in the last five years. Jens Lekman does a stellar version on the kalimba.
On Oct. 28 of this year, Audika Records will release a collection of his demos titled Love Is Overtaking Me. And the documentary, Wild Combination: A Portrait of Arthur Russell, will come out on Nov. 4 from Plexifilm.
But I recommend picking up Another Thought, if for no other reason than it's refreshing to hear pop songs not played on the guitar or piano. And don't be surprised if you hear "Keeping Up" in a Chevy commercial.
Related Tyee stories: