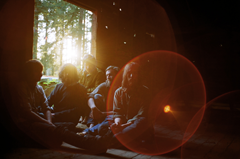 Dear reader, over the next few weeks and possibly even months, you are going to have Coldplay relentlessly stuffed down your throat with a corporate-sized plunger, enough to make you feel like a corn-fed goose on the bubble of its glorious pâté moment.
If you happen to suffer from an in-built animus towards anodyne rockers with Hollywood wives and the inexplicable success they enjoy -- and some of us do -- then you're going to need a good corrective for the coming quiet storm of romantically brimming and eminently polite bullcrap that I assume we can expect from Coldplay's Livin' La Vida Loca -- I mean, Viva La Vida or Death and All His Friends, which was released last week.
In the meantime, I will do my very best not to hear this album. It's an unflattering position for a so-called music writer to take, but it's the truth. It's not like Viva La Goddamned Vida won't seep into my system as it becomes as ubiquitous as summer humidity, and just as unwelcome.
But if romantic brimming is what you want, may I recommend Fleet Foxes? A Seattle-based five-piece whose combined age is probably still less than mine, Fleet Foxes doesn't really need any more breathless praise than they've already been getting since the release of their self-titled album in early June, but here it comes anyway. It was actually a cut from their EP Sun Giant from February that first captured my attention, and my heart.
"Mykonos" is woozy and sun-kissed, with a Crosby, Stills, Nash, and Yod feel that satisfies my twin needs for melody at its most sublime and the suggestion of something culty going on behind the scenes. And how about that vaguely witchy intro that sounds like a lost cut from the original Wicker Man soundtrack? (On a side note, Christopher Lee's monologue in this clip, which begins with the words "I think I could turn and live with animals..." remains my favourite scene in any movie, ever.)
Please forgive this scattershot post, but speaking of culty, I've seen two American bands stumping for Obama here in Vancouver in the last month. One was REM, and the other was She Wants Revenge. The latter had the Shepard Fairey "Hope" poster either silkscreened or airbrushed onto its amps.
I couldn't help but think of the Clash bringing the Sandinistas to my attention when I was a kid, and I giggled at the idea of the Butthole Surfers or anybody else turning up at the Commodore in the '80s with a Walter Mondale or Michael Dukakis poster hanging behind them. Why am I not seeing bands with Hugo Chavez on their amps, or Evo Morales on their t-shirts? Obama? Come on. Since when did our rock stars start working on behalf of the mainstream U.S. political machine?
I guess probably about the same time that the likes of Coldplay's Chris Martin and his friends in the Billionaire Rock Club made the middle of the road so disastrously acceptable; those woolly-brained, feel-good double-agents who tell us to Fight Aids in Africa with our Amex cards. Those sainted Live Eighters who feed us their delusional diet of Hope.
You don't use a broken machine to fix a broken machine, but I fear we're too far gone to realize it.
There must be some kind of way out of here. Mykonos, anyone?
Related Tyee stories: