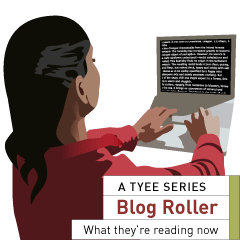 [Editor's note: Sean Aiken has no idea what he wants to do with the rest of his life. But unlike many caught in post-undergrad malaise, he decided to do something about it (other than go to grad school).
"My name is Sean Aiken and like many others in my generation, I can't tell you what it is that I want to do with my life. Help me figure it out by offering me a One Week Job. I am travelling throughout North America working a different job each week. All my wages are donated to the Make Poverty History/ONE Campaign." (At the time of posting, $8,431.60 has been raised).
So far (he's at week 22 now), he's worked as a bungee operator, brewmaster, vet assistant, tattoo parlour assistant and DJ. And each week, he writes a blog about that job, and often films a 12-minute video-blog in which interviews people about their chosen careers.
What follows are his daily must-reads.]
If you're looking for bite-size riffs on a variety of topics in business and marketing, look no further than Seth Godin. In between writing his latest book, Seth uses his hugely popular blog to publish thought-provoking posts guaranteed to have you nodding your head or seething with disagreement. Seth is generally credited with coining the term Purple Cow (also one of his books) -- the belief that being a boring regular cow is not good enough for a company anymore. (Having worked on a dairy farm, I know first hand what he means.) To stand out, you've got to "be remarkable" -- you have to be the only purple cow in a field of regular cows.
You may have come across Steve Pavlina's blog already, likely through a friend forwarding you one of his articles. That's because his site, what he calls "personal development for smart people," is the most popular of its kind in the world. Before you roll your eyes and pass him off as another Dr. Phil wannabe, consider his most popular topics include 10 Reasons You Should Never Get A Job and How To Discover Your Life Purpose In 20 Minutes. Definitely not for in-the-box thinkers.
With so many others in our culture of consumption stuck under mountains of debt, the prospect of getting rich seems distant. Some look for the "get rich quick" ideas. Others read the blog Get Rich Slowly. You won't find any shady schemes, marketing fads or unbelievable stock tips here. You won't even find the author pitching a product or book... yet. What you will find is daily information about personal finance tips and stories about debt elimination, saving money and practical investing.
Trading things is fun. Kyle Macdonald likes to trade things, needed a house, and also likes to have fun. Kyle's blog documents his experience as he started with one red paperclip, and 14 trades later, ended up with a house in Kipling, Saskatchewan. Kyle has a Vonnegut meets The Simpsons-type writing style, and continually reminds me with his trademark sign off at the end of each post that life is all about remembering to simply "have fun." His book was released worldwide on Aug. 21.
I love to travel. If I am not able to be travelling, reading a blog that talks about travel is the next best thing. To satisfy my travel bug, I visit Brave New Traveler, a collaborative travel blog, run by my best friend Ian Mackenzie, that explores the nature of travel, along with travel writing tips, photography, green travel and volunteering, among various other topics.
Related Tyee stories: