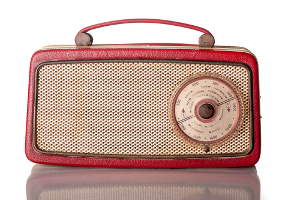 The latest round of CBC cuts raises the regular debate among lowly taxpayers over which service to save: radio or television.
Really, it's no contest. Let's reinvigorate radio by pumping the dough otherwise earmarked for dull, earnest drek like Little Mosque on the Prairie, or whatever is taking its place this season.* TV's budget is being wasted on the fat salaries of guys like that double-dipping oil industry dinner speaker Peter Mansbridge. Or broadcasters like Kevin O'Leary. I don't care that he's a rightwinger -- I need to hear their views too -- I care that he's an incompetent interviewer.
While CBC TV does stellar documentaries and public affairs shows -- and I'm sure other outlets would happily buy them -- the entertainment and TV news offerings have long underwhelmed us. Shows with three-quarters of a million viewers are called "hits." Meanwhile, radio's audience has grown to more than six million.
But I have another reason to raise my voice in favour of killing the television service and funnelling the funds into rebuilding radio. TV is just so over. Like 1978 over. CBC should get out while it can still sell the infrastructure.
You may have noticed this: nobody is watching TV. Oh, they're watching lots of video. And they're watching select TV shows, often in that reverential way previous generations reserved for novels (1920s), or theatre (1960s) or film (1970s).
There's already more good television than most of us have time to watch, because TV is a time-suck. Which is why so many of us are turning television into an event. I know a number of people who have viewing parties with friends to watch Mad Men and discuss it, which reminds me of a nightmare in which I'm permanently trapped in a grad school seminar. But that's beside the point.
Some marquee shows, like Game of Thrones, demand group viewing. Vancouver's Storm Crow Tavern runs the spectacle of sex and dragons during the season the way sports bars run the World Cup.
But who in his right mind would make an appointment to watch Arctic Air? That's time you'll never get back, and you can't even discuss it at parties. Well, not beyond the general conversational gambit: "WTF is it with CBC TV?"
Canada's medium
By contrast, radio is the perfect medium for our over-tasked lives. You can do the housework, liven up your commute, or impress your doctor by doing those therapeutic knee exercises, all the while catching up on international affairs.
We live in the era of individualism and radio is the most intimate and personal of media. It's just you and someone's voice whispering in your ear about your favourite obsession.
Because it's so cheap to produce, radio can be aimed at niche tastes, which also makes it the ideal medium for the world's largest small country. Canada, I would argue, is a radio nation by virtue of its huge land mass and tiny population.
Which is probably why an astounding number of foreign radio shows find audiences here. This American Life, an independently produced show featuring the nasal voice of that whimsical man-child Ira Glass, is on tour this fall and coming to Vancouver in September. On July 8, the quirky Welcome to Night Vale, another indie series about the eerie happenings in an eccentric little desert town, is live at the Chan Centre. And who'd-a-thunk that another nasal-voiced eccentric like David Sedaris would become a touring star based on some comic commentaries on NPR. (He was here last fall.)
CBC's Stuart McLean also schleps his mic across North America bringing his gentle, folksy tales from the Vinyl Cafe to the masses, in person. (They'll be all over the B.C. interior come fall.)
Radio is loved, people. Loved. As in willing-to-buy-tickets loved. Can we say that about CBC TV offerings?
Bring on the drama
I often joke that I listen to radio like it's 1935. And I live in London. I'm a big fan of BBC Radio 4, which offers dozens of radio dramas on any given week.
That's the good news. The bad news is that it's been messing with my speech. Lately, I've complained of being "knackered." I hope someone will warn me if I start developing that mid-Atlantic accent.
Feeling disoriented is a small price to pay for an endless supply of the best writers and actors in the world. That's not hype. Last Christmas they ran a radio theatre version of Neil Gaiman's book Neverwhere, featuring Sherlock's Benedict Cumberbatch, X-Men star James McAvoy, and Natalie Dormer who plays Margaery on Game of Thrones.
Apparently radio drama is what big league Brit actors do between a run of Shakespeare in the West End and a round of Hollywood films.
Why couldn't Canadian actors be doing the same? With books written by Canadian authors? At a fraction of the cost of CBC's wretched Heartland, based on books by an American author about a ranch in Virginia.
Oh. Right. Because CBC radio cut its drama department a decade ago.
I don't mean to sound churlish, but how is it that most of the Canadian TV talent goes south, while CBC pumps public funding into what I've come to think of as their core incompetencies?
Have you seen the televised version of the novel The Best Laid Plans? Or Republic of Doyle? Cringeworthy. Both mercifully killed by the latest round of cuts. But it's hard to believe television that bad is being made in this era. Have they never watched HBO? Or The Good Wife, for that matter. Not all the great television is on the premium services.
Now just consider that the brilliant showrunner who brings us two great FX series -- Justified and The Americans -- is a Canadian, Graham Yost. Then there are the talents behind the fascinating British-Canadian co-pro Orphan Black. If you haven't seen Canadian actress Tatiana Maslany playing clones of the central character, you're missing a tour de force performance.
It's not that Canadians can't do good TV drama; it's that CBC apparently lacks the will to do good TV drama. Meanwhile, it has cut the radio drama service at which it was once internationally acknowledged to be pretty darn good.
What's left of CBC public affairs radio is still remarkably good, despite the cuts. But it's also a pale shadow of its former self and increasingly narrow and parochial in scope.
As I spend part of most days in a radio daze, I find CBC doesn't have nearly enough shows. So here's how I fill in the gaps, when I'm not busy plotting the overthrow of CBC management.
For independents:
TheCommentary.ca: A labour of love by Vancouver's Joseph Planta, a guy who shares my enthusiasm for radio. He podcasts interviews with authors, politicians, artists and the occasional hack columnist (including me). Some of his guests are local, others international. This is his hobby and he interviews whoever happens to interest him, which means he picks up on some stories mainstream media miss.
The CanadaLand Show: Indie broadcaster Jesse Brown offers a weekly look at (mostly Toronto) media. If you want to know about The Globe and Mail demanding its journalists write advertorials, this is the place to find out.
For surprising facts:
99% Invisible: A podcast about design that's full of information you had no idea you needed to know. Such as the reason why baseball uniforms look the way they do.
RadioLab: One of the most technically innovative radio shows in the American public radio roster. The show investigates all sorts of things. Blood. Historical events. One of my favourite episodes is #108 Oops, about grand screw-ups.
Grammar Girl: Her views on things like the Oxford comma are a source of much debate among word nerds.
Nutrition Diva: The food and nutrition wars will not end, but this is a good place to begin trying to sort out how and what to eat.
For entertainment:
The Moth: If you like to listen to storytellers -- people telling stories about the weird things that have happened in their lives -- this is the show for you.
Welcome to Night Vale: A quirky kind of radio theatre disguised as a community radio announcements for the fictional desert town of Night Vale. Which sounds as if it's uncomfortably close to Roswell.
The New Yorker Fiction Podcast: Short stories by major writers in the magazine's archive, read and discussed by contemporary fiction writers.
The Ensemblist: Interviews with performers who work as dancers and singers in the chorus, eight shows a week, on Broadway. A must for Gleeks and their parents.
BBC - World Book Club: Most book podcasts review new books, but this is an interview with well-known authors discussing their best-known book. It lets you know what you missed and whether it's worth your while to catch up.
Slate Magazine Culture GabFest: All the buzz for this week in pop culture.
CBC Under the Influence: Terry O'Reilly, a radio ad man, talks about the history, changes, and innovations in the propaganda trades: advertising, PR, and marketing.
NPR All Songs Considered: A mix of new tunes from famous musicians and offerings from great, little-known artists. This week, it's the first cut from the New Pornographers long-awaited album and an interview with Hank Williams's granddaughter, Holly Williams.
For international news:
BBC -- From Our Own Correspondent: Features about foreign climes from the British point of view. There's a recent documentary on harvesting maple syrup in Canada.
BBC -- Documentaries: Need to know what Putin wants? You'll find the backstory here. Along with a host of docs on current affairs and historical issues. A great place to find context for international news stories.
The New Yorker Political Scene: This week's buzz on American politics and the international scene from the American point of view.
NPR Fresh Air: This show was inspired by Peter Gzowski's Morningside, and it's both a good listen and an irritating reminder of how CBC radio has been systematically destroyed.
I also regularly search iTunes for whatever looks interesting in the long list of international documentaries. Search RTE to get documentaries from Ireland, ABC Radio National for stories from Australia, and Radio New Zealand National.
*Story corrected June 16 at 2:45 p.m.
© Shannon Rupp. For permission to reprint this article please contact the author: shannon(at)shannonrupp.com.