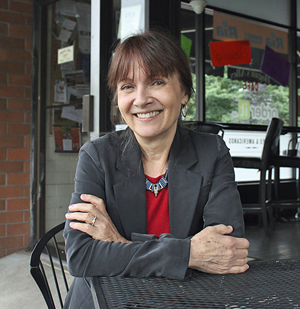 After almost 15 years covering the British Columbian education beat for the Vancouver Sun, reporter Janet Steffenhagen reluctantly accepted an offer in the paper's latest round of buyouts, publishing her final article just over a week ago.
Looking back on it now, Steffenhagen said she wasn't at all prepared for what reporting on B.C.'s schools would be like: political, polarized, and stormy.
Some of the issues she covered at the Sun still affect Steffenhagen and B.C. education today. She witnessed some key moments and controversies, such as the passing of Bills 27 and 28 in 2002, which stripped teachers of the right to negotiate class size and composition during bargaining. The teachers' union (BCTF) took the government to court over the decision, which eventually ruled in the union's favour in 2011.
She covered the regulation reform of offshore schools, which bring the province's curriculum to students in countries like China, South Korea, and Thailand, after receiving emails from teachers in some of those schools that complained about bully administrators and attempts by parents and students to bribe teachers. Many schools started as businesses owned by B.C. school districts, but the majority are now owned by entrepreneurs from countries overseas. It's unclear if B.C. receives any direct financial benefit from the schools.
And she wrote stories about the government's replacement of the BC Teachers' College, the body tasked with teacher discipline, after a government review of the college found the teachers' union, which had 12 members on the college's 20-person council, had too much influence over college decisions. The court also was critical of how BCTF members handled the discovery of child pornography on the laptop of a member who also sat on the college's council. The college eventually stripped the council member of his teaching license and the laptop was handed to Abbotsford police. The college was replaced by the BC Teacher Regulation Branch in 2012.
Never a dull moment on the school beat. Last week, Steffenhagen sat down with The Tyee at a coffee shop in Vancouver's Chinatown to reflect on how the province's pedagogical landscape has (and hasn't) changed, the 10-year contract deal that current Education Minister Peter Fassbender is trying to seal with teachers, and what the future holds for both education and herself now that school's out (for Steffenhagen, anyway). The following is an edited version of that conversation.
Tyee: When you started as education reporter at the Sun, how prepared were you for the politics?
JS: "Not prepared at all. It was a bit of a shock initially -- when I had covered education before it was in Saskatchewan [for the Saskatchewan Star Phoenix], and it's a completely different scene there. Education is so political in B.C., and I wasn't prepared at all. And I think I had a bit of a rough go initially because people were trying to slot me somewhere: she's this or she's that, and I wasn't. I was just a journalist trying to report on stories. I think it took a while for people to accept that I didn't have an agenda. I think they were looking for an agenda."
How has the education landscape changed since you started?
"You know, in some ways, I'm sorry to say, it hasn't changed a lot. I think of the bickering that goes on and the power struggles. When the NDP was still in power I was covering education for a while, but I didn't have the same perspective. Then the Liberals came in and the relationships were so difficult and I don't see, really, that that changed over 10 years. Especially, of course, between the BCTF and the government.
"I also still worry about special education and whether that's ever really evolved in any way. It was so important when the Supreme Court ruled in favour of Rick Moore [a North Vancouver father who argued in Supreme Court that a public school discriminated against his dyslexic son], and when the judges in the highest court in the country said flat out that special education is not a dispensable luxury, that this is important. I'm hoping that behind the scenes things are happening that will improve that. When I started, there was targeted funding for all special needs categories, and people were saying that wasn't working. So they took away a lot of the special needs categories with the idea that somehow that was going to improve it, but it didn't, and right up to the very end I was getting calls from parents who were saying 'My kid needs help' and 'My kid's not getting the help he or she needs.'
"There were areas where there were developments and improvements, and I think that the attempt to embrace technology is good. I was pleased with what happened with the BC College of Teachers, because that was an area that I felt needed attention. There was not the transparency necessary for people to feel confident that those few rogue teachers were being dealt with appropriately, and that bothered me for a long time. I haven't seen enough of the Teacher Regulation Branch to say if they've really solved it. I think if you've got confidence that a system is working properly, then it gets less attention, because people know that the system in place will weed out the teachers that shouldn't be teaching or will discipline the teachers who need it. The BC College of Teachers got a lot of attention because it was so opaque.
"And I think, at last, the [government is] going to be doing something about offshore schools. I've had over the years many emails from teachers and parents connected with some of those schools. Not to say that all 36 of them are bad. But if you've got a few bad ones, it taints the whole landscape. And finally the government has brought in regulations. I don't know how they're actually going to be put into effect, but I think that the fact that they're paying attention to what's happening over there is important. That said, if somebody's going to be making money off [offshore schools], it should be the B.C. government, so they can spend the money on schools here rather than entrepreneurs in China, most of whom we don't even know."
You mentioned the relationship between the BCTF and the NDP government was better. Was that because they were more ideologically aligned?
"Yes, it was better, but it's not as though it was perfect. There were still concerns about underfunding. There were frustrations, too, and when the Liberals came in one of the first things [they did] was to declare education an essential service, which now everybody acknowledges didn't work. And then the stripping of the contract: the class size and composition and specialist teachers. And at that time, the Liberals were doing that with support from the BC Principals and Vice-Principals Association, the BC School Trustees Association, the BC Confederation of Parent Advisory Councils. Obviously they did it in the wrong way, and it took 10 years for the BCTF to win the court case, but there were some frustrations in the system that came out through that legislation.
"They came in so determined to make changes, and with this heavy stick. It's meant that even when they made changes that would have been good, the BCTF didn't have a desire to embrace anything, didn't want to work with the government because the government didn't want to work with the union, and that, I think, is so sad.
"I'm worried, even though I'm not covering the beat anymore, about what's going to happen with this 10-year deal. [Forcing it] is not the way you reach a collective agreement. Although what I think they're going to do, as they did in Alberta when they were pressing for a 10-year deal... they got a five-year deal. So I can see the same thing happening here: If the government says, 'We want a 10-year deal, we're going to have a 10-year deal,' and the union gets offered a five-year deal, they'll go, 'Phew! Okay, thanks, we'll sign.'"
You were a parent through all of this, too. Do you think that coloured your work?
"It definitely did. Because I came at it from a parent's perspective, I didn't come at it as a professional educator, and my kids would always have other kids around the house. So I felt strongly, right from the beginning, that it was all about the kids.
"And I think that's one of the reasons I found the political situation so difficult, because sometimes it seemed the politics got in the way of the kids. There were certain situations that unfolded in a way that I just didn't believe was right for kids."
So when government, education organizations, unions, etc. say that they're doing this for the kids…
"There have been times when I just said in my mind, 'No, you're not doing this for kids, you're doing this for other reasons.' And those other reasons might have validity, too, but when you know this is the goal, don't say this [other thing] is the goal. Say, 'Yeah, we're doing this for this reason, and I'm sorry, but sometimes the kids were secondary.'
"Here's an example coming up: the 10-year deal. [Is the government] really doing that to have peace in school for kids? I'm not saying the government's going to do it, because I'm not sure that legally they could -- but if they were to impose a 10-year deal, then you've got an unhappy workforce for 10 years. You don't have a strike, but do you want to have unhappy teachers for 10 years? That's not going to benefit kids."
Do you think a negotiated deal is possible?
"Yeah, I do. They're adults. I think everybody's got to be prepared to give a little bit. And you know, Christy Clark has been in conflict with the union for a long time, but she has a new mandate. Right now, I'd say the ball is in her court. I haven't talked to [incoming BCTF president] Jim Iker very much, but in talking to [outgoing BCTF president] Susan Lambert, she's been pretty low key. And she has said there is an opportunity here for a new relationship. And I think the ball now is in the government's court to do something that's truly in the interest of kids. And that doesn't mean giving in to everything that the BCTF wants, but it means going to the bargaining table with a respectful attitude, and signing a deal that both parties will be able to live with. And then you're doing that in the interest of kids. "
Do you really expect much change from the teachers' side?
"I don't think they want to have another 10 years of fighting with government, and they can't afford it either. At the last annual general meeting, the BCTF was saying they're having financial problems because they spend so much time and money involved in court action. I don't think the government wants to do it either. I don't think they want to have this conflict, and I don't think it benefits anyone."
Do you have any advice for new Education Minister Peter Fassbender?
Laughs. "No."
What about things that past ministers have done that perhaps weren't good ideas?
"There've been so many [ministers]. I interviewed [Fassbender] once. He suggested that he wants to have a respectful relationship with the union and others in the education system. The trustees have been kind of unhappy too with the way many things have unfolded: money, the relationship with government and how things were not necessarily conducted through the co-governance model. But I would hope what he said to me about being open to changing his mind when he's given a good argument and a good presentation, that he would change his mind, and that he's willing to learn and change his beliefs based on evidence. He's [still pushing] a 10-year deal, but he's getting that direction from the premier, so he's obviously not going to say, 'Okay, I'm not convinced a 10 year deal is possible.'"
From your experience, how much decision-making power does the education minister have versus what the premier has?
"Based on those letters [of expectation to new ministers] that were sent out, I would say that Christy Clark is pretty well going to be calling the shots. I think she made that clear with the letters of direction, which weren't quietly distributed to cabinet ministers. They were made public. Given that, I think that she is the one who will be calling the shots in this case. Fassbender's obviously the man on the ground, so I'm not saying she wouldn't be open to changing her opinion based on what feedback she gets from him, but she gave pretty clear orders."
In your blog post about your interview with Fassbender, you mentioned this was the first time you got to speak to a ministry official.
"No, that was earlier, about speaking to [other employees] in the ministry. This was so distressing. When the NDP was in power, when I phoned up with a question, the communications people would actually connect me with the ministry person who was handling the issue. On occasion, I went out for coffee with Charles Ungerleider when he was deputy minister. But when the Liberals came to power, they said no more, and after that I could only speak to the communications people or the minister. And over those 10, 11 years, I've had one interview with a ministry person, and that happened about six months ago, and that was off the record.
"I just think it's a bad approach and I never understood it. Because I don't know what happened in other ministries, but I don't recall anything happening with the education ministry that would make them worry about their officials, who are very experienced and intelligent, and they have all the information there. Why not put them in touch with the reporter directly so the reporter truly understands what's going on? It just gives you a sense that the ministry's open, if you can speak to the people involved.
"The orders came from somewhere, and I don't know where they came from. But that's something Christy Clark could change."
Why do you think B.C. doesn't have more education reporters?
"I think it's just a matter of beats disappearing, because newsrooms are downsizing. If you've got a small newsroom and there's breaking news, it's hard to leave a beat reporter alone. The Sun was really good to me. They basically let me do whatever I wanted. Obviously I was running my stories past my editors, but they would rarely pull me away from education. And I'm hoping they do the same thing with Tracy [Sherlock, the Vancouver Sun's new education reporter], because you need time to develop contacts and you need to constantly be researching to find out what's going on, checking websites and calling people, and if you're being called away for other assignments you can't do that."
Have you ever thought about writing a book?
"Oh, I am going to write a book, but it's just going to be a book for my kids. I'm not going to write a book about B.C. education. There've been a lot of those written already about people more knowledgeable than me.
"I loved blogging, though. That was really a highlight of my career, when I had my blog and I was able to put a whole bunch of information that would never make it into the newspaper, but I still thought was important information."
What's next for you?
"I don't really know. I keep saying 'I'm not retired, I'm unemployed'! I wasn't planning to leave the Sun, so if they hadn't offered the buyout I'd still be there. I'd like to continue writing, but there are other things I want to do as well. I'm going to be hiking the Chilkoot trail at the beginning of August, and I'm trying to get in shape so I can actually do that without dragging my pack behind me.
"Right now I'm kind of torn: I love education, I love B.C. ed, and I feel like I've spent a lot of years gathering a lot of information about it, so I'm wondering, do I just set it aside and go to something completely different? Or do I somehow continue to do something with that?"