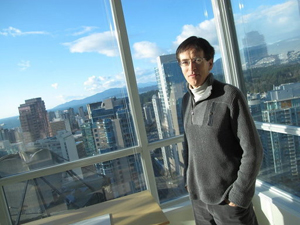 Mark Latham is an unlikely savior of independent journalism.
A former Wall Street wiz who made a small fortune in the '90s devising mathematical models for investment banks, Latham's is a world of financial derivatives, trading strategies, and Bloomberg Terminals.
He's earnestly logical, meticulous in his considerations, and with enough money to spend the second half of his life in thoughtless and comfortable retirement, he's not a person you'd expect to chase after known lost causes.
But over the last two decades, Latham says he's been developing the "one big idea" of his life. Like American Idol for beat reporters, Latham calls it Voter Media, and he's convinced it will revolutionize and revitalize an ailing and oligarchic journalism industry.
Now, he just needs to convince everyone else.
The challenge
In fall 2006, Latham showed up to a meeting of the University of British Columbia's Alma Mater Society with a cheque for $8,000.
His proposal? The society would offer the $8,000 as prize money, to entice aspiring journalists on campus into covering the upcoming AMS election.
Whichever competing correspondent produced the best election-season coverage, as voted by the public, would win the prize. The student body as a whole, rather than the AMS or Mark Latham, would decide which of the journalists was worthy of the prize. It would be entirely voter controlled -- those at the ballot would be asked to specify the exact dollar amount they wanted to see go to each recipient.
By providing a bit of extra money as an incentive, Latham hoped current and would-be journalists would be persuaded to put a little extra work into their election coverage. Taken altogether, the product would be more comprehensive, more rigorous, and more informative coverage of campus political affairs. And because the money would be assigned by voting, the quality and tenor of the coverage would shift in line with the prevailing preference.
Looking back on it now, Latham says that's exactly how the first trial run of Voter Media worked.
"All these blogs started to pop up immediately," he says, recalling the 2007 AMS election. "I hardly knew what blogs were at the time."
There were some initial hiccups with the system, Latham admits. In choosing the first place winner, the voters turned out, at least in his estimation, to be a little "not that smart."
"They didn't really hit the target in terms of choosing the best blog," he says. Throwing the most cash at a newspaper with higher name recognition, it was clear to Latham that students weren't reading the blogs that they were voting to give money.
But over the next few years, Latham says Voter Media at UBC began to take on momentum of its own. In 2009, the AMS assumed funding for the project. Meanwhile, blogs that had started up in 2007 were beginning to amass followings and reputations. Coverage of student politics seemed to be improving. It seemed like a monumental validation of what Latham always knew to be true: for 20 years, he really had been onto something.
From boardroom to newsroom
Latham says the intellectual germ of what would eventually become Voter Media came to him in 1988, while lying in bed. Just a few hours earlier, Latham, then a finance professor at Berkeley, had been at dinner with a friend from his Ph.D. program at M.I.T. His friend was anxious, concerned about things he saw on the job as a financial analyst for a large Boston firm. The board of directors there, he bemoaned, routinely made decisions that would line the pockets of its own members, often at the expense of the company as a whole.
Unable to sleep that night, Latham came up with what he thought was an obvious conclusion.
In a large corporation owned by hundreds or thousands of shareholders, it makes little sense for any one shareholder to pay for an independent assessment of management, to ensure the executives running the company were in fact doing so in the interest of the owners. It would only make financial sense for everyone if the shareholders acted together.
Latham proposed a system whereby the shareholders vote to dip into the corporate treasure and hire an independent watchdog.
"I immediately thought I must be wrong," says Latham. "If it was this obvious, we would already be doing it."
Gaining no traction for the idea among his colleagues, Latham went to work on Wall Street, where he went on to hold high-level executive jobs constructing derivatives and risk-management strategies for a series of famous and now defunct investment banks. But throughout the 1990s, Latham held on to his idea. Even after leaving Wall Street in 1995, his chief concern remained corporate management oversight.
But as he began to write and speak and develop fellow believers on the subject, he realized the idea could be expanded, from corporate oversight to issues of corporate social responsibility and then, broader still, to the role that media plays in democracy. Disparate as these ideas may seem, for Latham the solution to all of them involved the same basic idea: empowering those who stand to lose the most by "using collective funds to pay an outsider to stick its nose in."
That outsider could be an auditing agency on Wall Street. But it also might be a blogger in Burnaby.
Eat your broccoli
Consider the example, says Latham, of municipal politics coverage in a small city.
Short of the occasional scandal, the topic makes for thoroughly unsexy reading and tends to go under-reported. It's the kind of journalism economists and policy wonks call a "public good" -- something that benefits all of society, but which no single individual would likely pay for on his or her own. If left purely to the free market, substantive, public interest journalism, like policing, would be provided only in a hodge-podge, imbalanced, and decidedly dystopian sort of way.
"Public good journalism is the serious analysis of local finances and budgets, and it's totally boring," says Latham.
He calls it "broccoli journalism" -- unquestionably good for you, but not all that exciting to consume. It doesn't sell well and it isn't always interesting to read, but it provides unquestionably vital information for any voter wanting to make an informed decision at the ballot box.
Here's where Voter Media comes in, says Latham. A small municipal government (or newspaper, or non-profit) could, out of general revenue, make a lump sum available in the months leading up to an election. The financial lure would attract an auxiliary contingent of reporters, bloggers, and civic political junkies -- watchdogs hired by the public to pay an extra bit of scrutiny to the often overlooked, and potentially unseemly, affairs of city hall.
Media for the masses
That is, of course, assuming that the voter would choose such a system, and choose to fund the truly best watchdogs -- in other words, the broccoli option.
To this, the former finance maven assures me that the algorithm underlying the Voter Media system has been programmed to disregard any unpalatable extremes. Rather than simply taking the average preference across all voters, the systems takes something closer to the median -- the number smacks in the middle of all the voted preferences.
For example, say nine out of 10 voters decide that all available funding should go to a sensible and earnest civic policy blog, while a tenth voter decides that all funds should go to a bigoted and vitriolic blog. A simple average would award the hateful minority choice a sizable 10 per cent of the cash reward. Instead, a median choice selects the preference of the voter in the middle, the fourth or fifth voter, who awarded that blog no money. The system, says Latham, is programmed to "ignore" extremes.
But what if it isn't the extreme we need to worry about, but the inanity of the majority? What if the lion's share of voters decide that the money should be awarded to the blog with the sauciest attitude, the slickest layout, or the highest concentration of revealing photos?
Students on UBC campus discuss how Voter Media has strengthened coverage of student politics. Source: Voter Media.
Latham says he has more faith in people than that. Even the most politically disengaged will recognize the value of earnest political journalism. These people are not being asked to put their own money on the line, he says, so why wouldn't they fund the option that is better for democracy and society as a whole?
"Maybe there's a blog out there that influences city hall, that makes it a less corrupt place, and that forces it to make better policies," says Latham. "I will read their blog for a total of five minutes once every three years before the election, and the rest of the year I'm going to read about Prince William and Madonna and sex scandals and blood and gore."
"But I'll know that when it's time to vote, I should vote for the broccoli option."
What's next for Voter Media?
As Voter Media has played out at UBC so far, Latham seems to be right.
"There were a number of blogs and other media sources that started up in 2007 as the direct result of that money being available," says Neal Yonson. As an editor at UBC Insiders, one of the most well-respected political blogs on campus to come out of that media boom -- and a perennial top candidate in the Voter Media elections -- Yonson should know.
Over the years, the system has helped to nurture and refine a more professional kind of political reporting on campus, he says.
"On the whole, I think everyone agrees that it's a good thing," he says.
That includes the competition. Justin McElroy is coordinating editor of The Ubyssey, UBC's official student newspaper. The face of "old media" on campus, The Ubyssey receives funding directly from student fees. From the advent of Voter Media, it stands nothing to gain but more competition.
Bring it on, says McElroy.
"Does it ensure that The Ubyssey does a better job of meeting the needs of students and getting stories out there?" McElroy asks himself in a filmed interview, shrewdly posted on Mark Latham's website. "Voter-funded media has ensured that."
Yonson agrees. "The legacy is that our newspaper [The Ubyssey] is actually doing really well this year," he says. "People aren't clamouring for alternatives anymore."
That may explain why AMS decided this year to put Voter Media on the financial backburner. In its most recent budget, the student society sheared $7,000 from the designated award pool, leaving only $1,000 to be chopped up between the highest-ranking handful of participants over the course of a year -- a paltry amount of money, even for students.
"The AMS is constantly trying to trim its budget," explains Yonson, who is also a member of the AMS budget committee.
Facing an obvious conflict of interest, Yonson was excluded from participating in the Voter Media funding vote specifically. But as he characterizes the decision, the choice to all but eliminate Latham's brainchild had very little to do with the merits of the initiative -- there were simply other priorities this year.
"This was just an AMS thing," he explains. "They do recognize that good things have come out of [Voter Media]. They don't necessarily like the scrutiny, but they do like the attention."
Latham is quick to acknowledge the student society's role in giving his idea its first pair of legs. But for now, he has his sights set higher. In the coming months, he plans to approach local newspapers throughout the Lower Mainland, offering to co-sponsor their own year-round Voter Media initiatives. He hopes the prospect of contractual re-publication rights with participating bloggers will be enough to bring new sponsors on board.
For his part, Yonson says the AMS decision came as a disappointment, but maybe not a major one. A Ph.D student in chemistry, he will soon graduate, leaving the UBC Insider staff and, by his own estimation, forever leaving behind a career in journalism.
The adventure was fun while it lasted, he says.
"But I've never really been in it for the money."
Story updated January 27 at 3:16 p.m.