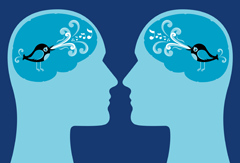 Next month The Tyee turns seven. We're a lot bigger fish than when we started, and that's all because of you who read us and tell the world about what we're publishing. One of the jobs of a digital magazine editor is to pore over statistics about online traffic, and one fact really stands out for me lately. Almost all our growth is through social media referrals. That's you Facebooking or Tweeting or Digging or otherwise sharing our stories with your circle of online friends and family.
So this is a big thank you for doing that -- as well as a friendly request that you keep up the great networking on our behalf!
Our new Twitter and Facebook buttons
To assist you in your role as a Tyee promoter (that's official!), we've changed the layout of our article pages. There are now easy-access Tweet and Facebook Recommend buttons at the top of each story. Just click, and whatever you're reading will either be posted to your Facebook page or sent out via your Twitter feed.
If you subscribe to our free daily and weekly eNewsletters, you also probably know that you can quickly and easily share the eNews with friends by clicking the link at the top of the email.
Don't subscribe yet? Click here!
Oh, and just so you know, we periodically give away excellent prizes to our followers on various social media outlets. As members, you'll also be the first to know about various Tyee happenings and events. If you aren't a member already, join our Facebook group and follow us on Twitter to be entered to win. Clicking on those "join" buttons will be good practice for sharing Tyee stories with everyone you know. It's pretty much a win-win.
Tyee readers are engaged
One of the most rewarding results of all this work has been the growth of a community of devoted Tyee readers. Our editorial team gets emails every day with suggestions, requests and feedback, and our Facebook pages are full of the same. Similarly, our Twitter feed is buzzing with "RTs" and "@s" from readers, writers and sometimes even the subjects of The Tyee's journalism.
As a free, independent, online publication that spends just about zero on marketing, our "circulation" depends on people who don't just read and enjoy, but also share our investigations, solutions reporting and fresh, feisty opinions.
If you enjoy reading The Tyee and would like to help us flourish, please help us get the stories out to your with their friends, family members, co-workers and neighbours online. Many thanks!