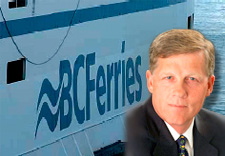 For the past 18 years, the news media have used the B.C. Freedom of Information and Protection of Privacy Act to obtain government records. I could cite hundreds of examples of such documents forming the basis for news stories in the public interest.
But if a new proposal is enacted in Victoria, it could spell the end of such stories. To date, B.C. media FOI applicants have struggled with fees, delays and white-outs, but now they are facing their greatest challenge ever.
The proposal is inspired by a bold venture by David Hahn, president and CEO of BC Ferry Services Inc., to change the whole rules of the FOI game. Last October, after seven years of operating in private, the public-owned company was placed under the coverage of the FOI law, against its intense opposition, and it promptly enacted some practices that have never been seen in this country before (as first reported by The Tyee here.)
One controversy is this: On its unique "FOI tracker" website BC Ferries posts the text of FOI requests it receives, a process that tips off rival media to the stories other journalists are working on. Then after it finishes processing them, it posts the records online and sends email notices to a listserv so that anyone can read them instantly. (In some cases, it has posted them even before the requestor received them by mail.)
BC Ferries says it enacted its policy solely for the sake of "transparency," but most applicants have not one iota of doubt that its real purpose is to dissuade people from making requests -- particularly journalists who would lose their exclusive scoops.
Regarding the prospect of the core B.C. government following BC Ferries' practice of posting FOI records online, a spokeswoman for the Ministry of Citizen's Services told the Vancouver Sun: "It's something we're actively working on. It is imminent." On the crucial question of release timing, she didn't know yet if the government would post the records simultaneously to the world, but didn't rule out the possibility.
Premier designate hasn't decided
Yet journalists see one mildly hopeful sign. In a survey in January, Sun reporter Chad Skelton asked B.C. premier designate Christy Clark: "Would you support giving the original FOI requestor a two-week window to review the requested records before they are made available to others online?"
Clark replied: "I think it is a question that needs to be discussed. We want government to be transparent and at the same time respect the work of reporters."
Some believe that BC Ferries' FOI release practices violate the "duty to assist requestors" mandate found in Sec. 6(1) of the statute. The B.C. Freedom of Information and Privacy Association, FIPA, has complained to the Information and Privacy Commissioner, who is investigating. The commissioner told the Sun it would be "prudent" for Victoria to hold off on its plans until she issues her ruling on BC Ferries. The dispute might even wind up in court.
(The scope of the Commissioner's probe has moved beyond BC Ferries to cover the whole B.C. government's proactive FOI release policy. Anyone may submit their views on this topic to the Commissioner's office, by the March 11 deadline. Contact Helen Morrison of the OIPC at [250] 953-4193 or by email at [email protected])
Interview with David Hahn
A cool and confident David Hahn discussed all these issues with me in a phone interview on Feb. 25.
The FOI policy seems here to stay, Hahn says: "I don't see any reason to change it for now, it seems to be working quite well. I don't get any complaints from the public at large."
BC Ferries values its power to operate independently from senior government. "Will you follow what the information commissioner says?" I asked.
"It depends what her ruling is, and if it's within her jurisdiction."
Then, "Would it matter what the minister or premier say?"
He replied, "No, no." As well, "We get a lot of requests that are silly, or political in nature. And I'm not a politician, don't want to be. But I have very little time for some of the silly stuff, right? At the top rank would probably be one request for a list of all the people I sent a Christmas card to last year and a copy of the cards."
Asked whose idea it was to start this unique FOI system, and if any other model inspired him, Hahn replied, "It was just my own personal approach to this. I don't know why people who ride BC Ferries should be subsidizing FOI requests. We're not recovering anywhere near the full cost of this, and if someone thinks the information is vitally important to them, why shouldn't they be willing to pay for it? A lot of firms that ask for it are big corporations that are profit-driven. A good example is Postmedia [owners of the Vancouver Sun and The Province], which is owned by a Wall Street hedge fund. British Columbians should not be subsidizing a Wall Street hedge fund."
What price accountability?
Another controversy has been the financial management of the BC Ferries' FOI system, which Hahn estimates at about $1.2 million per year to operate.
The company has been acting tough on FOI fees, being the only agency in B.C. -- and I believe in Canada -- to charge requesters for even 15 minutes of processing time, despite the fact it likely costs government more to process the $11.20 cheque than the cheque is worth. (On the same principle, the federal information commissioner advised Ottawa to drop its $5 Access to Information Act request fee because it cost $55 to process that cheque.)
Moreover, BC Ferries has loudly complained about the supposed cost to ferry ratepayers of the FOI system, musing that it could prompt a rise in their ticket prices. So in what may be an attempt to publicly shame FOI applicants -- perhaps to the point of making them give their requesting -- it is the only agency to post what it claims is the "Process fee" versus the "Actual cost" of each request. (The company's methods for calculating these costs has been much disputed.)
I asked Hahn if it was his idea to charge for each 15 minutes. "I think that just goes back to following the principle of the law," he replied. "This has to be black and white, no grey areas. No arbitrary rules, no second guessing around anything." He also doubts it costs very much to process an FOI cheque, though he is not sure of the exact figure.
Do we always need the FOI route?
I wondered: if BC Ferries wants more transparency, why not post more information online without FOI requests, such as staff salaries and expenses, incident memos or health or safety reports, for it would be cheaper to release these proactively.
"We already said we would be doing that," said Hahn. "We'll post the salaries every year, and we'll post what else is logical, if someone can tell us what's logical. That's why we're talking to the Privacy Commissioner."
The FOI law states it was created to be used only as a last resort and not as the default option, and so why not just hand over some such records to journalists who ask for them? "Because we're not in the business of subsidizing media. It still costs money to pull those things, even without FOI."
'This is a black and white issue'
In this age of Internet news, posting FOI records online and emailing notices of it to all media often creates a panicky race amongst journalists to beat the online news competition by a few minutes. Inevitably, this can result in errors spread throughout the world, potentially some so grievous that later corrections can never fully repair them.
A modest foreshadowing of this event has already occurred, whereby BC Ferries posted salary records in reply to Chad Skelton's FOI request, and in their haste, three other media outlets wrongly reported from the posted records that the BC Ferries president's salary had "quadrupled," not doubled as it really had.
I asked Hahn if, for all these purposes, BC Ferries could grant a media FOI applicant an exclusivity period of 48 hours.
"They don't need it," he laughed. "This is a black and white issue. If they want our feedback, they can call us after it's posted. We're not in the business of trying to generate scoops for people. It's up to the reporters and editors to monitor their own quality. I know many reporters, 99 per cent, who would never have made those mistakes. The reporters need to drill down, to interpret not just what's obvious, but what's not obvious, and do it in a professional manner. Almost all journalists do that, all the time."
Hahn ended the interview by marveling over the power of young people using online social media to overthrow Arab dictators.
"The Internet has changed everything. And whether anyone likes it or not, this information flow is going to a place very different than any of us would have imagined five or 10 years ago. See the revolutionary changes in Egypt and Libya. To me, it's amazing to watch.
"But what we're doing is not so dramatic as that."
Tomorrow: Investigative reporter Stanley Tromp argues that Hahn's approach to releasing FOIs may seem more transparent, but will cause far less real digging by reporters on behalf of the public.