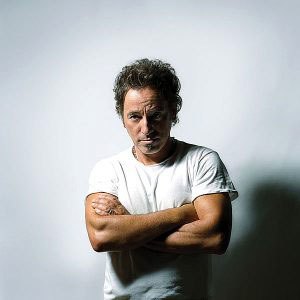 I saw celebrity journalism's future -- and it was an interview with Bruce Springsteen.
As a fan of The Boss for so long I still remember the trauma when he released Born in the USA, and all the people in school I hated started crushing on him too. I was on fire when I heard he was doing an onstage interview with his buddy, Edward Norton, at the 2010 Toronto International Film Festival.
But as a journalist who once made his living writing personality profiles, I suddenly understood the meaning of the old phrase, "walking over my grave."
I interviewed Norton just a few hours before he interviewed Springsteen and he was clearly excited and enthusiastic about the gig. When I met Norton to talk about his new movie, Stone, he was clicking away on his Blackberry, exchanging texts with Rolling Stone founder, Jann Wenner, trying to find the perfect questions to set the stage for the premiere of The Promise: The Making of Darkness On The Edge of Town, which was goin' down moments after the scheduled Q&A session.
Star power
The event took place off the backstreets of Toronto at the new Bell Lightbox theatre as part of TIFF's "Mavericks" series, where one fan holding an album and a hardcover bio had waited over six hours at the door in the hopes of getting a glimpse of her hero or, better yet, scoring a few signatures.
CTV reporter Andria Case, broadcasting from outside the theatre, talked about scalped tickets for the event going for $300 a pop and teased the story of the classic album and how Springsteen culled it from 70 songs, tossing such future classics as "Fire" -- which he gave to The Pointer Sisters -- because they didn't fit the atmosphere he was going for.
My friend Nigel, who works for CBC TV, walked by en route to his office and told me Springsteen was the top story of the day in every media outlet in his hometown. He was preparing to cut a story about Norton talking about how he knew the owner of 20 Grammies, two Golden Globes and an Oscar.
The 470 tickets were sold out at $22.50 a pop, and a separate theatre allowing press and industry types to watch the event on a closed circuit feed was almost packed too. Maclean's called the interview "the hottest ticket at the festival" and the Toronto Sun reported that fans flew in from as far away as France and Hong Kong to catch the talk.
When the audience was seated, they were told that the first rule of fight club was that texting, tweeting and cellphone photography were prohibited. Surprisingly, journalists watching in the overflow room were also prohibited from recording the event in any way other than that old stand-by -- writing verrrrry quickly.
Audience with the Boss
Springsteen stepped on stage to a standing ovation and cries of "Brooooooce." He and Norton almost immediately joked about the fact that they were dressed in near matching uniforms of jeans, black shirts and boots. As they sat on stools on stage they talked about Springsteen's album, his history and his influences. Brooooooce was charming -- hey, like I said, I'm a fanboy -- as he talked about how neither he nor any of the members of the E Street Band had ever been on a plane before being signed by Columbia, and how long he and the boys used to be able to live forever off a few hundred bucks. He shared his love of music, literature and movies and a list of some of the authors and auteurs who influenced him, ranging from Bob Dylan to John Ford. He described the stories of Flannery O'Connor as "revelatory."
He talked about his passion for American film noir and how Darkness on the Edge of Town was conceived as a noir title and was heavily influenced by the work of Martin Scorsese, courtesy of a private screening of Mean Streets. He talked about how he wanted the band to be important, to make an impact.
Norton was perfectly cast in the role of a Springsteen fan capable of citing song titles, lyrics and obscure references, and he was ready to prove all night that he was worthy of being the intermediary between the rock icon and his fans. He'd known Springsteen for over a decade and there was a warm familiarity to the conversation.
The thing is... Norton wasn't just the proxy interviewer for the fans, he was also the proxy interviewer for the hundreds of reporters from around the world covering the festival, and the dozens of music journalists in and around Jungleland.
Where's your Oscar?
The onstage interview with Norton was pretty much the only "media" Springsteen was doing for his movie and new book/CD release in Toronto, and while celebrities interviewing each other is hardly new -- and most TV talk show hosts have far more fans than any of their guests -- I couldn't help thinking that in an age where access to interview subjects is getting more strictly managed all the time, and shrinking newsrooms have resulted in news feeds and press releases being treated like actual reporting, a songwriter whose career was arguably launched by journalist Jon Landau had found the perfect way to avoid granting access to journalists -- by turning an onstage conversation with an old friend into a mainstream media must.
As a few reporters snickered while Norton took his time winding his way to the question part of a question, I thought about a cranky movie star I'd interviewed at a roundtable with several other reporters earlier that day, and wondered if an Oscar or two from now he might decide the only person he's willing to talk to about his work with is someone he's been friends with for a dozen years.
I hope if that ever happens, the media -- who are supposed to be the proxy interviewers for the public -- won't be blinded by the light, will refuse to cover him and he'll be on radio nowhere. But I suspect he'd be more likely to make the front page of every paper, blog and website in the promised land and leave us all remembering the glory days when journalists got to ask questions.