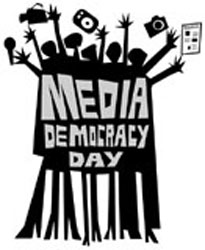 Tomorrow, Vancouver will host MDD 2009 at the Vancouver Public Library, Saturday, Nov. 7, 11am to 6pm. The event is one of several public forums being held in cities across Canada, marking the tenth consecutive year of Media Democracy Day (MDD). The conversation in MDD's interactive workshops and panels can help provide a path to a reinvigorated independent media sector in Canada.
According to SFU professor Robert Hackett, the initial drive of MDD was to "build a greater sense of community for those fighting for media democracy." In the past, these events have led to key collaborations between allied media projects. This year, we hope to see more collaboration and more pragmatic discussions focused on elevating, expanding and multiplying independent media in this country. There is a window of opportunity right now, and that window can and will close if we don't take this challenge seriously.  
Considering the current crisis in big media, now is the time to take independent media to the next level.
Canwest, for example, filed for court protection against creditors on Oct. 6, 2009. Several already well-paid directors, executives and other senior members of Canwest management will share $9.8 million in Key Employee Retention Plan (KERP) bonuses. In an article for Rabble.ca, Gary Engler contrasts this extravagance with the fact that media workers are losing severance pay, pensions and jobs; shareholders are taking huge losses; and suppliers are receiving "a few cents on the dollar at best."
It is frustrating to know that those people who mismanaged the Canwest media empire are not bearing the brunt as much as media workers, shareholders and suppliers. However, there is now an opportunity for less wasteful media outlets to chip away at Canwest's market share. Rather than let other domestic or foreign media conglomerates step in, we should help independent media use this waste of resources as an opportunity to become the cornerstone of our media ecology rather than just the alternative to big media.
What is independent media?
Independent media is often referred to, but rarely defined. It is structurally independent from the two most powerful institutions in our society: government and corporations. This autonomy allows independent media more freedom than big media to be openly critical of power, and it makes outlets more reliant and accountable to everyday people.
Independent media typically relies on support from some combination of donations/members, foundations, NGOs/unions, commercial advertising, and volunteers. Most independent media outlets also have an overt social mission that creates an orientation and ethos of public service rather than the narrow commercial interest found in many media corporations.
Independent media organizations are, however, marginalized and in need of a reliable financing mechanism that maintains their ability to act autonomously. We know that our current media system creates an obstruction for an open public sphere, but the obstruction is not just the dominant corporate media system and its matrix of filters, it's also our inability to create a mechanism to fund a public service independent media system.
Fixing our media system is not simply an issue of better networking of existing projects; we must develop a sustainable independent media infrastructure, while also providing stable and reliable funding to individual projects. We can't continue to rely on individual independent media outlets that are scrambling for funds for the next story. To compete with big media, independent media needs to become the incubators of journalism experiments. While some are trying, it is very much an uphill battle when daily sustenance becomes a preoccupation.
Coming together to power independent media
The economic downturn has been hard on both independent and corporate media. And yet, there seems to be enough money to give particular management personnel extravagant annual bonuses. It is quite obvious that Canada's media-funding model needs to be reevaluated and remixed. In so doing, independent media should be prioritized by policy makers, citizens and civil society.
A partial solution to funding independent media could be "community media trusts" (CMT) financed by labour organizations, citizens, foundations, institutions (churches, universities), government and NGOs. Renowned communications academic James Curran and others who have put forth the creation of public trusts have conceived of single national public trusts, primarily funded through the state. Alternatively, we could set up a decentralized network of CMTs to provide service to particular geographical regions. For example, Vancouver based NGOs, universities, churches, labour groups, foundations, citizens and possibly local government, could pool their resources and create a Vancouver CMT, which could provide long-term funding for public service independent media in Vancouver.
Could this be the way forward for a democratically accountable independent media sector?
More information regarding MDD activities can be found at: www.mediademocracyday.org