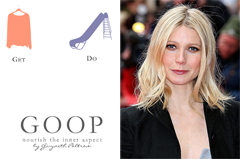 Gwyneth Paltrow could be the future of journalism.
Not as the subject of articles or magazines, but the writer and publisher of them. Her weekly e-newsletter and blog, Goop, which offers earnest advice on how to improve our tasteless, unstylish, ignorant lives, has 150,000 subscribers (an astronomical number for a new blog) and climbing, and she's already been offered a book deal (and is opening a gym, and starring in a cooking series with Mario Batali of Iron Chef fame).
Goop, whose title is based on her initials and nickname, has the New-Agey tagline, "Nourish the Inner Aspect," and covers recipes, books, spirituality, style, travel, health and culture, through notes to readers, and high profile guest contributions. This foray into journalism, or whatever it might be called, is proving so captivating it's outshining Paltrow's work on the bigger screen: at the premiere of Two Lovers, co-starring actor-turned-hip-hop underachiever Joaquin Phoenix, media interest in Paltrow's role as the more stylish pretender to Martha Stewart's crown hogged the spotlight.
Perplexed and curious, I've been a subscriber since the first issue back in September, fascinated by the unfolding of her project, and its effect on the media and public. It's clearly well meaning, and Paltrow makes no pretense of being a Pulitzer-prize calibre writer, but its tone(-deafness) and purpose(lessness) have nonetheless ignited millions of vitriolic words from journalists, bloggers and commenters. But though many are justified, those criticisms alone don't account for the depth of passion felt by the "haters," as Paltrow herself calls them.
As a NYT article put it this week,, "In a culture that has given us Jane Fonda workout tapes, Paul Newman salad dressing, fashion and perfumes from J. Lo, Madonna children's books, and furniture and clothing by the Olsen twins, why is Ms. Paltrow the victim of such ridicule?"
Why so angry?
That level of ridicule and vehemence is far surpassing what's needed to conclusively establish that Goop's writing is average at best and its voice naïve and classist. Here's what I think: In the as yet-unacknowledged heart of the hatred is a most uncomfortable truth. Whether fan or foe, readers' eyeballs are glued to her site and weekly missives, bucking the trend afflicting conventional media outlets, and even possibly contributing to it. And Goop's popularity foreshadows a dark possibility about the future of journalism that many would prefer to deny: people who already have money and fame might increasingly be able to launch hobby sites that draw readers, while skilled writers' professional efforts go unread and even fade away.
Paltrow's writing and publishing star is rising as many of her haters' stars are fading into the dim background of laptop screens. The media is used to seeing how less talented actors use the pointed elbows of nepotism and celebrity to nudge out more talented but unconnected and unknown ones, but writers themselves aren't as used to being on the receiving end of such a mechanism. After all, content is supposed to be king (or queen), isn't it?
Sure, rich people have always owned magazines as trophies, but hundreds of thousands of readers are actually choosing to read Paltrow's amateur, earnest prose, over that of professionals. And while everyone has friends with blogs, many of which are doubtless written better than Goop, I bet that many still read Goop instead. And Goop's rise coincides with conventional media's decline.
Magazines and daily newspapers are folding faster than ever. CanWest is on the brink of bankruptcy, CTVglobemedia just announced it will close two of its stations. Tens of thousands of journalists and editors have lost their jobs in the U.S. and Canada in the last year, the first major U.S. city is possibly about to lose its daily paper (San Francisco, no less), the New York Times is in trouble, Playboy lost $157 million last quarter and Penthouse might admit defeat to YouPorn. Newspapers lost $64.5 billion in market value in the U.S. and shares dropped 83 per cent on average.
There's also arguably some jealousy involved. Goop is the fantasy of every aspiring writer -- that you will quickly and easily write self-absorbed, un-edited, well-intentioned nonsense, post it, and be met with tens of thousands of readers. In reality, if an aspiring writer submitted prose like this to an editor, in hopes of getting it published, it would be unlikely to even generate a response, and if it did, it wouldn't be a pleasant one. And if a non-celebrity tried to launch a blog and newsletter like this, they'd be lucky to have a dozen weekly page views.
'Just a little lifestyle newsletter'
Paltrow has become the scapegoat for a media phenomenon I doubt she even understands. Unlike most players, even The Daily Beast, media mogul Tina Brown's new Huffington Post-style site, which launched at a similar time, I don't think Paltrow masterminded this project as a way to manipulate the current media environment. She just wanted to put out a little lifestyle newsletter and got caught in a maelstrom.
As the Globe's Lynn Crosbie said, "Goop is, ultimately, a nice little forum for ideas about self-improvement, ideas that are rooted in harmless acquisitiveness, simple playfulness and an exceptionally fragile sense of the mind and soul. It is this fragility that makes Goop (its name is, admittedly, dreadful) hard to dislike, as it puts forward such tentative feelers toward art and literature, spirituality and the dream of a whole, harmonious life."
I'll admit, it was cultural fascination that drove me to read her project, but I found some of it to be genuinely useful, helpful, and interesting. Despite eye-roll-inducing recommendations for $500-a-night hotels and must-have Chanel dresses, her recipes for Turkey Ragu, Carmelized Brussel Sprouts, and Maple-Dijon Roasted Winter Vegetables worked out very well. I was also given a decanter she'd recommended ($60) as a present, and like it very much. I appreciated the leg exercises, sent to Paltrow by her personal trainer (who happens to be on tour with Madonna so unable to meet Paltrow personally several times a week) because I can never understand the faded illustrations on the wall at my dingy gym.
But that said, while Paltrow herself might not herself understand the "haters," it's not really all that difficult to.
Don't hate me because I'm beautiful
Paltrow told USA Today that the secret to her editorial vision was that: "I felt like I had a lot of really useful information that I was privileged enough to get, because I have this amazing, super, fortunate life."
Are you cringing a little too? In "Stepping in Goop," in Daily Beast, Megan Hustad wrote, that the luxury lifestyle endorsed by the site is quite a problem. "In the current reality-based market, Gwyneth's timing could not have been more awkward... I've long been fixated, low-budget Edith Wharton-like, on what happens when different strata of society rub up against each other. Is it possible that now, brandishing one's piles of money could become a career liability?"
Others went further. "It's pretentious, it's out of touch, it's haughty, and it's oblivious. All in all, it's utterly intolerable," wrote Celebitchy.
After Paltrow's books enewsletter, Meredith Blake from the Huffington Post wrote that "Her list does not include a single idiosyncratic, offbeat or hard-to-find title; in fact, it bears a striking resemblance to my high school reading list. Of course, there is nothing wrong with having predictably highbrow taste in books, but the idea that she is somehow unlocking privileged information is laughable -- and more than a little condescending"
This month, in British Elle, Paltrow responded by saying, "I saw this blog of people writing horrible things about me. And, you know, for a second you lose perspective and your ego is so wounded. You think, how could people hate me or hate my intentions or what I'm trying to do? I'm a good person and I'm trying to put good things into the world... I am who I am. I can't pretend to be somebody who makes £15,000 a year. That would be completely inauthentic. I know what my intention [with her e-mail newsletter Goop] is -- and if it makes one person's life better, then it's worth it. And f**k the haters!"
Just turn the channel?
Of course, the obvious response is "What's the big deal? If you don't like it, don't subscribe."
But that misunderstands the two reasons for all of the fuss in the first place.
The first is that in celebrity culture, as a result of evolutionary psychology, it's harder to ignore Paltrow's efforts than those of a mere blogging or journalisting mortal. As Jake Halpern argues in his book Fame Junkies, humans are programmed to pay attention to powerful people in order to ensure their own survival. That wiring has become jumbled, to say the least, in this culture where paying attention no longer has many or any benefits for the follower, but it's still more appealing for many readers to follow Paltrow than their best friend Susie. Plus, celebrity culture is designed to make us look. Yes, we can look away. And in the clear, critical-thinking light of day, that is indeed the best option. But even if you don't subscribe, these memes will worm their way to you through other channels.
The second reason is that every click on Goop means a click vacuum somewhere else. I don't think Goop would be controversial if conventional media was going strong. But with the way media trends are going, Paltrow could soon be Queen of Clicks, inadvertently leaving professional journalists even more click-poor, and silencing many critical debates now taking place in the court of public opinion.
Related Tyee stories: