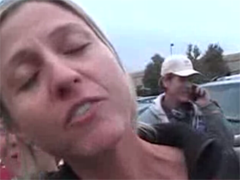 It's been especially evident during the current U.S. election that the Internet's become the champion of the politically outrageous, ignorant and scary. In traditional forms of media, voices on the margins are generally excluded from public debate, but the Internet has changed that. It's shed light on disturbing corners of society that normally go unseen by the viewing public.
This video, viewed 1.5 million times on YouTube, taken by a citizen journalist at a John McCain/Sarah Palin rally somewhere in middle America, features people saying things about Obama like "I think he's a one-man terrorist cell" and "He's got the bloodlines."
Here's a similar video, outside a McCain rally in Pennsylvania, by the same guy. It features rally attendees saying such standard fares as "Obama's a Muslim!" and "He's a terrorist!" among others. And then calling the anti-McCain protesters across the street, "Commie faggots!" and "Socialist swine."
This kind of raw reporting has forced the mainstream media to explore where these ideas are coming from, and has, in part, lead to mainstream reporters holding the McCain campaign to account. Still, one of the most interesting TV news packages put together on this topic comes from AlJazeera.
The negative public attention and polling results created by such videos is possibly why the McCain camp has started to scale back its personal attacks on Obama (Palin's claim that Obama was "palling around with terrorists" being the most vicious). And McCain spent much of last week trying to put out the flames started by such accusations.
To be fair, there's definitely some ignorance on the Obama side as well. Take this collection of interviews from Obama supporters in Harlem put together by the Howard Stern show. To the question, "are you more for Obama because he thinks the troops should stay in Iraq or because he's pro-life?," one respondent replied: "I think because the troops should stay in Iraq, I'm definitely with him on that." And to the question: "If Obama wins, do you have any problem with Sarah Palin being the vice president?" "No, I think she'll do a good job."
But it's no coincidence that most anti-Obama videos of this kind come from McCain supporters. So it can't be the case, as some on the left might argue, that Republicans don't have a grasp of the issues. Could there be something to Palin's claim that the "liberal media élites" are out of touch with small town America? Palin's supporters apparently think so. With little prompting, they boo the mere mention of the New York Times.
It's a group that, despite having their choice of president in the last two elections, paradoxically seems to feel pushed to the margins by the mainstream media. Perhaps online video -- the champion of the marginal -- will help draw them back into the mainstream. But probably not.
Related Tyee stories: