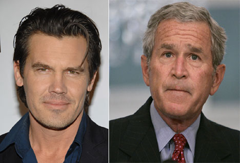 In times of trouble, people often say, "It was just a like a movie."
I take issue with this notion. Life isn't much like a movie, nor are movies like life, but politics is one glaring exception to this rule. Political machinations have always been good theatre, and lately they've also become good cinema.
Director Oliver Stone may be off his nut, but you have to give him credit for what he brings to the big screen. He has already taken aim at Richard Nixon and to a lesser extent JFK, but now he's set his lenses on the life and times of George Walker Bush. With Bush set to leave office, the timing for Stone's new film W is right on the money.
But Ollie Stone isn't the only member of this particular party. A number of upcoming films take American politics as their purview including Milk which stars Sean Penn as the ill-fated Harvey Milk; Frost/Nixon a reworking of Peter Moore's stage play; and Boogie Man about Lee Atwater. Of this group, Boogie Man may the most compelling simply because it's a documentary as opposed to fictional retelling.
The thin line between reality and fiction
But the line is often thin between the real and the made-up in American politics. No one knew this better than Atwater, who was infamous for concocting stories about his opponents and pretending they were real. In the 1988 US election, Atwater destroyed the Democrats' lead through a number of well-timed insinuations about their candidate Michael Dukakis. A particularly nasty calumny was about his support of a furlough program that released multiple rapist and murderer Willie Horton.
Boogie Man is an incredibly timely and relevant film that uncovers the origins of political dirty pool (Atwater was the architect of much of the attack-ad style currently being deployed in the 2008 American election). You can bet that Sarah Palin has probably licked at the edges of the muddy water Atwater first stirred up.
Since fiction is the name of the game, it's little wonder that American politics blends so easily into pure drama. Perhaps that's why they keep electing actors to office: Ronald Reagan, Arnold Schwarzenegger, even Fred Thompson.
But the bigger question is whether much distinction remains between the real and the perceived. Whether it's Josh Brolin channeling Bush-isms, or Tina Fey being more Sarah Palin than the real thing, there is an odd blurring between what is real and what is pretend.
Obama as Mr. Spock
A recent piece in the New York Times detailed this phenomenon, revealing that it is neither recent nor unprecedented. The American presidential campaign echoes pop culture, with John McCain behaving like a twitchy Captain Kirk, and Barack Obama all crisp logic and Spock-like tranquility. That may seem reductionist, but the iconography, familiar from film and television, is so powerful that it overwhelms complexities, and puts something simple and recognizable in its place.
This has more to do with the power of media than with the actual personalities or positions of the candidates. Nowhere is this type of winnowing reality into cartoon form more apparent than in W.
One of the oddest things about W is seeing the various figures of the Bush Administration recreated for the screen. Certainly Josh Brolin does a fine job as the titular W, but the rest of the cast -- Richard Dreyfuss as Dick Cheney, Scott Glen as Donald Rumsfeld, Tobey Jones as Karl Rove, Thandie Newton as Condoleezza Rice -- give the film a strange funhouse feel. These very famous faces and personalities, as seen through the wavy mirror of film, become distorted, almost caricatures of their real selves. But at the same time, they're still there, doing it for real, in the White House.
History as just another story
Performed by caricatures, the ravages of George W. Bush and company become simply another story, dismissible as mere entertainment. The film for all its purported intent is little more than a 90-minute surrealist romp, filled with neo-Strangelove moments of pitch-black humor. Far from being a disemboweling of the American ethos, W is simply more American mythmaking.
A recent New Yorker article by author Ariel Levy about Cindy McCain further reveals the disconnect between what is actual and what is just a nice story.
Levy writes: "The stories that Cindy McCain tells all tend to have the same elements: secrecy, unilateral action, revelation. She is a kind of blond Lucille Ball in these tales, always up to something, never wanting to be found out by Ricky. But her madcap (if genteel) fifties-housewife sitcom persona is complicated by the more troublesome aspects of these anecdotes. She often leaves out a detail or two, omissions that change the shade of the story."
Levy goes onto point out that most of the iconic Cindy McCain stories are not nearly as innocent as they appear, and are often little more than gloss designed to distract the eye from the harsher reality underneath.
What's real?
Fictionalizing, on a personal or a political level, has little use for blunt, homely truth. Truth gets in the way and complicates matters. But after a while, it's hard to tell what's real any longer.
In the movies, the actor playing the character is usually better looking, easier to understand, simpler, more likable than the real thing. Sean Penn is probably more compelling than the real Harvey Milk, just as Josh Brolin makes the almost entirely loathsome George Bush into something approaching humanity. But the result of constant airbrushing is often a type of hollowness, a vacuity.
Shortly before his death from cancer, Lee Atwater gave an interview to Life Magazine in which he recanted many of his former tactics. Said Atwater, "It took a deadly illness to put me eye to eye with that truth, but it is a truth that the country, caught up in its ruthless ambitions and moral decay, can learn on my dime. I don't know who will lead us through the '90s, but they must be made to speak to this spiritual vacuum at the heart of American society, this tumor of the soul."
Who did the Americans get but the Bush boys, senior and junior, to add to metastasizing emptiness.
The other day I asked my brother, who follows American politics obsessively, what might happen if Barack Obama were assassinated. "Do you think the US would tear itself apart, erupt into an orgy of gun violence?" "Nothing would happen," he said. "It would just become one more American myth." A story ripe for another Oliver Stone film, a few years down the road.
Watching real cartoons
When life is a cartoon, you might as well watch the real thing. With that in mind, World Animation Day is October 28th and there are a number of events planned in celebration including free screenings of some of the finest animated films in the world. Jean-François Lévesque's The Necktie, Claude Barras and Cédric Louis's Saint Barbe, and Kevin Langdale's Engine 371, are particular standouts.
On Friday October 24th at Emily Carr University (7p.m. and 9 p.m.) and Sunday October 26th at the Carousel Theatre in Granville Island (1 p.m. and 2:30 p.m.), you can cast your eyes upon some truly great stuff. For additional information, and some sneak peeks at the films on offer, the NFB website Get Animated! has a number of streaming videos available.
In honour of Halloween's incipient arrival, you may be looking for some frightening options. If you want genuine horror as opposed to the political kind, your options are few. Quarantine, a veritable scene-by-scene remake of the Spanish film [REC] is currently in theatres, but it's a pale copy of the original. The Rio Theatre is screening John Carpenter's The Thing on Halloween night. Oddly enough Carpenter's film is actually a remake of Howard Hawks original The Thing from Another World.
But in this world, there are good copies and bad. Just ask Josh Brolin and George Bush, if you can tell them apart.
Related Tyee stories: