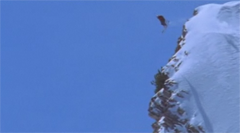 It takes a particular sort of person -- a compulsive thrill-seeker, a vicarious adrenaline junkie or at least a teenage boy -- to sit down and watch a full hour or two of extreme sports. But shrink the action down to a short viral video clip, and you've got yourself a wider audience. This extreme skiing video, featured on the Guardian website, and starring Shane McConkey, a Vancouver native, has me hooked. Maybe it's election fatigue, but as YouTube boils over with attack ads and Sarah Palin interviews, this clip has more to say to me about a different kind of life and death reality.
Part of the beauty of viral video is that it allows us to dip our toes into unfamiliar waters without sacrificing much time or attention. The 15-minute interview with the makers of Steep is about some pretty uncomfortable realities.
Extreme skiing is an unusual subculture. In Steep, one skier describes the release of a groundbreaking 1980s ski stunt video, The Blizzard of Aahhh's, as "like Kennedy's shooting" for ski people -- everyone remembers where they were when they first saw it. Behind the eccentric enthusiasm, though, this is a deadly pursuit.
"All of them [the skiers] have friends who have died. I mean, you can't do this for 10 years and not know a lot of people who've died," says Tom Yellin, executive producer of Steep. Kayce Jennings, also executive producer, describes how a young boy pointed out to her the slope where his father died. Another skier showed them where his son made a final run. One of Steep's main characters died before the film was finished.
I can't decide whether the danger adds to or subtracts from the appeal of extreme sports videos. The risks seem to be part of the thrill for extreme athletes, and I, for one, feel a bit uncomfortable participating in their cultural death wish. At least, until I'm watching Shane McConkey fly off a cliff again -- then, it's hard to think about anything other the spectacle of a human being in flight.
Related Tyee stories