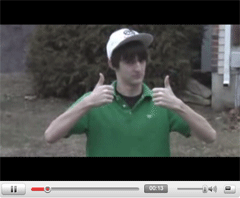 [Editor's note: Every Wednesday Tyee Video offers a guided tour of YouTube and beyond. Our media savvy guides spotlight a favourite video, with many links to others and a bit of commentary to go along. Find all Tyee Video columns collected here.]
By rights, this column should be about Davos. The World Economic Forum in Switzerland was big news on YouTube last week, as forum participants and some vloggers around the world answered the Davos Question: "What one thing do you think that countries, companies or individuals must do to make the world a better place in 2008?"
Let's leave aside the fact that Bono is filed under "world leader" on the Davos channel. The real problem is that the videos are unwatchable. Public figures ramble in monotone or recite their talking points, and everyone drifts into meaningless generalities. Jim Flaherty is typically mind-numbing.
It's an established pattern: big organizations that try to "harness the power of the Internet" to sell their fuzzy mission statements, or individuals who earnestly encourage you to change the world, tend to languish in obscurity. But while Youtube can't make you buy something (an idea or otherwise) it can still keep you occupied.
Currently, there are lots of entertaining, very low tech, how-to vids attracting big virtual crowds. Most people are "visual learners," as my middle school guidance counsellor would say -- it's just easier to do something once you've seen it done. Plus, on the Internet you can watch the how-to vid then try it yourself in total privacy; no one will know how long it took you to learn how to moonwalk.
Crafters were some of the first to pick up on this -- KnittingHelp.com archives dozens of instructional videos sure to loosen your knots. Balloon animal makers (is there a name for this profession?) are also happy to share key skills like how to make a balloon sword. And YouTube user davedays posts another way to help teenage boys nearly break their necks (learning how to do a front flip).
The pleasure of watching cooking shows is in imagining yourself eating, and tech how-tos are the Internet equivalent of food porn. In this genre, Johnny Chung Lee is a minor deity. Here he uses a Nintendo Wii to create virtual reality on a television:
Most of the how-to vids popular right now are very low tech, just someone with a story to tell in front of their webcam. In the era of YouTube product placement, it's kind of charming and old-fashioned. But the entrepreneurs are never far behind. eHow.com is about to launch a video service. Howstuffworks.com which recently sold to Discovery Communications for $250 million, already features some boring advice videos on the for-profit website, like How to Prevent House Fires.
But somewhere in between the benevolent amateurs and recent Discovery acquisitions, this friendly guy is selling online guitar lessons. With the draw of offering the first few tutorials free, maybe he'll soon become popular enough to become a "world leader" like Bono after all.
Related Tyee stories: