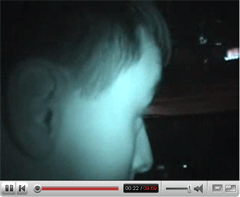 [Editor's note: Tyee Video offers a weekly guided tour into the universe of video on the Internet. Every Wednesday one of our media savvy guides will spotlight a favourite video, including many links to others and a bit of commentary to go along. Find all Tyee Video columns collected here.]
Security cameras: more and more their digital eyes are everywhere -- at the ATM machine, grocery store, on public transit and in cabs, and on Canadian city streets. But the cameras haven't made me feel any safer; the opposite, actually -- I mean, who's watching the watchers?
I'm not alone in my concern, apparently. Today, growing numbers of citizen watchdogs armed with handi-cams, cell phones and laptops are taking part in sousveillance -- watching from below the watchers above.
It's not really new: it started with George Holliday's video of the Rodney King beating. But now sousveillance is exploding in popularity due to cheap digital tech and YouTube. Video vigilantes are using it to record and expose officials committing all kinds of infractions themselves -- from harassing, beating and Tasering to unlawful arresting, and parking to even U-turning.
Take Jimmy Justice, a Brooklyn-based sousveillant disgruntled with the city's "predatory ticketing" policy. Two years ago, he started a crusade to help New York traffic cops find justice -- literally. On his own YouTube site, which has 2,000 subscribers and gets over 90,000 page views a month, he's posted over 30 hours of footage outing NYPD officers breaking many of the laws they have sworn to enforce.
Or, consider sousveillance which "accidentally" catches cops gone wild. An officer detained and threatened a Missouri teen motorist, Brett Darrow, for refusing to cough up details about his personal life, and Darrow just happened to have his camera rolling.
The video got national media attention and led to the officer's dismissal.
Sousveillants have shown that a little amateur video can go a long way to keeping power-hungry authorities in check. During the anti-SPP demonstrations last summer in Montebello, Canada union leader Dave Coles outed Sûreté du Québec (SQ) undercover agents disguised as protesters. . .
. . . and an amateur videographer caught it all. CBC and others aired the footage, and after initial denials, Sûreté du Québec sheepishly admitted to planting the agents.
More recently, the footage of an RCMP officer fatally Tasering Robert Dziekanski at the Vancouver Airport led to inquiries, complaints and outrage from all over the world.
But while these video vigilantes are gaining power, it's still risky business. Sousveillants can get penalized and even thrown in jail if they are caught videotaping authorities. In Darrow's case, it led to a police stake-out of his house.
Given that audiences are itching to watch the amateur footage, many sousveillants are starting to ask why media outlets aren't working harder to protect sousveillants' interests and digitally arm them to the teeth. Watching the baddies being bounced from the system makes for some captivating -- if tragic -- TV.
Related Tyee stories: