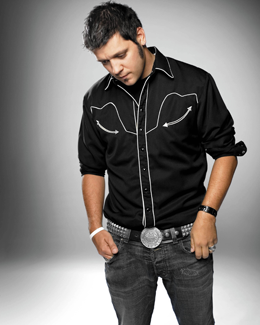 This summer, we at The Tyee gave the former MuchMusic VJ and current CBC talking head George Stroumboulopoulos a royal spanking for his less-than-celebrated hosting stint on The One, an American reality show which caused a stir when it pre-empted The National on CBC, and another stir when it was cancelled after four episodes. Many other Canadians wondered what was happening with our public broadcaster and its host for the next generation.
But like all the best spankings, we did it out of love. And so, when Strombo's peeps called with the offer for us to high-five it out with him, we jumped at the chance. After George pulled up to the tiny-little-dog-filled Opus Lounge in Yaletown, Vancouver, on his too-Strombo-for-words motorcycle chopper ("I don't pop wheelies anymore", he replied to our flippant suggestion that he Fonz it up for us), The Tyee sat down with the pop-culture icon to talk about how it all went wrong, what he's planning for the future, and how he feels about being the flagship personality for The New CBC.
Did our questions have any effect? In the opening segment of the season premiere of The Hour, while suiting up for hockey to some heavy metal music, he talked about the flak he'd recently got for doing The One. Then he interviewed Belinda Stronach, brought in a live studio audience (who laughted quietly – Canadian style? -- at his jokes and new late-night style features), and launched some flashy new graphics.
Will that be enough? This year, he's in the 11:00 to midnight time slot, which means he's up against Jon Stewart, CSI, Lloyd Robertson, Law & Order, Stephen Colbert, Jay Leno, and David Letterman. He has five writers on his show; Jon Stewart brought 30 writers on stage when he won an Emmy; Stephen Colbert has a rumoured 60 writers.
We've said before, the Fonzolopoulos used to be 'The One.' But after his stint this summer, he had some 'splainin to do.
In his interview with The Tyee, here is what Stroumboulopoulos had to say...
On 'The One' mistake
I had a debate with myself about whether doing The One would fit with [my image and what I've done before] and I thought I'd better not take myself that seriously.
Do I care that it got cancelled? I don't give a shit. I don't care. I make TV shows for a living. Four out of five television shows get cancelled. That's the deal. Seinfeld was taken off the air. Every show eventually gets pulled off the air. I'm ok with that.
People start to be a little too precious about television, and I think sometimes you just want to have fun, and I just don't worry about that stuff. If you don't like it, that's cool, I get it. And in a way it's flattering: they're kind of mad at me because it means that they like what I do which is nice and I understand that.
On atoning for 'The One'
I'm doing it now. But it's not a plan. I was the same guy ten years ago as I was when I took this show. I have a radio show and I make jokes about The One all the time on the air. So I'll probably make a joke about it. But it's not strategic, I'm not trying to regain any popularity.
On why Canadian media hates the CBC
The One got a lot of attention. But it's weird, because did you know ABC had five cancelled reality TV shows? Four of them ran on CTV and Global, but that never got reported. The only reason why The One is a story is because the media generally hates the CBC and takes any opportunity to rip the CBC. If something bad happens at CBC, look what's new on the cover the next day.
I'm from the private sector media, I didn't grow up watching CBC TV or listening to CBC radio, so it's not like "Oh that's George from the CBC of course he's say that," and I notice there is an unbelievable distain for the public broadcaster. And I think it's because the CBC has historically been awful at fighting back. If CTV was to rip Global, Global would fight back and it would be a street fight. CBC is like (puts on old grandpa voice) "Oh, we don't do that sort of thing, here." And that's good in some ways, but that's why this happened.
On CBC's glory days
CBC's mandate is to make content for Canadians. Well, Canadians watch reality shows all the time. As many Canadians watch Rock Star as watch the second period of the hockey game. If the CBC was all shows like The One it would be a colossal mistake. But when The One was cancelled they replaced it with a British crime drama and no one said anything because there's this smug anti-Americanism thing that goes on.
People talk about the glory days at the CBC and how things used to be better. Well, you know what people used to watch in those days? Three's Company and other American shows. That's what people actually watched. We remember it differently now than it actually was. CBC's biggest ratings ever has been The Simpsons.
On why 'The One' stank
The thing with The One was that they did a shitty job of telling people what the show was. The promos they ran made it look like it was going to be a talent contest. It wasn't. It was a reality show with kids trying to find their dream. That's what it was. So the marketing was wrong.
I looked at The One and found Mary Jane Blige, and the president of Motown records and Mark Hudson who gave Ozzy Osborne his first number one single and worked with Aerosmith, Ringo Star. And they were all on board so I thought ok, this is going to be good.
On selling out
When Bob Dylan sold his song to Bank of Montreal, and his response to the criticism was that song didn't mean the same thing to him anymore, it made me think, "I'm going to do it." But it wasn't rancid on The One. All you have to do is meet one of those kids and look in their eyes and you know they're talented. Of the eleven kids we had, seven were better singers than anyone I've interviewed in my career with only a few exceptions.
On the upside of failure
That show put me in front of 10 million people some of whom will go to the website and check out The Hour. I get interviews with Hollywood celebs now because they saw the show, they go to the site, and then their manager says you should go on the show. We're not ABC, we're not NBC, we're the CBC in Canada so that kind of thing helps.
On caribou Canadians
We're Canadian at The Hour. But I'm the kind of Canadian who doesn't beat you with a caribou hoof to show you how Canadian I am. I'm not that kind of Canadian.
On CBC's MIA youth viewers
Did you know CBC's average audience is younger than CTV's average audience by four years? Nobody knows that. Yeah, [CTV's viewers] are over sixty. That's across the board in America too. That's who watches the news. Because I get my news on the Guardian website and so do other young people. But we do have young people and grandparents watching The Hour.
I would never presume that I am part of the answer [to youth viewers]. CBC needs to keep doing it and need to be brave. CBC has a lot of challenges ahead of them and they have not been good over the last 10 years.
On the late night show down
At 11:00 there's, Jon Stewart, Lloyd Robertson, CSI, Law & Order, then at 11:30 you add Letterman, Leno and Colbert. Yeah we're fucking dead, man.
On staring down Colbert's 60 writers
I have, including me – Dave, Bob, Randy and a few new guys so now I have seven guys.
On competing with the big boys
We're going to compete because we're not them, we don't do what they do. I'm not a comic, I don't need to be jokey joke boy all the time.
On one episode, I'll interview Matt Damon but I'll also be on a satellite phone with Morgan Sangurai on a field in Zimbabwe because he's planning to overthrow Robert Mugabe. So the question will be do people want to watch that kind of show at that time? And the answer to that is I don't know. We did fine at 8:00. I don't know if we will at 11:00.
On wanting to be Radiohead
I'm not going to be Celine Dion. I don't want to be Celine Dion. CTV is Celine Dion. Lots of people like Celine Dion. Far fewer people like Radiohead, but I'd rather have Radiohead's life. Everything is presented in a light that we need to beat CTV. I don't need to beat CTV. We want to have the career of those bands where at the end of the run, because nothing is forever, we can say, "Yeah we did our thing, we've done it."
That's why The One was so important for me to do. I can't take myself that seriously. I can't just be the punk rock guy. But you know even punk rock is doing whatever you want. And I wanted to stand up for the CBC and be a part of something that could be interesting. I want my life to be enriched.
On the future and teens in chicken soup paddling pools
On MuchMusic, I remade a girl's bedroom decorated in the spirit of Avril Lavigne when I was 31 and she was 15. That was ok to me because you were giving a girl a treat and it was really cool. But on the first episode of Fandemonium I was walking down the street for an episode about Britney Spears and there were two girls beating each other up in a kiddie pool filled with chicken soup and I looked at the producer -- and I'm not a dick I'm easy to work with -- but I looked at her said, "What are you doing to me? What do you want me to do here?"
And I'm not the best at what I do; I work really hard at it. But for the first time in my career, I thought I'm really awful at my job, I must suck at this. I will be exposed as a fraud. And they said, "Oh no we love it you were great." And I hated it. I liked the people, but I didn't like the show.
But if we don't win at the CBC it will be ok, because we'll die trying.
Elaine Corden writes about TV and culture for The Tyee. Vanessa Richmond is managing editor of The Tyee.
Related Tyee stories: