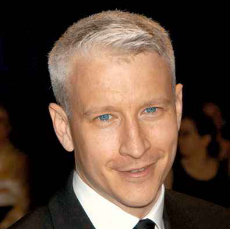 CNN has given folksy Aaron Brown the old-fashioned, hand-crafted boot. The host of the cable news network's two-hour News Night program has been replaced by the younger, hipper, hotter Anderson Cooper. There's a temptation to declare this yet another nail in the coffin of serious US TV news. But then, it's probably a little late to call the carpenter for that particular box.
Brown's professional demise occurred with a speed more commonly associated with boy bands or reality TV stars. Considered a rising media star after 9/11, Brown was praised for his aw-shucks, conversational style, high-brow but avuncular: like a favorite prof chatting with you after class. His low-key delivery offered a striking contrast with the bombast of CNN's competitor, Fox News. Brown seemed like an heir to the great American anchor tradition exemplified by the likes of the now-retired Tom Brokaw and the now-deceased Peter Jennings.
'Changing of the guard'
Apparently, there's been a changing of the guard. Anderson Cooper is clearly no Jennings. Physically, he resembles political satirist Bill Maher. And his style, while not that irreverent, is obviously inspired by edgier and more informal role models than old-school masters like Walter Cronkite.
Cooper scored points in the 2005 equivalent of battlefield coverage: i.e. reporting while being blown sideways by Hurricane Katrina/Rita/Wilma and so on. But even before the storms hit, Cooper was making his mark as a new kind of hybrid news anchor, clearly comfortable with pop culture stories and yet capable of delivering harder news, as well. With his youthful looks and short, prematurely grey hair, Cooper handles the lighter material so crucial to modern TV news without looking like he is slumming or secretly holding his nose.
So is this another step in the long, slow decline of TV news? That may depend on your opinion of Brown. Not everyone was sold on his fireside delivery. And there's no evidence that Cooper has any less journalistic cred than Brown (at least considering their relative ages).
The news playground
Regardless of his journalistic credentials, Aaron Brown rose and fell based on his appeal to viewers. News Night with Aaron Brown was getting solidly trounced in its time slot by former CNN legal analyst Greta Van Susteren's On the Record on Fox News. News Night was reportedly losing 72 percent of the audience from lead-in Larry King Live (a stat that offers a frightening snapshot of American viewing tastes).
A quick check of the CNN roster makes it clear that on-air hosts are selected for personality, not Pulitzers. Anchors like Carol Costello and Carol Lin project an appealing charm, but seem more akin to coffee-klatch companions than hard journalists.
Larry King cringe
CNN anchors sometimes seem to pattern themselves on the network's flagship star. Larry King serves up sycophantic interviews imbued with that America-first attitude so appealing to CNN viewers. In an appalling May 2001 interview, King spoke with Commander Scott Waddle of the USS Greeneville, the submarine that surfaced beneath the Japanese fishing boat Ehime Maru near Hawaii, killing nine Japanese passengers, including four high school students. Commander Waddle was suitably remorseful, but King was anxious to pin the blame elsewhere. "Why was the [Japanese] ship there?" King demanded rhetorically. "Couldn't it have been somewhere else?"
More recently, King hosted the Dalai Lama and a Christian fundamentalist in the aftermath of Hurricane Katrina. "Why does God allow this to happen?" King asked the Dalai Lama petulantly, leaving the Tibetan holy man to explain that Buddhist belief does not include a personified deity. King brushed that quibble aside and asked again. When in Atlanta, Lama, you pray like the locals do.
No Grace under fire
Perhaps most disturbing, has been the rise of Nancy Grace. The Court TV host has become a CNN mainstay after making her mark as the regular pinch-hitter on King's show whenever the Laci Peterson case was being discussed, which was often. Grace still holds the all-time record for mixing the maudlin with the grotesque, a distinction she earned after Peterson's body was discovered in the water along with that of her unborn son. In noting that the infant's body had suffered less decomposition than his mother's, Grace declared tremulously that, even after death, "Laci protected her baby..."
The intense focus on stories like the Peterson case, along with CNN's generally gung-ho war coverage, underlines the network's determination to play to a domestic audience, whatever the cost to journalistic credibility. During the recent coverage of the Paris riots that began after two French teenagers were electrocuted in a generating station, anchor Lin referred to the victims as "African-American." Anchors will make slips, of course, but that is not one you could imagine Peter Jennings making. The late ABC anchor always emphasized an international approach. CNN often seems more intent on reflecting the attitudes of the estimated 80 percent of Americans who don't hold passports.
Anchor fashion
Aaron Brown may, indeed, have been closer than most CNN announcers to the Jennings model of anchor-as-journalist. But his professional rise had more to do with his appealing, low-key delivery than his journalistic credentials. Fashions changed and he was out. It's the nature of the biz.
George Clooney's new film Good Night and Good Luck tells the story of legendary newsman/TV host Edward R. Murrow and his producer Fred Friendly, who used their CBS program See it Now to take on the Red-baiting Senator Joseph McCarthy. Many have rightly pointed out that the film is a timely reminder of the need for a kind of journalistic courage that is often lacking today. But the film offers another reminder as well. It shows that Murrow (played by David Strathairn) was forced to alternate those hard-hitting pieces with celebrity interviews, inquiring of Liberace when he was going to find the right girl and settle down. Television-t'was ever thus.
Steve Burgess anchors culture columns for The Tyee. No plans to replace him with anyone younger, hipper, hotter.