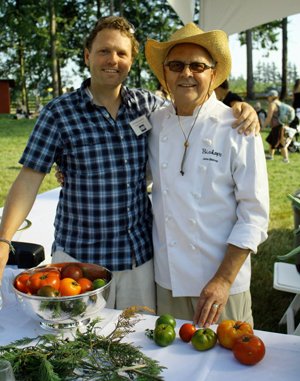 For Chris Bodnar, it was discovering FarmFolk CityFolk -- an organization working for a sustainable food system -- that inspired his transition from academia to agriculture six years ago.
It was the nonprofit's network of mentors, peers and resources that helped launch his new life at Glen Valley Organic Farm, and he's been involved ever since. Now, he's mentoring young, new farmers himself through the organization.
This growing season, FarmFolk CityFolk will mark its 20th anniversary by hosting three farm-to-table celebrations across the province, bringing together leading local chefs, farmers, ranchers, distillers and musicians for what Bodnar calls "a celebration of everything agriculture."
The series of Feast of Fields events, which will raise funds for FarmFolk CityFolk's sustainable food programs, kicks off on Aug. 18 in Kelowna, followed by a major gathering on Sept. 8 in Langley, and then Sept. 22 in Metchosin.
"FarmFolk CityFolk, over the past 20 years, has really given feet to the local food movement," Bodnar told The Tyee. "They were talking about issues facing farmers long before it was trendy or people were interested in it.
"We see in B.C., partly because of FarmFolk CityFolk, the tremendous respect people have for those growing food in this province. When you look at the last 25 years in B.C., the agricultural sector has changed radically. We're talking millions of dollars now going through farmers' markets -- that's incredible!"
The 20-year old nonprofit has played no small part in the local food movement, which has seen farmers markets take off wherever they're planted across the province, he said.
Network at a 'wandering harvest festival'
Feast of Fields is a showcase of the relationships inherent in bringing food from where it's grown to where it's eaten and enjoyed, explains Kelly Farrell, who is organizing the Metro Vancouver event at Krause Berry Farms & Estate Winery in Langley.
"It's power in numbers," Farrell tells The Tyee. "It really showcases the bounty of what Vancouver has to offer.
"We're basically trying to connect a lot of people, to help B.C. become a more sustainable food system. We have almost everything here in the province; it's just (a matter of) showing people that."
Feast of Fields is described as "a four-hour wandering harvest festival," where renowned chefs are paired with producers to create a wide array of seasonal dishes, accompanied by live acoustic music and some of the province's best wines and beers.
"You walk through the farm gates, and enter into a big gorgeous open field with large tents," Farrell described. Each participant is issued a wine glass and cloth napkin -- the event aims to be zero-waste -- and can wander between hay bale clusters, tents and berry fields for the afternoon, enjoying the tastes and sounds.
"It's a great foodie event," she said. "Many people go there for that. But it's also many like-minded people who want to talk about how far the landscape of the local food scene has come."
Cultivate culture
Bodnar said the eclectic mix of music, food, drink and a day on a working berry farm and winery is a way to highlight how essential a healthy food system is. It's not just about eating, either, he insists.
"One of the key words to agriculture is 'culture,' " Bodnar explains. "Culture literally means 'to cultivate.'
"When we look at agriculture, it means to cultivate the soil. But the other side of it is to celebrate food and the cultural role food plays in our daily lives. Feast of Fields celebrates all of that -- understanding where our food is coming from, and enjoying it."
For a farmer like himself, it's also a rare chance for growers to get cleaned and dressed up -- "At that point in the season," he chuckles, "we're dirty and tired!" -- and get to taste the creative ways chefs are using his produce.
"Sometimes people don't even recognize the farmers because they look so different than at the market!" he laughs. "To see chefs taking a passionate approach is incredible to see.
"People feel a strong physical and emotional connection to their food. Providing an informed way of networking, not just a romantic notion about food, is about getting down to nitty-gritty of what can be done to better support farmers and consumers."
FarmFolk CityFolk will host its Lower Mainland event on Sept. 8 in Langley. Tickets can be purchased online or at Whole Foods. The Tyee is a proud media sponsor of Feast of Fields. Find more information on our Tyee contest.