In high summer, vacancies here are the stuff of legend. People seeking shelter find it in greenhouses, tents in the hills, rafts on the river. It's winter now though. And no, this isn't Vancouver, but those are all valid housing ideas for back home. I'm in Dawson City, Yukon, getting a lesson on development in the far north. Locals insist 20 below zero is balmy for February, but I'm wearing enough layers to stop a bullet. An endless dusting of white powder -- flakes as fine as icing sugar -- quietly buries snowfall records of years past. People in parkas climb ladders to push waist-deep snow off sagging rooftops. Down the road, ravens the size of toddlers feast on food scraps pulled from a compost bin outside a conflicted rec centre that also serves burgers in the lobby. Nobody minds that everybody is always late for everything: Dawson Time, they call this. Keeping with local custom, I'm running a good 15 minutes late as I trudge downtown to meet a man looking to ease Dawson City's perpetual housing crunch. He's also the only real estate developer I've ever met who lives in social housing.
When I first found Hector Renaud several nights back at a gathering of food security advocates, a little senior jumped between us, waving her arms and begging me to ignore whatever poisonous stew this outsider developer devil was oozing in my direction. This, of course, made him an irresistible interview.
"I'm not doing a heck of a lot here other than making my opinions known, sometimes for the good and sometimes for not!" he told me good-naturedly after the older dame had departed.
We meet again in the lobby of the Downtown Hotel -- the same place I later decided it a terrific idea to down a glass of whiskey buoying a severed human toe. Renaud, 57, a heavy man with a prominent nose and loud belly laugh, suggests we drive around. He doesn't walk much anymore after a nasty fall off a tall ladder compacted several discs in his back. So we hop into his white minivan, where I learn he used to be an industrial farmer in southern Ontario. He grew tomatoes for Heinz and corn for Green Giant, but eventually got out of the business of growing food and into the far more lucrative business of buying farms and turning them into subdivisions of single family houses. Like most residents I speak with, Renaud ended up in Dawson by accident. Two years ago, what was supposed to be a summer visit with his son turned into a permanent residency when the older man fell in love with the little town, archaic land laws and all.
"The previous council, in their wisdom, decided this lot should be single-family residential," he says as we pass another property of interest. "This should be rezoned to allow for multi-family residential properties."
We cruise around the Gold Rush time warp marveling how this sleepy outpost could have been North America's biggest city north of San Francisco for a spell in the late 1800s. I also hear Renaud's take on local current events as the tires crunch fresh snow. The shiny new secondary waste-water treatment plant, product of a recent referendum on how to best quit dumping unprocessed shit into the river, is so large officials have to import effluent just to keep it running, he says. And the equally new hospital across the road, while generally a welcome addition, actually cost the town some affordable housing units, as the Yukon Housing Corporation put vacant suites aside for a medical staff that's yet to arrive, he tells me. Under its rent-geared-to-income model, those doctors will pay more than the underemployed seeking shelter. Bizarrely, Renaud also lives in one of the units. The semi-retired man got one of the coveted subsidized units for $430 a month. He knows his affordable home is a privilege and wants to bring more of the same to would-be homebuyers in town.
"They don't want to talk about this yet because they don't have the zoning in place," he says as we stop at another vacant lot he's trying to secure in the center of town, on the corner of Second Avenue and York Street. "I have a plan in front of council at the moment for 16 residential units."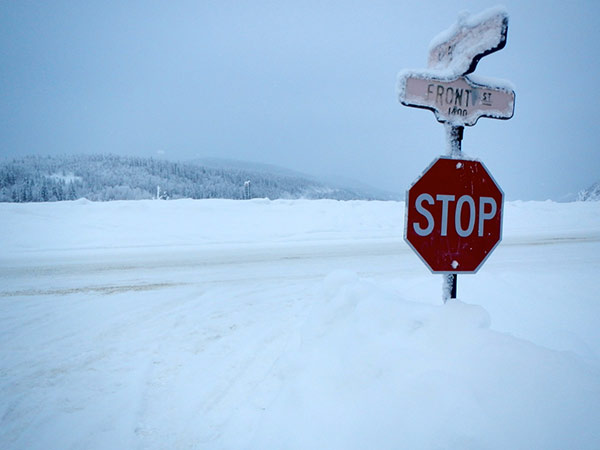 He estimates construction costs at about $1.2 million. Financing would be easy enough, based on pre-sales of the condos he's proposing to build. In a perfect world, he'd sell each two-bedroom unit for $169,000, the costs reflective of the foundation stabilization, thickset insulation panels and multi-pane windows needed for human comfort atop permafrost. The harsh winter conditions also add the pressure of deadlines.
"There is a major sense of urgency. We only have about a hundred days of construction available to us. By the end of February, if we're not in a position to order materials, we'll lose the season," Renaud adds. "I don't believe there's going to be any major construction in this town in 2013. Until the new zoning bylaws are in place, my hands are tied. I have people in Whitehorse right now telling me to come to town and build. But I like this town. I'm a Dawsonite now."
Meeting the mayor
The following day I again set out across town on foot, this time heading toward the treeless scar in the hillside above Dawson, the consequence of an ancient landslide. According to local lore, the slide happened at the behest of the Tr'ondëk Hwëch'in First Nation, which tasked a shaman to roll a massive tree down the mountain to inhume some cannibals whose culinary traditions, as you can imagine, were starting to annoy the neighbourhood. Today the slide is my compass to the mayor's house.
Wayne Potoroka, 43, greets me in a black zip-up fleece, jeans and thick red socks poking through a pair of Birkenstocks. His Casual Worship welcomes me into his home to talk about the reality of building anything this far north. I quickly learn the mayor dreams of sewer and water lines in a world of septic fields and visits from drinking-water delivery trucks. We sit in the living room, an addition to his large cabin-style home, while his four-year-old daughter Hazel interrupts with deliveries of nonsensical Boggle words and loud giggle spells.
Potoroka's arrival here was unremarkable: just another restless kid from Dauphin, Manitoba hitching a ride north instead of working on the family farm. He spent the next two decades landscaping, mining, laying water and sewer pipes, freelance editing for a northern publication and then doing communications work for the Tr'ondëk Hwëch'in, the same people who brought us that badass shaman above. Eventually, Potoroka took an interest in politics and became a city councillor, serving some seven years across two discontinuous stints before winning the mayoralty last fall. He kept his job with the first nation, since the city's six-million-dollar budget only nets him a part-time salary of $10,000. Just the same, I grind his gears about construction delays.
"The town is not erecting any impediment for anyone to develop in this town," he replies, suddenly stern. "And anyone who says so, I don't know where he gets off saying that."
"Hector Renaud says it's a zoning issue."
"He doesn't own the land. How about buy the lot and then tell us what you want to do with it?"
Where I come from, that's not how officials and developers interact, for better or worse. But Dawson's official community plan was only finalized days before Potoroka became mayor, and modernizing outmoded bylaws will take time. Another problem, Potoroka says, is the murky state of land ownership. A good chunk of the city's prime downtown real estate is in private hands, but some of those hands are either dead or out of town. And while the City itself also owns some properties, many of them have never been serviced with the types of amenities North Americans have come to take for granted.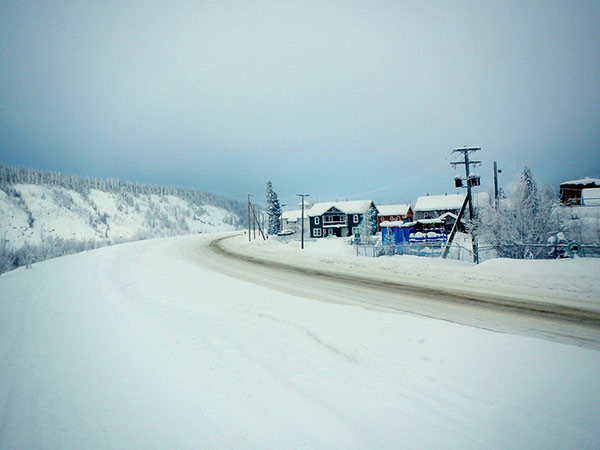 "The town has lots of land. What we don't have is the money to bring the infrastructure to these vacant properties," Potoroka explains.
"How much is a vacant lot downtown?" I say.
"About 30 grand."
But that's just for the land, naked save for a thick blanket of snow. To prep that lot for construction, add the cost of water and sewer lines, keeping in mind materials and strategies to battle bedrock, glaciation and incline concerns. That could push the bill to $100,000.
"I wouldn't pay that for a lot and you gotta ask yourself who can?" says Potoroka. "What do you do in a situation where you have highly develop-able land that would be incredible, those would be beautiful view lots, but the cost of putting them in there might be prohibitive?"
While he ponders that puzzle, Potoroka want to push through some other bylaws to bring back the town's frontier spirit. In addition to backyard chickens and bees, he also wants to make it legal for people to build garden homes on their properties.
"You guys call them carriage suites. I'd like to call them cribs," he says with a smirk while pulling up an old brothel photograph on his laptop. "That's Ruby Scott's place. That was the last operating cathouse in town. 'Cribs' were where the ladies of the evening would ply their trade."
He thinks locals might enjoy these planned changes.
"It kind of helps roughen up the edges a little bit. We're a Gold Rush community, we're a town of 1,300 people," he grins, eyes ablaze in a frontier daydream. "Go north and you're not going to hit anything. No evidence of civilization."
Mush!
Thirteen hundred people, said the mayor. A few more than that this week, thanks to the mushers, handlers, doctors, drivers, volunteers and superfans of the Yukon Quest 1,000-mile international sled dog race. Scores of them have pulled into town, competitors on sleds and all the rest in massive trucks. They're here to rest and refuel with dog food, supplies, gas, cigarettes and booze. I crunch around the tiny city center counting one liquor store and seven other watering holes, eight if you consider the weekend casino. My favourite bar, The Pit, a dank place with loud live music and the town's most famous painting -- a Gold Rush era sex worker kneeling in front of a Mountie in Red Serge, her face obscured by the wide brim of his Stetson 'cause he's a classy guy -- starts serving liquor at 9 a.m.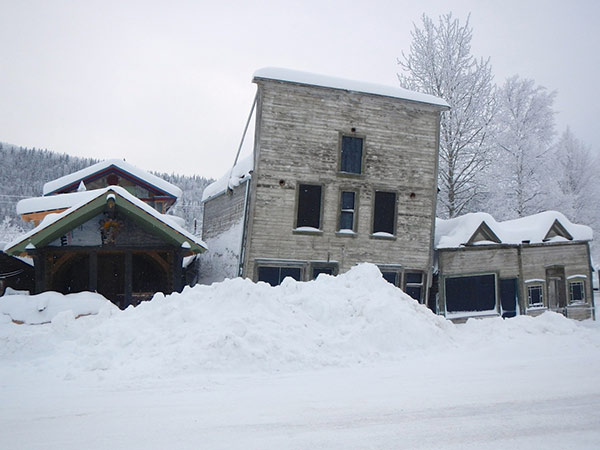 A short walk away sits a thin dilapidated shack leaning awkwardly away from what appears to be a brand new log cabin. It is here a musician friend suggested I look for Florian Boulais, an outlandish 38-year-old Franco-German hybrid of modern engineering and cosmic-karma study who's often to be found in a pair of work overalls. Ever since he started taking apart remote-control cars and computers as a kid, the man's been good at fixing and building things, from optics and laser technologies to holograms and jet engines at Lufthansa in Europe. He brought the savings from that last gig to Dawson where he's since been a dishwasher, blackjack dealer, cashier, logger, landscaper, carpenter and log carpenter. He also takes random classes at the college, runs food security meetings and environmental film screenings, works odd jobs fixing Apple computers and -- most impressively -- builds houses for shelter and investment.
I find him up a staircase out back, covered in dust inside a rental suite he's erecting atop the traditional log cabin he built by hand the year prior, mortise and tenon joints and all. He financed it with an equity loan against a third project, another cabin, he built across the river.
"Because I built it to code, I've been able to insure it and then take a little mortgage out. And since I've done everything myself, I've saved so much money. I've been very lucky. This land I got for 20 grand because people supported my project. And then I went out logging, got wood myself, mostly local lumber. And then I've been working here all the time, you know? Doing everything," he says with a humility I can't begin to understand.
He rents the original cabin out for an income and lives in a tiny shack he hammered together from scrap wood behind this latest project. To my amusement, Boulais speaks in existential riddles that touch on everything from Chernobyl, big oil and vegetarianism to corporate greed, the role of the media and the need for healthy communities:
"There's a lot of male energy out there right now. The male energy being the energy that takes things and shapes things into forms and takes more and more and more," he says, upset, until he grins and adds this: "And the feminine to me is more the earth and giving back and giving up things and caring for things. Not much of that these days."
I eventually figure out he hopes to turn the downstairs log cabin -- the place whose wooden beams bear intricate carvings of mantras such as "know thyself" and "less is more" -- into a co-operative coffee shop run by women.
"It's gotta be ladies running the place!" he says, still grinning. "People are not gonna come to The Pit to talk about important stuff. They're gonna get wasted and they're gonna have a good time."
"So the cafe won't serve booze?" I ask.
"No, you get excellent coffee," he says. "It's about the energy inside. A healthy meeting place."
Not your typical real estate entrepreneur, but there is no typical anything up here. Boulais hopes to have the cafe operating later this year, but there's still a ton left to do and one man can only move so fast. By Vancouver construction standards, progress is crawling along lethargically. But here in the vacuum of Dawson Time everything is right on schedule.