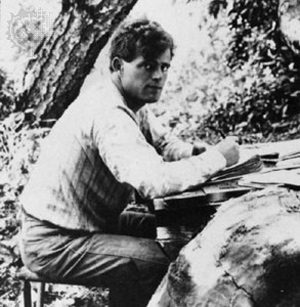 Wolf: The Lives of Jack London
James L. Haley
Basic Books (2010)
"Why, man," said Cassius of Julius Caesar, "he doth bestride the narrow world like a Colossus; and we petty men walk under his huge legs, and peep about to find ourselves dishonourable graves."
Every ambitious male writer in North America in the last century has felt that way about Jack London, and felt himself at best a pathetic imitation of him. If London had been born in 1976, not 1876, he would bestride our world as he did in the decade before World War I.
Jack London knew every side of the American dream, including the nightmare. Growing up illegitimate and poor in 19th-century Oakland, California, he was a teenage tough who worked in various dime-an-hour jobs. Teaching himself to sail, he prospered as an oyster pirate in San Francisco Bay.
At 17 he shipped out as able seaman on a sealing vessel, where he won respect by outfighting a far bigger man. He bummed across the U.S. and got thrown in jail for vagrancy. Barely 21, he went to the Klondike where he found little gold but came back with the experience that launched his writing career.
To match him today would require some hybrid of Stephen King, Mel Gibson and Noam Chomsky: London was a popular entertainer who was also macho, good-looking, racist, and a savage critic of the system. After the success of his early books, including The Call of the Wild, he went to Britain and spent weeks undercover in the slums and workhouses. The resulting book, The People of the Abyss, was a damning indictment of British capitalism at its imperial zenith.
Brilliant and brutal
Jack London seemed comfortable in any genre he chose: poetry, novels, social commentary, personal essays. Books like Before Adam, The Scarlet Plague, and The Iron Heel made him a little-recognized grandfather of science fiction, and The Star Rover is a brilliant and brutal fantasy masterpiece.
Sometimes, though, London's SF was disquieting. His 1914 short story "The Unparalleled Invasion" describes the deliberate, American-led extermination of a billion Chinese in the 1970s using germ warfare. Americans and European then invade China, murder the few survivors, and repopulate the country with whites. Given what we know about London's racial views, this is not a deadpan satire of racism -- it's a utopian vision of genocide. Haley doesn't dwell enough on this aspect of London's politics.
In 1900 London reviewed Ivan Bloch's prophetic cost-benefit analysis of modern war, and saw socialist revolution as the only likely benefit. But he was no armchair pacifist.
Outwitting the Japanese army and US Marines
Sent to cover the Russo-Japanese War in 1904, London realized his hosts in Tokyo had no intention of letting foreigners observe the war itself; he slipped out of Japan, sailed to Korea, and made it to the front. His reports were so perceptive of Japanese military strategy that they should have been required reading at West Point. (He came home vowing to warn the world of the Yellow Peril.)
A few years later, London was outwitting the U.S. Marines occupying Veracruz so he could report on the Mexican Revolution. Again he reported accurately, finding no one to support among the crooked factions battling for control. Like his criticism of the Japanese, this was politically incorrect to his socialist admirers in the U.S.
These adventures, like his books and articles, supported a grandiose lifestyle: a custom-built seagoing yacht, a series of fine homes culminating in the doomed Wolf House that burned to the ground, and endless alcoholic binges. He paid for them by cranking out a steady thousand words every morning.
Foreshadowing the century
We tend to think of the two decades before World War I as a dull overture to the real start of the 20th century in 1914. But in those years London was exploring, in his life and in his writing, issues that still confront us.
He experimented with hashish, agitated for revolution, and wrestled with issues of sexual identity in an age when homosexuality was profoundly despised. He hung out with San Francisco bohemians who behaved like 1960s hippies. He scandalized the country by divorcing his first wife, but the scandal promoted his career.
Known as "the boy socialist" when he ran for mayor of Oakland, London evolved into landed gentry, owning a vast estate that was also a working farm. He seemed to be vindicating the American dream of prosperity as the reward of hard work, even as he damned the country for exploiting its workers.
London also acquired a kind of fear of the masses whose cause he had advocated. In The Iron Heel, he describes a capitalist oligarchy ruling America with machine guns and barbed wire; but when the workers launch the doomed revolt of the Chicago Commune, London describes them as a nameless, faceless and terrifying mob.
Decline and fall
By his late 30s, London was no longer the gorgeous physical specimen he'd once been. Booze, tobacco and a bad diet were killing him. To cope with the pain of his failing kidneys, he was taking morphine (and writing John Barleycorn, a confessional account of his troubles with alcohol). He died mysteriously in 1916, at age 40; Haley argues that it was not suicide but the result of an accidental self-administered overdose of morphine.
As vivid and surprising as his book is, Haley says little about Jack London's literary afterlife. His politics made him unpopular with the media and the authorities (the FBI opened a postmortem file on him in the 1920s). Eventually he was relegated to being just an author of boys' books about dogs and sailors -- much as Mark Twain was relegated to the kiddy-lit section and his social criticism was forgotten.
But London was the template for generations of British and American writers after him. Aldous Huxley's Brave New World and George Orwell's Nineteen Eighty-Four are brilliant responses to The Iron Heel.
The sons of Jack London
Ernest Hemingway, John Dos Passos, the hardboiled detective writers like Dashiell Hammett, left-wing film noir screenwriters, Norman Mailer, the Beats, Cormac McCarthy -- they all echo London's mix of social issues, adventure, sex and alcohol. London's commercial success must have inspired them as well.
The London myth of the brilliantly self-destructive writer -- Truman Capote, Jack Kerouac, William Styron -- appeals to Americans more than Canadians. Plenty of Canadian writers have been drunks and womanizers, but usually in the safe nest of a university job. And their scope has been far narrower than London's. Who could imagine Leonard Cohen also covering the Vietnam War, or Mordecai Richler building a yacht for a seven-year journey round the world, or Douglas Coupland running a vast ranch in the Fraser Valley?
Women writers don't have much time for London's myth; they have demons of their own. But on some level, North American male writers have to measure themselves by Jack London. And by that measure, we all fail.