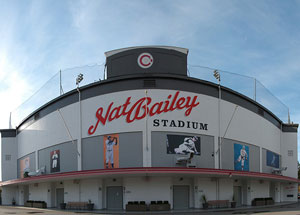 Hockey? Who cares about that? Vancouver's minor league baseball team, the Canadians, opened their season on Friday with a sold-out 3-2 win over the Yakima Bears in an evening that saw not one single player go to the hospital with a concussion. The next day Yakima won 6-5 but none of the fans flipped over a car or looted a department store. Sunday the Canadians avenged that defeat with a 4-0 shutout. No fires. Play ball!
Okay, we know what you're saying -- that minor league baseball doesn't quite offer the same high stakes excitement as game seven of the Stanley Cup Finals. Still, there are plenty of reasons I'm eagerly anticipating the return of Vancouver's local baseball team.
To whet your appetite for the 2011 season, allow me to share some reasons why this year is shaping up to be better than ever for Canadians fans.
The Toronto Blue Jays connection
This year is the team's first season as the Class A affiliate of the Toronto Blue Jays. This means that if a Canadians player is good enough, he may soon end up playing with the Jays.
In recent years, the Canadians have been affiliated with the Oakland Athletics. Now, by pairing up Vancouver with the only Canadian organization in the majors, we'll have even more reason to be rooting for the home team.
A milestone for Nat Bailey
Not only does 2011 mark a new beginning for the franchise, it also offers a chance to celebrate the city's rich baseball history. This year marks the 60th anniversary of Nat Bailey Stadium, which opened way back in 1951. It has been home to the Canadians since 1978.
Canadian champions play right next door
Nat Bailey is located right next door to Hillcrest Park, home of Little Mountain Baseball. The park's team for children aged 11-12 was the country's top little league team in 2010, and it represented Canada in last year's Little League Baseball World Series in South Williamsport, PA.
Non-baseball attractions
Even those without much interest in baseball will find plenty to enjoy at Nat Bailey Stadium. Eight of the home games will be followed by a spectacular fireworks display. It's not quite as grandiose as the Celebration of Light, but the comparatively intimate surroundings (with a beautiful view of Queen Elizabeth Park, no less) make it just as impressive.
There are also giveaways like backpacks for kids (June 29), toques (Aug. 16), trucker hats (Aug. 18) and $15 gift certificates to Oakridge Centre (Aug. 24). See the full list of promotions and freebies right here.
Cheap!
Yes, I've saved the best for last. A reserved seat in the grandstand costs just $12.50, and parties of 20 or more can get reduced group rates.
Let's be honest -- this is the most important reason of all. Because even if minor league baseball doesn't offer quite the thrill of playoff hockey, you can always make up for it by spending the money you saved on admission at the beer vendor.
Better yet, after you leave the park, you won't have to fight your way through a war zone littered with burning vehicles and baton-wielding riot police.