The pitcher stared in at home plate, paused, leaned back before striding forward to whip the ball with a sidearm motion. The ball fluttered towards home plate, a lack of spin causing it to dance like a butterfly.
Outside. Ball one.
The motion was repeated. The ball again floated outside. Ball two.
The batter, Wilver Perez of the Victoria Seals, had never before faced a knuckleballer. He decided to study at least one more pitch before committing to a swing.
"I figured I'll take a walk for now. See the pitcher," the Dominican native said later.
The third pitch, a slider, cut across the plate. Strike one.
The fourth pitch knuckled near the strike zone. The umpire's arm went up. Strike two.
The pitcher wound up, releasing the ball with fingers splayed, as though pushing the ball the requisite 60 feet, six inches.
The batter took a mighty swing, his bat striking nothing more than the warm evening air.
Wilver Perez struck out.
The crowd at Royal Athletic Park cheered, though it was a Victoria player who had been dismissed. The fans recognized history when they saw it.
On the mound stood Eri Yoshida. a tiny teenager from Yokohama who became the first woman to play professional baseball in Japan last year. She came to the United States earlier this year, signing a pro contract with the Chico (Calif.) Outlaws of the independent Golden Baseball League. The team lists her height generously as 1.55 metres (5-foot-1), but she likely was wearing cleats at the time. Her weight: an official 52 kilograms (115 pounds), but, again, the weighing must have been done after a binge at the sushi bar. She is so tiny the team had to order a special uniform; the jersey she originally wore hung off her tiny frame like a dress.
Only 18, she is determined her fluttering pitch will crack a glass ceiling. She wants to be the first woman to play in the major leagues.
Back home, she is known as the Knuckle Princess, a minor celebrity whose diamond adventures are diligently recorded by the Japanese press. This season, she is shadowed by a correspondent for the Kyodo News service, who followed her team north for games in Victoria this week and Calgary this weekend.
Yoshida is the latest woman athlete to fight for a spot on pro baseball's roster. Girls and women have been throwing baseballs and swinging bats ever since the game evolved from rounders and other children's bat-and-ball games.
A blooming history
The struggle for the emancipation of women was furthered at the turn of the previous century by women athletes who became known for their wardrobe, as one contemporary account has it, "dressed in 20th-century garb -- the bloomers." The Bloomer Girls barnstormed the continent, offering spectacle and entertainment.
One of the best-known traveling teams of the era, the Boston Bloomer Girls, came to British Columbia in the summer of 1900. The team lost to a local men's team, 13-9, in Vancouver before crossing the Strait of Georgia on a steamer for a game at the Oak Bay grounds. Hundreds of spectators, men and women alike, paid 50 cents admission, plus another two bits for a seat, to watch Victoria take on the visitors.
"Hundreds of men dropped business worries yesterday," reported The Daily Colonist. "The grand stand was also crowded with the fair sex, and, with pardonable pride, they were looking forward to demonstrate to the men folk that they weren't the only pebbles on the beach."
The final score was a lopsided 22-1 for the home team. The newspaper suggested at least two of the Bloomers, "despite their girlish locks and falsetto voices," were impersonating women. The match was dismissed as burlesque baseball.
Nearly half a century later, the Callaghan sisters of Vancouver signed to play pro ball in the All-American Girls Professional Baseball League, the wartime circuit portrayed in the 1992 Hollywood movie A League of Their Own. Helen and Marge Callaghan had been scouted as slugging softball players, moving to the American Midwest to challenge other women on teams with such names as Belles and Daisies.
Helen's talents as a batter earned her a reputation as "the female Ted Williams." Marge was not as spectacular a player, but her skills were much in demand and her career lasted longer. Both of these Girls of Summer retired from baseball to raise families, rarely speaking of their diamond exploits. Helen's son, Casey Candaele, played in the major leagues, including a stint with the Montreal Expos. The sisters were inducted into the B.C. Sports Hall of Fame two years ago. "I never set the world on fire," Marge once told me, "but I had a lot of fun."
In 1953 a 17-year-old athlete from South Carolina named Mamie Johnson was barred from playing in a women's league. Racial discrimination in the sport existed even six seasons after the great Jackie Robinson integrated the majors. Instead, Johnson signed with the Indianapolis Clowns of the Negro American League. In her first game, an opponent is said to have taunted her by yelling, "What makes you think you can strike a batter out? Why, you aren't any bigger than a peanut!" To this day, she is known as Peanut Johnson. She had 33 wins and just 8 losses in three seasons as a Clown. At 75, the retired nurse now manages a baseball memorabilia shop in Maryland.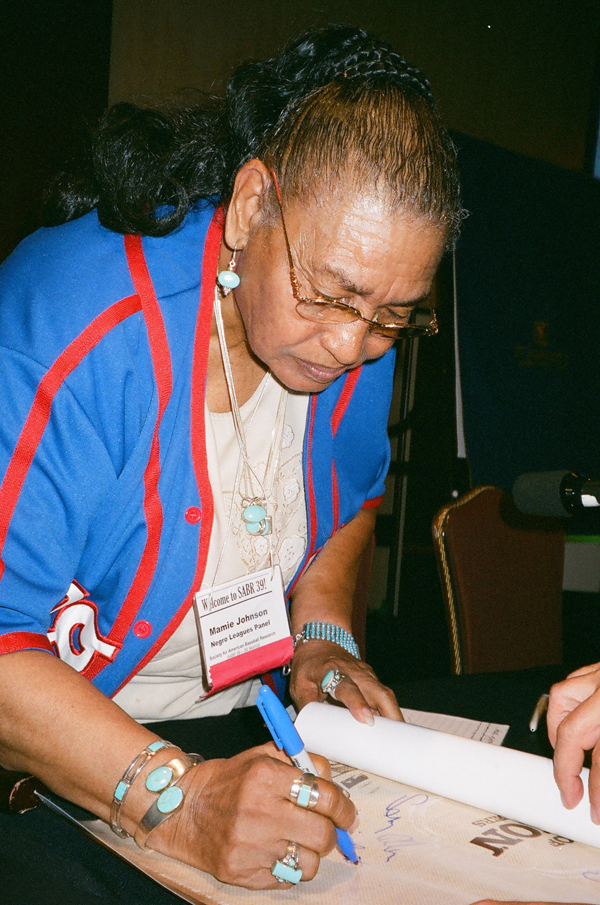 Yoshida is so tiny that even a player nicknamed Peanut is three inches taller.
Her start in Victoria on Tuesday made her the first pro woman to play against men on Canadian soil. She is also the first to play in three countries. The last pro woman to play against men was left-handed pitcher Ila Borders, who threw for independent teams a decade ago. Back in 1952, baseball commissioner Ford Frick barred women from playing in Organized Baseball, including the two major leagues and their minor-league affiliates, a move said taken to protect the integrity of the game by preventing the use of women as stunts designed to improve attendance. As far as is known, his ruling has yet to be rescinded.
Baseball history is filled with women who like diamonds of the green variety -- Lizzie Arlington (pitched a minor-league game in Pennsylvania in 1898); Jackie Mitchell (struck out Babe Ruth and Lou Gehrig in a 1931 exhibition game); and Julie Coteau (challenged men-only college rules). Bernice Gera and Pam Postema worked as pro umpires, as did the little-known Canadian Shanna Kook, the daughter of Toronto green grocers, who spent two seaons calling balls and strikes in the Pioneer League.
No first inning jitters
Yoshida breezed through her first inning, 1-2-3.
The second inning was less successful. The Knuckleball Princess, as she is called here, struggled with her control, throwing behind batters and often missing the plate. On a night with only zephyrs blowing, her knuckler had little movement, making her seem reluctant to throw over the plate. She worked on the tricky pitch after watching the delivery of Tim Wakefield of the Boston Red Sox.
(The knuckleball appears to many as a gimmick pitch in that it relies not on strength or wile but solely on technique. Delivered without spin, a successful knuckler will float and dance in an unpredictable path to the plate, making even the best hitters look like hapless fly swatters. When it works, it can be devastating. Tom Candiotti, a young right-handed pitcher from California, developed a knuckler while pitching for the Victoria Mussels in 1979, and, later, for the Vancouver Canadians on his way to a 16-year major-league career.)
As she struggled to throw strikes, a fan behind home plate yelled, "Gam-ba-re!" ("Hang in there!")
Chico manager Gary Templeton, a former big-league shortstop, visited her on the mound. Later, she was asked what he had to say. Yoshida did not need her translator. "Throw hard. More knuckle."
The manager returned to the mound in the third inning. Her night's work was done, though she had surrendered only a single hit, a grand slam home run by Charlie Strandlund. The 27-year-old Victoria native hit his first pro homer over the scoreboard.
The final line for Yoshida was bizarre: two and 1/3 innings pitched, one hit, eight runs, all earned, seven walks, one strikeout, three hit batters. She took the loss, dropping her record to 0-3.
After she was pulled, she stood alone at the far end of the dugout, tossing a baseball in the air. At first, it seemed like an idle pursuit, but she was using her knuckles and her fingertips, an exercise to improve her release of the ball.
Her manager describes her teammates as 22 "big brothers." She's the youngest and by far the smallest, and gender and language further separate her from those who wear the same uniform. She is half-a-world away from home, chasing an improbable dream.
Yasushi Kikuchi of the Kyodo News service is worried about her progress. "Her pitching is worse and worse," he said. She seems to fall apart when she can't throw strikes. "Once she learns how to handle that situation, she will be a good pitcher. I hope."
After the game, Yoshida reflected on striking out Perez.
"I was really happy at that moment," she said after the game, speaking through a translator. "But I wanted to do as good as that for a long time."
Perez shrugged off his failure to hit.
"There's nothing good for me there," he said. "If I hit a home run I'm a bad guy because I beat up on a girl. If I strike out..." He let the thought drift away.
The majors seemed very far away for all the players that night. Only one was acting as a trailblazer. Some day, a woman will pitch in the majors, likely depending on deceptive pitches, possibly including a knuckler. That pitcher almost certainly will be of a more impressive physique than young Yoshida.
A hero to girls
A crowd including many girls gathered near the visiting team's dugout. Yoshida autographed caps, balls, and ticket stubs, signing her name in Kanji followed by "#3," her uniform number.
The pitcher posed with her fans, smiling while flashing a double thumbs-up. She said, "Thank you very much," a four-word phrase she must have repeated dozens of times.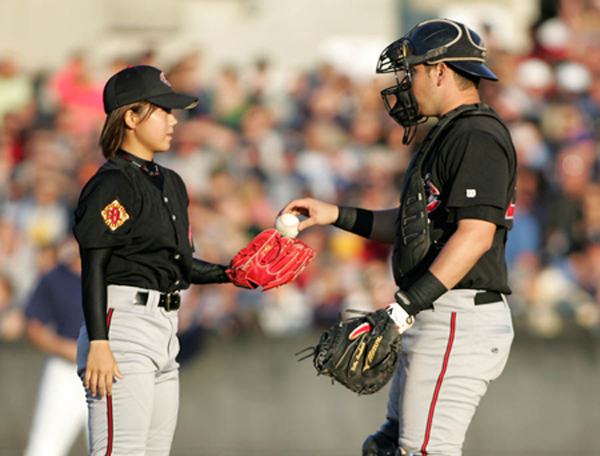 Among the many who attended the game solely to see the pitcher was Hiro Yokota, a 40-year-old dental technician and landed immigrant who wore a baseball jersey representing his home town of Minano, outside Tokyo.
He had brought with him a bilingual homemade sign urging, "Enjoy baseball."
"I'm so excited," he said after speaking with the pitcher. "She's Japanese. So young. And so pretty."
She was a David -- make that a Davida -- facing Goliaths.
"The other players are so big and strong, and the pitchers throw so fast," he said.
Accompanied by other members of a local Japanese cultural group, they invited the pitcher to join them for dinner when the Outlaws return to British Columbia in a fortnight.
Unspoken was the concern that the Knuckle Princess might never ascend to the throne.