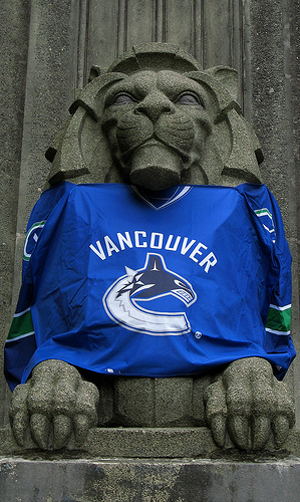 Game seven. Game seven? Game seven!!! Game... seven...
This is not how it was supposed to happen.
When I predicted a Canucks sweep in the finals it wasn't (just) because I bleed Canucks colours (no matter what they are in any given season), or because I believed Luongo had exorcised his demons in game seven against the Hawks, but because I didn't and still don't believe the Bruins are as strong a team as Chicago, Nashville or San Jose.
I believe that Tim Thomas is a magical goalie, and I have great faith in magical goalies who are capable of getting into a zone where mortal shots can't beat them. But I believe Nashville's Pekka Rinne is a magical goalie, San Jose's Anti Niemi -- who had never lost a playoff series before this year -- was a magical goalie, and I think Chicago's Corey Crawford played as well as either of them.
I firmly believe the Bruins are the best team in the eastern division, as long as Sidney Crosby is still a spectator. I just think the west has a better brand of hockey. I entered a playoff pool this year where I took an all-or-nothing approach and just went with players from the two teams I thought would still be standing right now -- the Canucks and Bruins. But the reason I thought the Canucks would win this series quickly is that I saw the Bruins as a slower version of Nashville that was going to spend more time in the penalty box, and I couldn't see the same Canucks who took down the Preds in six and the Sharks in five having any trouble putting away the bears in four and scoring at least as many goals against Thomas as Tampa Bay did.
There were two flaws in that assumption -- and the officiating isn't the biggest one. The number one flaw… this is not the same Canucks team that won any of those first three series.
Canucks' Conn Smythe candidate -- our trainer
One of the most impressive things about this playoff run is the number of heroes who have emerged. Each series has had several obvious stars.
Ryan Kesler practically lifted the team over Nashville with his hands. Right now, I'm guessing Kesler has only one functioning hand and maybe one leg.
In the Sharks series the Sedins were, well, the Sedins. But Henrik has clearly been playing in pain for most of the playoffs, which is why I was so offended by the media coverage of what a stud the Sharks Joe Thornton was for playing his last game with a separated shoulder while the Canucks captain was likely playing through a more serious injury and not confessing to it.
Meanwhile, the Canucks vaunted depth on defense, has turned into depth on the medical treatment tables. Hamhuis is gone, Ehrhoff and Edler are in agony, Coach V is agony every time he has to ice Ballard, and suddenly that four game suspension to Aaron Rome -- the longest time-out in playoff history for what the NHL's head of discipline called a clean but late hit -- becomes a defining factor in the finals.
One reason I felt Tim Thomas locked the Conn Smythe before they dropped the puck in game one of this series is that without Thomas, the Bruins aren't in the finals. He also locked it because ever since the Raffi Torres hit against the Hawks, the Canucks have become this season's designated playoff villains by virtually every media outlet outside of B.C.
Meanwhile, when the series is over Wednesday night or, maybe early Thursday morning (because would a triple overtime really surprise anyone), I think it'll be pretty obvious that the Canucks Conn Smythe candidate is the trainer who is holding players together with duct tape and painkillers.
The team that's built to make the other guys pay on the power play not only has too many key players whose wrists are no longer in shape to fire their wrist shots, but is so deep in the bad books with NHL officials that when Mason Raymond was driven into the boards and his back was broken, almost every Canucks fan I knew on Twitter was cracking variations on the same dark joke -- we all expected him to be called for "embellishing."
The Canucks have clearly ended up in a catch-22 -- and I'm not talking about checking Daniel Sedin here. If they draw attention to penalties, they get called for diving, if they don't draw attention to penalties, there are no penalties.
The cleanest team in the league
But how many penalties can the Canucks expect against The Cleanest Team in the League™ -- the team that played the first game seven in 20 years where not a single foul was committed.
With apologies to actual girls in the schoolyard (who generally behave better than this), the finger biting by Alex Burrows wasn't actually as embarrassing as the "mommy, he bit me" whining from Patrice Bergeron, followed by the finger wagging, pointing and poking by both sides. And, not to finger-point at the obvious, but what were Bergeron's fingers doing in Burrow's mouth in the first place and what is the correct response to having someone's fingers in your mouth? Vomiting?
If Daniel bit Marchand the next time Saintly Brad's fingers end up in his face, perhaps he'd get more space on the ice. At the very least he wouldn't be called for diving, and I'd actually almost sort of get why Mike Milbury was calling him a woman.
But several members of the media really deserve to have their fingers bitten, or their wrists slapped, after the media manufactured controversy about Luongo "trash talking" Tim Thomas. Luongo accidentally inserted his foot and skate in his mouth by not deflecting a question about technique where he was asked about the challenges of playing a ricochet and made the mistake of answering the question like a goalie, not a politician. "It's not hard if you're playing in the paint. It's an easy save for me, but if you're wandering out and aggressive like he is, that's going to happen" said Luongo.
What most sports media members left out of their outraged rants was the second part of the quote, "He might make some saves that I won't, but in a case like that, we want to take advantage of a bounce like that and make sure we're in a good position to bury those."
The half quote became a "despicable" attack on Thomas and defined and reinforced the media narrative outside of Vancouver between games five and six, reminding every player that when the media asks a question the correct answer is to respond entirely in meaningless clichés like, "we gave it 110 per cent" and "we have to stick to our game plan" and "play one game at a time." As I told a friend rooting for Boston, if the hot tempered Italian goalie from Montreal was trash-talking Timmy T, there wouldn't have been anything ambiguous about it.
To quote die-hard Canucks fan Marshall McLuhan
But as the die-hard Canucks fan Marshall McLuhan once famously said, "playoff hockey is anything you can get away with."
Okay, he actually said, "art is anything you can get away with" -- and I don't know if McLuhan had even heard of the Canucks -- but tell me it won't be seriously cool when the above quote makes it into Wikipedia?
And the fact is that my imaginary McLuhan is right -- the real story of Stanley Cup championships is always written by players like Burrows, Lapierre, Marchand and Conn Smythe winner Mark Messier who, at the end of game six of the finals in '94, came at Trevor Linden while Linden was crawling to the Canucks bench and hit him again. Yes, that's right, Messier skated over and hit Linden while he was crawling to the bench. And that was just as big a part of him being named MVP as his guaranteeing a win against the Devils. And that's why the iconic image of the '94 run is a completely spent Linden with his broken nose spread across his face and blood on his jersey painting the white above his "C" and the Canucks crest, looking ready to collapse on an equally exhausted and battered Kirk Maclean.
For all the sturm, drang and column inches dedicated to the Rome hit and how dirty this series has been, we've yet to see any play in the current finals that is nearly as nasty as that Messier move, or that comes close to the ugliness of Colorado Conn Smythe winner Claude Lemieux running Detroit's Kris Draper into the boards and literally rearranging his face.
Ex-Canuck Brad May once famously asked, "What are you willing to do to win a Stanley Cup?"
I think the basic translation of that is that if you won the Lady Byng trophy for sportsmanship in the regular season, no one will fault you if you spear the opposing goalie with it in the playoffs.
O Canada, Oh Canucks
The first period of game six was one of the most surreal moments in my life as a Canucks fan. I was on CBC doing live commentary during a potentially Stanley Cup deciding game -- okay, it was radio (On the Coast with Stephen Quinn), not Hockey Night in Canada, but still... pretty darn cool and, if all had gone according to plan, a memory I would have treasured forever.
We stood to sing O Canada -- along with the rest of the 100,000 or so fans watching on the jumbo screens in downtown Vancouver. Then the puck dropped and twenty seconds later, Raymond went down. He was clearly done for the playoffs, and it was immediately obvious there was going to be no penalty even though I'd bet a pair of season tickets that if a Bruin went down like that Lapierre or Burrows would have received a five minute misconduct -- even if they were on the bench at the time. Quinn told me my moaning, groaning and obvious agony made for "great radio." I tried to keep a stiff upper lip as he asked if we could come back moments before the third goal whistled past Luongo. Then the fourth went past Schneider, and as I tried to explain how it was still possible for the Sedins to dismantle the Boston defense, how we should keep the faith, how we had to believe, I felt a little like the Black Knight in Monty Python and the Holy Grail losing an arm and claiming, "it's just a flesh wound."
While I'm sure the Bruins have their bruises, right now I think a lot of Canucks are playing with injuries that might have made the Black Knight cry uncle, and instead I'm expecting they're going to bring the game of their lives tonight -- the Sedins will play like the Sedins, Kesler will play like Kesler, Bieksa will be Bieksa and Bobby Lu will board up the net.
There's a fantastic speech by Kurt Russell in the movie Miracle. "Great moments... are born from great opportunity. And that's what you have here, tonight, boys. That's what you've earned here tonight. One game. If we played 'em 10 times, they might win nine. But not this game. Not tonight. Tonight, we skate with them. Tonight, we stay with them. And we shut them down because we can! Tonight, WE are the greatest hockey team in the world. You were born to be hockey players. Every one of you. And you were meant to be here tonight. This is your time. Their time is done. It's over. I'm sick and tired of hearing about what a great hockey team the Soviets have. Screw 'em. This is your time. Now go out there and take it." 
Apparently the screenwriter took a smidge of poetic license, and what Brooks actually said was, "If you lose this game, you'll take it to your graves. Your fucking graves."
Personally, I prefer the coach's motto from the amazing series, Friday Night Lights. "Clear eyes, full hearts, can't lose."
It's game day. The biggest game in the history of the Canucks. The biggest game in the history of Vancouver. Game seven. More Canadians will watch this hockey game on TV tonight than have watched any NHL game in history. This is the day that all the sports clichés come true. Everyone will be giving 110 percent, they will be playing one game at a time and everyone will be leaving all they've got on the ice, the best players will have to be the best players – but it will be someone like Raffi Torres, Chris Higgins or Steve Tambellini who will make the play that will become the stuff of legend.
Cue the theme music from Rocky -- ours stars are injured, our goalie is under siege, the farm team is filling up the roster space, the refs hate us and we're the under-dog again. We've got the Bruins right where we want 'em.
Canucks in seven -- who could ask for anything more?