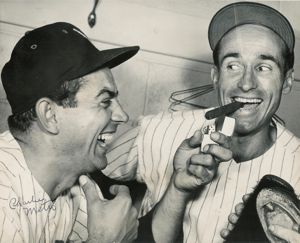 Charlie Metro, a tough guy, had a reputation as a scourge of umpires. Once, when an umpire showed him an entry in the baseball rule book, Metro snatched the offending document before shredding it and tossing the confetti over his shoulder.
When Metro was hired to manage the Vancouver Mounties baseball club, the owners took out an insurance policy from Lloyd's of London. The firm agreed to cover the first $500 worth of fines generated by their new skipper.
Metro was unforgiving when it came to his own players, too. He forced pitchers to run to stay in shape, which is not the kind of pampering to which hurlers are accustomed. Metro once absentmindedly left a young prospect to run sprints on the outfield grass at Capilano (now Nat Bailey) Stadium. After a while, the pitcher staggered like a lost Foreign Legionnaire in search of an oasis. The pitcher never did make the majors, but Pat Gillick turned out to be a terrific general manager.
Another baseball season has launched. Before the first pitch, dismal teams and powerhouses alike are equal in the standings. When Metro arrived on the West Coast for the start of the 1957 season, he took over a squad recovering from finishing a dismal 38 1/2 games out of first place in the Pacific Coast League. Not much was expected.
Good cop, bad cop
The Mounties soon showed themselves to be contenders, a surprising turnaround that made Metro a popular figure in the city, if not always among his players. One of his wisest moves was promoting infielder Johnny (Spider) Jorgensen to become a playing coach. Spider's role was to be good cop to Metro's bad cop.
Metro spent 47 years in baseball, three of those in Vancouver, a city that figures prominently in Safe by a Mile, his 2002 autobiography written with history professor Tom Altherr. "Things were greener in Vancouver than any place I'd ever seen," Metro wrote. In those seasons, he gave the city a winning baseball team, managed to help save the career of a future hall of famer, and issued the first call for a domed stadium. A quarter-century later, he was invited to the opening of BC Place Stadium. He called it a good place to play football.
Metro died, aged 91, on March 18 in Buckingham, Virginia, succumbing to mesothelioma, a rare lung cancer. Charles Moreskonich, the son of Ukrainian immigrants, was raised in coal country in western Pennsylvania. The oldest of nine children, he worked in the bituminous mines, a dangerous job. The manager of his first baseball team was a former player known as Stumpy after losing fingers in a mine explosion.
As a boy, Charlie walked miles with his father, Metro, to a neighbouring town to watch baseball. When he started playing, the local newspaper squeezed only a few letters from his family name into box scores. Charlie, who was already known as Little Metro, took Metro as his last name.
At age 12, he hitchhiked to New York to see a game at Yankee Stadium. He also went to Forbes Field in Pittsburgh, where he saw the Pirates play, as well as the Homestead Grays of the Negro Leagues.
He skipped a day of classes at high school to try out for the St. Louis Browns. He was offered a $60 per month minor-league contract by scout Jack Fournier, a former major-leaguer. Metro demanded $100. He told Jack Fournier that he wanted the extra money the buy his mother a washing machine. Fournier was suspicious of the excuse, but, impressed by the boy's moxie, ordered a $100 cheque to be written. Young Charlie refused to take it (not only did he not have a bank account, he was not certain what a cheque was). He insisted on being given 100 dollar bills.
How to hit .400
At 18, Metro donned the uniform of the Easton Browns for the 1937 season before leaving for Virginia to play outfield for the Pennington Gap Lee Bears of the Appalachian League. After seven seasons in the minors, including stints in Texas with the Palestine Pals and the Texarkana Twins, the wartime shortage of players led to his promotion to the majors, where he would play for the Detroit Tigers and Philadelphia Athletics. Years later, he would get laughs by saying "I hit .400 -- .200 each year." The quip was typical Metro. In fact, he played three seasons. His career average: .193. When the war ended and players came home, Metro once again found himself in the minors, where he added managerial duties to help extend his career.
He skippered clubs in such metropolises as Idaho Falls, Idaho, and Terre Haute, Indiana, before Cedric Tallis hired him in December, 1956. The Mounties had had a dismal first season after owner Brick Laws moved them up the coast from Oakland. Capilano Stadium drained so poorly during a rainy summer that wags referred to the damp outfield as Laws' Lagoon.
Early chances for black players
Metro had the Mounties contending from the start. He had no qualms about upsetting baseball convention. In a preseason exhibition game, he presented a lineup featuring eight African-American players, possibly the first time that happened outside the Negro Leagues.
In his three seasons as Mounties skipper, Metro gave opportunities to several black players, including Joe Taylor, Joe Durham, Charlie Beamon, Lenny Green, Connie Johnson, and catcher Charlie White, whose "brainy" position many managers in baseball reserved only for white players.
Metro insisted his pitchers follow his running regimen. Soon, even the notoriously sore-armed George Bamberger became strong enough to avoid injury. (Bamberger would adopt Metro's philosophy as a pitching coach for the Baltimore Orioles, including a season in which the staff counted four 20-game winners.) The manager also called on the young fireballer Chuck Estrada and the veteran Erv Palica, at whom he used to yell the dugout encouragement, "Don't hang the curve ball!"
The skipper did not care for excuses. When Metro slotted Jim Marshall to start a game against a left-handed starter, the slugger complained that everyone knew he couldn't hit lefties. "Well," Metro replied, "you've got 30 seconds to learn."
An indebted Brooks Robinson
In 1959, the Mounties boasted a stellar infield with shortstop Ron Hansen, second baseman Marv Breeding, and, most notably, third baseman Brooks Robinson, who suffered an injury that could have ended his career during a game at Capilano. While chasing a foul ball, he impaled his catching arm on a metal hook projecting from the dugout. Metro rushed out to hold his prized prospect's arm steady as trainer Harold (Doc) Younker fetched a stepladder. The trainer wriggled the arm free. ("He didn't even use swear words," Younker once told me. "I guess he hadn't learned them yet.") Their quick thinking prevented serious damage and Robinson, later to be nicknamed The Human Vacuum Cleaner for his skill at scooping ground balls, went on to a long career capped by induction into the Baseball Hall of Fame at Cooperstown, New York.
The Mounties finished second, third and second under Metro's guidance. He was named league manager of the year in 1957. He went on to manage briefly in the majors, including a turn as part of the Chicago Cubs' failed "College of Coaches" experiment in which the job was rotated among several skippers.
A serious taskmaster, Metro never lost the impish sense that can make baseball so much fun. In the meaningless final game of the 1958 season, the 39-year-old skipper pencilled himself in as starting pitcher. He also placed his name atop the batting order. He went 0-for-2 at the plate and surrendered a couple of runs to take the loss.