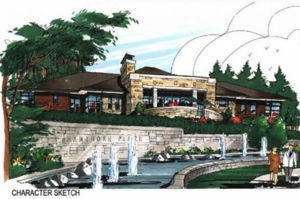 One evening during the Christmas holidays many years ago, in the midst of a discussion of the effects on the ozone of global deforestation, my former father-in-law, a towering, snowy-haired WWII vet, shook an accusing finger in my direction and bellowed "Chopsticks!"
Being the only Asian in the room, I was being blamed for an entire continent's chopstick-making industry, the restaurants that purchased them, and the consumers who used them. The other people there deftly defused the situation and changed the subject. I suppose I could have retorted, "Log cabins!", "Fast food coffee cups!" or even "David Suzuki!" but I didn't think of it at the time. The situation was rather ironic and amusing given both the history of deforestation in North America and my support for "green" causes. But to him at that moment, I represented a monolithic, homogenous horde -- the "enemy" damaging "his" world.
As soon as I read about the ill-founded protests by a group of condo owners to a proposed and necessary hospice near UBC hospital, I felt that telltale sinking feeling, knowing what the media hype about the issue would certainly lead to -- a virulent, anti-immigrant backlash. I feared that the collective reputation of Vancouver's heterogeneous Chinese-Canadian community would be smeared by the actions of this discrete group. And, despite the various public statements by Chinese-Canadian community leaders unequivocally dismissing the condo owner's "cultural sensitivity" arguments, that backlash has indeed occurred and continues.
Interestingly, no one has raised a fuss about the groups who protested various other proposed locations of the hospice considered over the past two years. Some university students rallied against one site because it might restrict their ability to socialize. Another proposed site drew protest from Pacific Spirit Park and Wreck Beach preservationists. I somehow doubt the local newspapers or radio stations will be receiving a lot of outraged letters and comments denouncing party-hardy students or nature conservationists, demanding they be shipped back to where they came from.
Divisive frames
On the one hand, the media has emphasized the "posh" condos of the protestors', portraying the conflict in the usual polarized way: the powerful vs. the powerless, the arrogant rich vs. the dying, Chinese vs. western culture, immigrant vs. citizen, newcomer vs. oldtimer. Nothing like a binary characterization of an issue to heighten antagonisms and whip up enough outrage to make news. But on the other hand, the protester's arguments about cultural sensitivity and declining property values seem utterly outlandish, and -- as community leaders at last week's press conference have stated -- bizarre.
However, I tried to pull myself back from a knee jerk condemnation of the protesters. The truth is no matter how hard mainstream Chinese Canadians try to distinguish their personal opinions and beliefs from extreme positions taken by others who happen to share the same ethnic ancestry, this incident has already provided some people with an excuse to attack Chinese culture and customs, immigrants and immigration, and of course multiculturalism itself, even if the hospice project proceeds as it should on the proposed site. The undercurrent of tension and hostility around race issues that has always lain under the polite surface can boil up very quickly, not only this city, but in cities in France, Spain, England, Germany -- anywhere where there is migration. It doesn't take much. Immigrants are disliked and resented for whatever reason that can be found -- wealth, poverty, language, religion, accent, clothing, customs. At the heart of that dislike are unease and fear.
As I can do little the change the views of those who've made up their minds about Chinese immigrants, I must consider the unease and fear that seems to be at the heart of the issue for this group of protesters. Property values are likely a significant part, but clearly there's also a fear of death.
Beliefs born of hardship
Through a combination of factors including education, religion, travel, social associations, employment, and lengthy periods living in English-speaking environments, the vast majority of second or third generation Chinese Canadians (and many first generation ones too like myself) don't have many or even any of the superstitions held by their rural mainland Chinese ancestors, superstitions which were probably rooted in the hardships of trying to survive through famine, drought, floods, and many invasions and wars.
Even coming from a westernized family, I was still told about certain superstitions, e.g. how leaving chopsticks sticking out of a bowl resembles incense sticks in a funeral urn and hence is bad luck, and how setting off firecrackers scares away evil spirits. When I was a kid visiting my father's grave a couple times a year with my family, I'd notice the incense sticks, oranges, and tiny cups of wine placed in front of many of the plaques in the predominantly Chinese Canadian section off the cemetery, especially in April during the annual Ching Ming festival when families would come to sweep and clear their loved ones' graves and make offerings of food, tea, and/or wine. Although my family would only leave flowers, we'd always bow three times before my father's plaque during our visits.
When my mother passed away a few years ago from a massive stroke after a ten year decline due to Alzheimer's disease, my siblings and I were advised by relatives that we were not supposed to attend parties or visit other people's homes for anywhere between a month to up to three years (traditionally) as we could be seen as bringing bad luck with us. Some period of seclusion made some sense in a historical context, given the lack of knowledge of germs and bacteria a hundred or more years ago when various plagues and infections must have run rampant through small villages. But it didn't make much sense now except to give us some time and space to grieve.
Before she died, our mother had stayed for almost two weeks in the palliative care ward at VGH. It was the most precious time I'd spent with her as an adult, even though she appeared unconscious. The kind and attentive staff were never obtrusive. We had a view of the sky and mountains from the large window in her room. The ward had a kitchen and a lounge where we could take a break from being at the bedside. There was artwork and a visiting music therapist. We could even stay overnight. None of us, including my kindergarten-aged son ever felt any fear while walking through the ward. We brought over a mango cake to celebrate my son's sixth birthday, and ate take-out Beggar's Chicken there on Chinese New Year's eve. Another time, we had a sing-along in her room. It was a good place to honour my mother's spirit and to say goodbye.
A chance to make ghosts happy
I wish the protesters could be shown how a hospice is similar to a palliative care ward, but more home-like and comfortable for patients, family members and friends alike, and how it provides a peaceful place to be with someone you love without distraction. Although I've not come across any actual ghosts so far, I might risk conjecturing that hospices are the least likely place to produce unhappy ones than anywhere else!
Death can and does occur anywhere -- next door to our homes, on the streets we cross everyday. In all likelihood, people from centuries past are buried beneath those very homes and streets, in this country or any other. Everything we've worn, touched, eaten, or drunk has had some connection to death. A classic film we watch with actors and directors who are no longer alive. A recording we listen to of a favourite musician by a composer from the past. A ring, book, or painting we treasure that was passed on by a deceased grandparent. Photographs of previous generations of family. Do the protesting condo owners eschew these and other such things? Would each of the protesting condo owners relocate if there were a death in their complex or a fatal car accident nearby, as there is bound to be at some point? It's hard to know.
Bound together, life and death are inevitabilities, no matter how far we run, what we do, where we live, what protests we utter. The proposed hospice sounds like a wonderful, worthwhile project, a place where lives will be celebrated and death will no longer be feared.