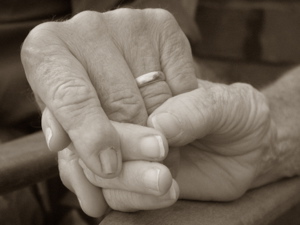 The final months and days of a terminally ill person's life can be less painful and lonely if spent in palliative care designed to support dying patients and their families.
But in 2000, most British Columbians died in the hospital -- and fewer than one in ten of them were given palliative support.
That's what public health researchers discovered in 2002 as they prepared "A Discussion Paper on a Provincial Strategy for End-of-Life Care" meant to pave the way towards a strategy and action plan to help the dying in B.C.
Today, eight years later, no such plan has emerged, and people who care for and advocate for the terminally ill are wondering what's holding up a policy change that could benefit so many.
As it stands now palliative care in B.C. is hit and miss, available or not, in varying levels of quality depending on where you happen to be dying, say experts.
Palliative care advocates point with frustration to Ministry of Health emails indicating that the long-sought plan has existed for months. Representatives from many stakeholder groups were part of drafting the plan last spring. Yet, for unclear reasons, the details have yet to be shared with the public and formally implemented.
"The bottom line is that every year tens of thousands of dying people suffer needlessly because they do not have access to appropriate palliative care services," read materials prepared a year ago by the B.C. Hospice-Palliative Care Association (BCHPCA) in an effort to prod the ministry of health into releasing the plan.
So far, though, the government has yet to do so. A Ministry of Health spokesperson told The Tyee recently that the plan will be released later this spring. The sooner the better say advocates, who are keen to read the details and put the plan into action.
Preparing for an aging population
End-of-life care, often known as hospice-palliative care, is defined in the 2002 discussion paper as "the range of clinical and support services appropriate for dying patients and their families. It is the total care of people who are dying. It is active comfort care."
Yet the report noted that as of 2002 "no formal standards for end-of-life care or hospice palliative care service delivery have been established in British Columbia."
The province said the discussion paper was a first step towards establishing those standards. That 2002 discussion paper detailed the growing need for a provincial plan, in the face of an aging population, high rates of death due to chronic disease, and the fact many people die in hospital who could, given the right system, die at home.
In 2006 the province took a second step and released "A Provincial Framework for End-of-Life Care." The framework devolved responsibility for end-of-life care on health authorities, while leaving the government in charge of funding and structuring the requirements for palliative care.
"I think the framework in 2006 was the bones, and it was recognized when it came out that there needed to be meat on it," said Carolyn Tayler, the Fraser Health Authority's (FHA) director of end-of-life care.
Tayler was involved in writing the 2006 framework. She said she uses it often in her work, and people in palliative care in B.C. do use it.
"I would say there's nothing in there that isn't certainly contained in national documents about where we need to go," she added.
A palliative care patchwork
Meanwhile, according to end-of-life care stakeholders, what's needed is a government mandate that quality palliative care in B.C. be made available to all, no matter where they live.
Hospice-palliative services are available throughout the province: but the extent of these services is variable, according to the B.C. Cancer Agency's Ann Syme.
As director of the agency's palliative care branch, Syme sometimes gets calls from people who need to find care for a family member. One of the first things she does is ask the person where they live.
"And I actually hold my breath when I do that, to tell you the truth," she said.
She breathes a sigh of relief if the person lives in the Fraser Health Authority (FHA). Syme said the FHA has the best palliative care system in B.C. -- an evaluation echoed by the 2002 discussion paper, which states the FHA has the only regional integrated palliative care program in the province.
"Now if they said to me, actually I live in Williams Lake, I'd have to sort of think about it and think, well I think I know somebody there but I'm not sure."
What's happening in B.C. is each regional health authority has its own plan, Syme said, and it doesn't always apply to each area within the authority in the same way.
"There's been lots of activity provincially and nationally to try and ensure there can be equitable access to care. . . There are areas of excellence, there are areas of good community support, there are areas which are sort of little or nothing," Syme said.
For example, if someone in the Vancouver Coastal Health Authority catchment needs to access services, there is an excellent home hospice program in Vancouver proper, but care on the North Shore or in Richmond would probably be different, she said.
According to Syme, palliative care in B.C. started with communities uniting around the need for care.
"It depended on having a champion who kind of rallied people around and created a hospice society," she explained.
Although the palliative care model has become more structured and regionalized since, hospice societies still exist, and in some cases provide much of the funding for local resources. Care in specific communities is excellent, Syme said, but care across the province is not.
Hospice funding slipping
"End-of-life care could be a key part of good medical care, and end-of-life care services could be provided as part of regular health services," stated the 2002 discussion paper.
That sentiment was echoed by Conversation on Health participants.
A 2007 government initiative to canvass British Columbians' thoughts on health care in the province, it contained an extensive section on palliative care. Conversation participants emphasized the need for equal access, whether through a hospice or as part of regular care.
Dr. Fraser Black of Victoria Hospice agreed. British Columbia needs to start focusing on palliative care services, he told The Tyee.
Like the Conversation participants, Black advocated for wider education of medical students in palliative care techniques as well as equity in hospice-palliative access around the province.
"I think hospice-palliative care is something that can and should be happening everywhere," he said. "These discussions about what would you like, what's important to you now, should be happening in the emergency. And they are, but the emergency is a busy place. What I would like to see is the ability to help there be a presence of hospice-palliative care in all areas of our health care setting, at all points in the disease trajectory, to support patients and families."
Though one of the best-reputed hospices in British Columbia, Victoria Hospice's 2008-2009 report to the community indicated the current economic climate was taking a bite out of the private donations which make up 40 per cent of their budget.
Fifty-one per cent of Victoria Hospice's funding comes from the province, primarily through the Vancouver Island Health Authority. The health authority is currently being forced to cut overall costs to meet a deficit budget mandated by the province.
'If and when the strategy is released'
During last spring's provincial election campaign, the BCHPCA released an advocacy toolkit for those lobbying for palliative care. They endorsed the 2006 framework as a "basis for moving forward with a provincial strategy and action plan". A BCHPCA representative sat on the provincial end-of-life care standing committee, as did Ann Syme, Carolyn Tayler, and representation from each health authority.
A BCHPCA spokesperson could not be reached. However, the organization met with Health Minister Kevin Falcon in Nov. 2009 and the briefing note and proposal they presented to him is available on their website. They pressed Falcon to release the Provincial Strategy and Action Plan for End-of-Life Care in British Columbia, which was developed in the summer of 2008 according to the briefing note.
"We eagerly anticipated the release of the latter document, which was originally planned for spring 2009. The release was delayed by the Provincial election in May 2009," reads the note.
The proposal adds, "the bottom line is that every year in B.C., tens of thousands of dying people suffer needlessly because they do not have access to appropriate palliative care services. The good news is that we know why this is happening, and we know what we can do about it, without having to add a large number of new palliative specialists. "
"The draft strategy and action plan was completed and received by the Ministry of Health Services in 2009 and is currently being used to inform ministry planning and policy," reads an email from the Ministry of Health Services.
The email did not specify when the strategy and plan are going to be released.
"If and when the strategy is released, I think there's going to be a very good opportunity to move forward on specific improvements in palliative care," said FHA End-of-Life Care Director Carolyn Tayler.
Based on her experience in palliative care at a national level, Tayler says a provincial palliative care strategy is fairly unusual. Launching it in B.C. would be a positive move, she said. The strategy is largely complete, she confirmed.
However, "I don't know when it's going to be released. We've all been waiting, we're all very anxious to see it released, but I don't know when it will be released," she said.
Tayler speculated that the delay is due to government working on implementation strategy.
'Not front and centre'
Syme said the Ministry of Health Services has been "sort of helpful" in meeting the goal of a palliative care strategy. It's coming, she said, but slowly.
"It isn't up front and centre. You've got to know, with the ministry, what gets up front and centre is what gets the news. You know, emergency centres are overcrowded and that all of a sudden gets building new emergency centres. We don't have a big vocal constituency on palliative care."
Syme recalled a conversation with a colleague, the two of them trying to figure out why there isn't more pressure felt in Victoria to get on with releasing and implementing a palliative care plan across the province.
"You've got people who are dying, who are too weak, and they've got other things on their minds. And the people who are looking after them are too grieved to stand up to someone and shake their fists and say, this ought to be different," she explained. "And then, once you get through it, the people who are left are bereft and grieving and they don't have the energy to stand up and say, 'That was awful, we need to do something about it.'"