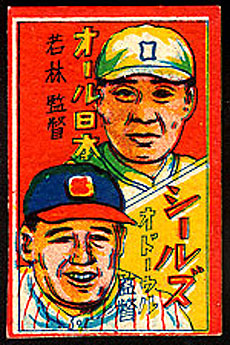 Francis Joseph O'Doul returned from one of his many trips to Japan with a shocking pronouncement: someday, he said, players from Japan will star in baseball. His contemporaries thought him polite, if addled. As it turns out, Lefty O'Doul was 70 years ahead of his time.
Ichiro Suzuki spanked a double to the right-centre gap and bounced a single up the Tuesday last night to record his 253rd and 254th hits of the season.
Through September, Ichiro has passed names on the all-time single-season hits leaders -- Wee Willie Keeler, Heinie Manush, Ty Cobb, Chuck Klein, Rogers Hornsby -- as casually as though he were a tourist strolling past the plaques of the immortals at the Baseball Hall of Fame in Cooperstown.
One of history's greatest comeback players
The Seattle Mariners outfielder is chasing George Sisler's mark of 257, a record set 84 years ago, back when the spitball was legal and black players were not. With four games to play, the Japanese phenomenon seems a good bet to find his name at the top of the list.
His two hits in Oakland against the Athletics on Tuesday night tied him with O'Doul, the only man in the Top 10 other than Ichiro himself not to have been inducted into the Hall of Fame.
Ichiro scampered to first last night for an infield hit against Oakland's Rich Harden, a right-hander from Victoria who later won a 13-pitch duel against the pesky batter, who bounced out to second. Harden even threw an inside pitch timed at 100 m.p.h.
O'Doul stroked 254 hits for the Philadelphia Phillies in 1929, stunning a baseball world that knew him best as a failed pitcher. The figure remains the standard for the National League, matched by Bill Terry of the New York Giants the following season and by no one else since.
A favourite in Japan
O'Doul was regarded as baseball's goodwill ambassador to Japan, making several tours before and after the Second World War to promote the game. (O'Doul took the sneak attack on Pearl Harbor as a personal affront. Ironically, he died on the 28th anniversary, on Dec. 7, 1969.) While Babe Ruth caught the popular imagination, as he seemed to do wherever he went, O'Doul was beloved for his sunny attitude and his respect for the Japanese game. "Japanese ball fans are great sports," he said after one visit. "Only trouble with them is that they won't boo the umpires."
O'Doul first visited Vancouver in 1934 on his way to Japan with a barnstorming troupe of all-stars. The local fans impressed him with their dedication to the game -- they packed old Athletic Park and demanded the players take the field even though a heavy shower made the diamond a slippery morass. O'Doul would return 22 years later, as the first manager of the Vancouver Mounties, for whom he would stroke the final hit of his career, at the age of 59.
Sponsored Vancouver Little League team
The slugger was a celebrated character in New York, where he played for the Dodgers, Giants and Yankees, as well as in his hometown of San Francisco, where he was longtime player-manager of the Seals of the Pacific Coast League. He used to give away so many baseballs to kids in the stands that the owner promised to sponsor a children's day if he stopped. Kids got free peanuts and free admission to a double-header. Between games, children were allowed onto the field and O'Doul would toss baseballs until he could no longer lift his arm. He was that kind of guy.
Today, fans attending games at Pacific Bell Park
in the city use a pedestrian bridge that now bears his name and can enter the park through a gate named after him. Over on Union Square, Lefty O'Doul's Restaurant boasts bar stools with legs made of baseball bats. Among the memorabilia on display is a framed photograph of Lefty shaking hands with Akihito, the Crown Prince of Japan, in 1949. O'Doul could often be found in his restaurant, a dapper figure in a bright green suit.
Even his short stint in Vancouver left a legacy. He sponsored a team in the Dunbar Little League named O'Doul's Angels, while O'Doul's on Robson Street was named by its founder after his favourite ball player.
Pitching arm died
O'Doul broke into pro ball with the minor-league Des Moines Boosters in 1917. (Iowa's capital city has enjoyed colourful team nicknames: Demons, Midgets, Hawkeyes, Prohibitionists and Undertakers.) The Yankees called up the 22-year-old left-hander for relief and pinch-hitting work in 1919. He saw spot duty of little consequence, although he did make the final out in the notorious 1920 game in which teammate Carl Mays struck Cleveland's Ray Chapman in the temple with a rising submarine pitch. Chapman lingered for 12 hours before dying.
The sore-armed O'Doul bounced around the majors and the Pacific Coast League for a few seasons, before his pitching arm at last went dead. He decided to convert himself into a full-time outfielder for Salt Lake City for the 1925 season, during which he enjoyed one of the more remarkable seasons in baseball history. O'Doul had 309 hits for the Bees in 825 at-bats for a .375 average. He smacked 63 doubles, 17 triples, and 24 home runs.
'Japanese could give us a run'
He returned to the majors with the Giants in 1928, for whom he hit .319 before being sold to Philadelphia. O'Doul was nursing a muscle pull in his leg and was contemplating sitting out the final day of the season, a double-header against the Giants. Legend has it that a fan at the Baker Bowl yelled at the star outfielder during batting practice: "Stop dogging it, O'Doul. You only need three more hits to tie Hornsby's record. You'll never get 'em on the bench." O'Doul decided to play. Batting second, he smacked four hits off screwballer Carl Hubbell, including his 32nd home run. O'Doul picked up two more hits -- his 253rd and 254th -- in five attempts in the second game. Those singles are the hits which Ichiro matched last night.
O'Doul won the National League batting crown with a .398 average, a remarkable comeback for a washed-up pitcher. A headline in the Chicago Daily Tribune read, O'DOUL, DISCARD OF BIG LEAGUES, BATS WAY BACK.
After returning from a 1932 tour of Japan, during which he used interpreters and sign language to instruct college players on the finer points of hitting, O'Doul predicted the development of a professional league would allow Japan to rival Americans at baseball. "If pro ball could gain a foothold," he said, "the Japanese could give us a run for the money." His prescience was rewarded two years ago when O'Doul became the first American to be inducted into the Japanese Baseball Hall of Fame.
Busted in Tokyo
O'Doul was arrested twice in one day on that trip, as policemen in Tokyo took exception to the players taking moving pictures of the waterfront. They were released after explaining they were merely tourists. Long after the war it was revealed that a ball player had been a spy in the 1930s. Moe Berg, a friend of O'Doul's, was a light-hitting catcher and scholar whose photographs of Japan were later used to direct U.S. bombing raids. It was said Berg could speak a dozen languages but couldn't hit in any of them.
In 1934, O'Doul was the sole National Leaguer on an all-star team whose roster included future hall of famers Ruth, Manush, Lou Gehrig, Jimmie Foxx, Earl Averill, Charlie Gehringer and Lefty (Goofy) Gomez. Connie Mack was the skipper. The barnstormers stopped in Vancouver for a day on Oct. 18, 1934, before boarding the Empress of Japan bound for Yokohama. Although rain fell steadily, about 3,000 fans gathered at Athletic Park, a bandbox at the corner of Fifth and Hemlock, which is now an onramp for the Granville Street Bridge. The players clowned in the downpour, Gehrig patrolling first place while holding an umbrella. The game ended in a tie after a run-scoring double play involving two hot boxes. The stands were still filled with wet but happy fans. "Say, this Vancouver is some kind of ball town, isn't it?" O'Doul said after the game.
Skippered Vancouver's Mounties
He would find out as the inaugural skipper of the Mounties in 1956. The pitching staff included Charlie Beamon, George Bamberger and Ryne Duren, a fastballer whose reputation for wildness intimidated batters, the more so because he wore thick eyeglasses.
The Mounties struggled behind Ernest Funk (0-7) and Frederick Besana (1-13). A fan favourite on the rag-tag team was George (Catfish) Metkovich, a left-fielder whose appreciation of the difficulties of hitting were such that he often obliged opposing batters by losing fly balls in the lights. The Mounties finished dead last in the Pacific Coast League, a whopping 38 1/2 games behind the powerhouse Los Angeles Angels.
The season mercifully rolled to a conclusion with a doubleheader at Capilano Stadium (now Nat Bailey Stadium) on Sept. 16. After winning the opener 7-6 over the Sacramento Solons, the Mounties trailed 5-1 in the second game as they stepped up for a final turn at bat. With two out, manager O'Doul decided to pinch hit. Looking up and down the bench but not finding any hitters to his liking, he penciled in his own name, disregarding league rules and his own advanced years.
Clean living and…
O'Doul once had a reputation as a pinch-hitter. His only appearance in a World Series came in 1933, when his pinch single drove in two runs for the Giants, sparking a six-run sixth inning in what would be a 6-1 victory over Washington in Game 2. He sometimes pinch hit as a manager with the Seals, but had not had a base hit in 16 years.
As O'Doul stepped to the plate, Solons manager Tommy Heath got into the act. He ordered his infielders to surround pitcher Gene Bearden around the mound, while the outfielders took spots on the infield dirt. On the third pitch, O'Doul laced the ball into the outfield and raced to third base.
"A triple. Fifty-nine years old. How about that?" O'Doul later enthused to baseball historian Lawrence Ritter. "Right there -- 40 years too late -- I learned the secret of successful hitting. It consists of two things. The first is clean living, and the second is to bat against a pitcher who's laughing so hard that he can hardly throw the ball."
Regular Tyee contributor Tom Hawthorn is a Victoria sportswriter who has two articles included in "The Way It Looks From Here," a new anthology edited by Stephen Brunt (Knopf).