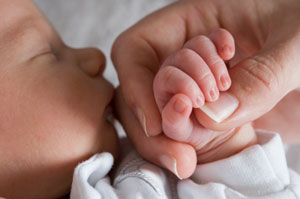 [Editor's note: Names have been changed to protect their identities.]
In the kitchen of Anne Fraser, clean baby bottles are neatly stacked upside down. Her living room is filled with toys. It's a world likely familiar to any young mother who spends time at home with a toddler, as does Anne. A world even a bit humdrum, to some. But not to Anne, a petite blonde woman who once had every reason to fear she would never have a baby to care for.
Seven years ago, Fraser tested positive for HIV and Hepatitis C. "I thought it was a death sentence and I thought I was going to die," she recalls. At the time, she was a cocaine and heroin addict living on the streets of the Downtown Eastside of Vancouver. Overwhelmed and shocked by the diagnosis, she stepped on the gas pedal heading into oblivion. "I was overdosing on a daily basis."
Fraser wasn't sure how or when she got infected with HIV. "I wasn't careful with my needle use, I wasn't careful about people I was sleeping with, I wasn't careful about anything," she says. Fraser believes she could have contracted HIV anytime between 2000 and 2002. Days, months and years are a blur on the streets.
During her first year on the streets she had a baby girl and put her up for adoption. "At that stage in my life, I wasn't ready to have a baby. But I had always hoped that I would be able to have another one. I knew how much I had loved my daughter." Struggling with a cocaine addiction and an abusive relationship after her giving up her daughter for adoption, she also developed an expensive heroin addiction that on some days cost her over a thousand dollars. The pain and hurt that she caused her daughter still haunts her today.
Fraser was acutely aware that she was taking the same path as her mother. Her mother, Dawn, had abandoned her and her two younger sisters to live in the DTES, after her father died of a heroin overdose, when she was 12 years old. Dawn is also HIV-positive. After being brutally beaten with a claw hammer and left to die in a dumpster, Dawn left the DTES seeking treatment in the hopes that Anne wouldn't follow the same path. Yet as her mother cleaned up, Anne left for the streets when she was 18, "I had so much going on, I just let go."
Rough road to clarity
Fraser's life began to change in June 2005, when she was convicted of assault with a weapon. In a DTES alley, two intoxicated people attacked her with a chain over drugs. Fraser fought back and hit them with a chain. It was the first time she received a substantial jail term -- six months at Alouette Correctional Centre for Women (ACCW). Prior to that Fraser only had brief jail terms for minor trafficking offences.
At 5-foot-4 she entered the prison looking deathly-ill at 78 pounds. But she quickly gained 90 pounds while she detoxed and had regular meals in prison. Dr. Ruth Martin, Alouette's family physician educated her about HIV and Hepatitis C and they discussed medications. Martin also encouraged her to inform her family to her whereabouts.
Fraser explains while in prison she had time to get some clarity and rebuild family bonds. "I knew if I continued to do what I was doing down there, I was going to die," Fraser says, "I wanted to do something different." She didn't want the lonely and isolated life that she had in the DTES anymore. For six years, Fraser had never gone to shelters, even on cold winter nights. Doing drugs had been more important. She would stay awake for days until she collapsed outside Insite or in a random doorway and repeat the cycle.
Upon Fraser's release, her mother offered her support and a home. Fraser continued to educate herself about HIV through the Internet, books and the Positive Women's Network (PWN). The PWN's retreats were a great opportunity to network with other women, she says. She learned about Oak Tree Clinic, a women and family clinic which specializes in treating HIV-positive women.
This led her to ask her infectious-disease physician if she could have a baby in the future, when she cleaned up. The positive response gave her hope. In the past, Fraser had attended several treatments centers, but she didn't have the desire to stop using. Now, Fraser was ready and knew what she had to do. This past Halloween, she celebrated four years of being clean.
Fraser met her current partner, Brian Simpson, when she started attending weekly Narcotics Anonymous meetings. When she informed him about her HIV status, he didn't respond negatively, or end their relationship. Simpson responded pragmatically. He wanted to know what they would have to do to have children. He wanted children as badly as she did.
Helping women with HIV plan pregnancies
In 2006, Fraser told her doctor she was ready to do what was necessary to have a baby. She tackled her Hepatatis C by doing the pegatron treatment for seven months and she stablized on medication that was pregnancy safe. "I didn't want to take a chance," she says. "I didn't know when I was going to get pregnant, but knew I wanted to."
It's more and more common to see women with HIV plan their pregnancies, says Dr. Deborah Money, executive director of Women's Health Research Institute and an obstetrician/gynecologist who heads up the prenatal program at Oak Tree Clinic. Money says approximately two-third of HIV-positive women she treats have come in for either pre-pregnancy counseling or in some way their pregnancies. "There's not the same number of surprise pregnancies or new HIV-diagnoses in pregnancy that we were getting 10 years ago," she says.
Since 1996, the treatment of highly active antiretroviral therapies has led to a huge reduction in AIDS-related deaths. As a result, a growing number of HIV-positive women are opting to have children. A survey by Dr. Gina Olgilvie, associate director of the division of STI-HIV prevention for the BC Centre of Disease Control, found that 30 per cent of young HIV-positive women in British Columbia hoped to become pregnant in the future. Oak Tree Clinic began in 1994 out of recognition that more women and children were being infected by the disease, Money says. People can no longer assume that women with HIV don't want children.
Yet while most people are aware that people with HIV are living longer due to antiretroviral therapy, they remain ignorant surrounding the issues of HIV and reproduction. "People thought in the days before HIV meds that all HIV babies got infected. In the worst days it was only 25 per cent to 30 per cent of babies that became infected. And in this day and age, I think people still don't realize that, with good medical care, we can almost completely prevent transmission," Money explains.
Fraser definitely agrees with Money that people have misconceptions about HIV and pregnancy. "If they see someone who is HIV positive and pregnant, they assume they are going to have a HIV positive baby and that's so not true," she says. People mistakenly assume that her son and partner are HIV positive. They also think that a child from a mother with HIV will have problems later on in life, she says.
Fraser believes it's important to be educated first before planning a HIV pregnancy. Prospective parents face countless issues: transmission, the impact of pregnancy on their health, possible long-term effects of babies exposed to HIV medications and how their illness may affect the child.
If a woman is HIV positive and her partner is not, they can get pregnant at home without assistance. Doctors still don't advocate unprotected sex. Martin advises her patients to map out their menstrual cycle to determine when she's ovulating and most fertile. During ovulation, the male partner should try a number of times to produce a semen sample and immediately use a syringe and insert it into the women's vagina -- the so-called "turkey baster" method. Martin realizes that people take their own risks and may get pregnant through unprotected sex. The risk is lower if the HIV infected person is taking medications and his, or her viral load is reduced below detectable levels, she says.
Telling family can pose emotional risks
Before trying to get pregnant, Anne and Brian had tons of questions for their nurse. They had hour-long discussions about what was safe. Fraser says it's important that her partner doesn't live in fear. While Simpson believes that if he ended up getting HIV, it's meant to be, Fraser doesn't agree. She doesn't want him, or any future child to go through what she's had to go through -- the medications and constant struggles with infections.
At first, they tried the turkey baster method, but when their attempts failed they talked to the doctor. They learned that the risk of transmission to Simpson was low because Fraser's viral load was undetectable. On their first try, Fraser got pregnant through unprotected sex. When Fraser learned that she was pregnant at the doctor's office, she wanted to share the good news. After telling her partner, she told her uncle, who she regards as her surrogate father. Her uncle told her she was being selfish for risking her baby's health due to her HIV-positive status. She was extremely hurt by his response.
Money says social workers and nurses at the clinic work with their patients about whether or not they should inform their family members and friends about their HIV status. There's no legal obligation to reveal their positive status, except to their sexual partners. "In some cases, it's much safer and better not to tell anyone," Money says, "in other cases, disclosure to extended family and friends is very supportive." Fraser, who wanted her family informed about her HIV-status, was able to change her uncle's opinion, by taking him to talk to the nurses at Oak Tree Clinic. He's now thrilled to see her son, Austin take his first steps and now supports Fraser's decision to have a baby.
Fraser did not breast-feed Austin, due to risk of transmission. A child born to an HIV postive mother will be tested several times: at birth, after 6 weeks when the AZT treatment is finished, and at 18 months. Latest tests show Austin is HIV-negative, Fraser says.
'Women in2 healing'
After Fraser's release, she reconnected with old friends from prison through Facebook and founded a group called "Women in2 healing." Later, Martin formed a community-participatory research to develop a long-term health strategy to help women after their incarceration with the group of former incarcerated women, academics and volunteers. For the last two years, Fraser has worked as a research assistant with "Women in2 healing" at UBC. Fraser's current project explores available health resources for Aboriginal women in Mission, following their release from prison and possible barriers to their access.
Fraser also makes countless presentations around B.C. on drugs and alcohol. She also leads a support group for teens. As a teenager who did drugs, she easily relates to them and vice versa. "I do whatever I can to try to help my community and if me telling my story helps anyone, I've done my job." She believes teenagers have to be made aware that their split decision to have sex, or use drugs can have life-long consequences.
She has also attended forums to support the reinstatement of the mother-baby program at ACCW, which allowed incarcerated women to keep their newborns in prison. She firmly believes that the program, which was cancelled quietly by the Harper government in the spring of 2009, inspired her to change her life.
Fraser smiles and says her life has completely changed in the last four years. "I have friends today, whereas before I didn't have any," she says, "and my family is really supportive -- that's the key to being able to stay clean." She recognizes that she lived in hell and now she has a great appreciation for the life she's been given. "I wouldn't change it for anything. I have a beautiful son which I never thought I would have. I lived my life everyday thinking I was going to die, not caring if I lived or die. But today I don't have to live like that," she says.
And then she adds a bit of news. She is expecting her second baby in August.