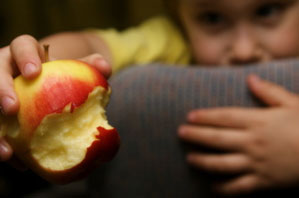 By some estimates, there are more than 10,000 varieties of apples in the world. When European settlers first arrived in North America, they brought along the staples, "the dog and horse and cow," and "the seeds of the apple," wrote Henry David Thoreau in Wild Apples. With each passing wave of immigration, the seeds and saplings of these early orchards continued westward, making British Columbia a pomologist's paradise, with some 200 heritage varieties of apples.
In 1991, the Friends of the UBC Botanical Garden held a one-day festival to offer tastings from their 40 or so varieties. By 2006, the festival had expanded to two days to accommodate the 12,000 people seduced by the rarified opportunity to sample 60 or more varieties and see another hundred on display. As organizer Tish Davis suggests, "There's such pleasure in rediscovering the apple."
At the 1997 festival, Sally and Wilfrid Mennell brought along the fruit of a chance seedling that grew up on their orchard in the Similkameen Valley. Wilfrid dubbed the new variety the Ambrosia, food of the gods.
Clearly, he thought it was pretty good.
Call it fate
I wanted to be like Eve and eat my first Ambrosia right off the tree, so I set out to visit the Mennells on the last day of summer. Their home orchard is nestled on the bench overlooking Cawston. I am still taking in the view when Wilfrid bounds from the house to welcome me. At 59 years of age, he's a tight coil of energy with a trim elfin beard and kindly hazel eyes that dart after his thoughts, here then there, then over there.
Let me try to untangle some things.
Confluence number one: Wilfred's brothers, Brian, 56, and Robert, 52, always wanted to farm, but Wilfrid dreamed of a life in the theatre as a director and playwright. He studied English at university and moved to London. Then Wilfrid's father fell ill with cancer and Wilfrid returned home. His father recovered, but in that year, Wilfrid discovered that he rather liked looking after the orchards. His brothers were buying land in the Similkameen Valley and so Wilfrid did too.
Confluence number two: Sally Mennell is a tall, striking woman with silver hair and a sure will, as precise in conversation as Wilfrid is kinetic. Born in South Africa, she joined a political writers' group in university, some of whom agitated against apartheid. When the police started visiting her family's home, Sally's father suggested she travel for a while. She ended up in Vancouver, where she met Wilfrid and became his partner in this adventure.
Confluence number three: Wilfrid worried that Sally wouldn't take to country life, but she quickly fell in love with it. After moving to the valley, Sally bought her own apple orchard.
Confluence number four: Wilfrid and Sally were in the process of replanting Sally's orchard with high-density dwarf rootstocks that produce more fruit per acre and serve as a base for grafting on new higher-earning varieties. And yet, when a seedling grew up amid the delicate and expensive new cultivars, Wilfrid did not pull it.
The seedling became a tree, and still Wilfrid did not pull it out. He made a note to check on the tree when it began to produce fruit, but by the time he did, the pickers had stripped it clean. "The apples just disappeared and, you have to understand, pickers get really sick of apples," says Wilfrid. "Pickers hate eating apples. So then I really began paying attention."
The following year, Wilfrid and Sally beat the pickers to the tree and discovered that not only did its apple taste like "food for the gods," but, cut open, the flesh would remain white for heavenly hours. It was all very strange.
The apple that beat the odds
It's 6:30 a.m. and Wilfrid is giving me a tour during morning rush hour in the orchard. The pickers have arrived and Wilfrid is assigning rows. The Spartans are on. And the Ambrosia?
Wilfrid pulls out a pocket-sized colour chart with enough chips to make Benjamin Moore jealous. According to the chart, the Ambrosia has coloured up nicely, but that's not the final test. He slices one in half, douses the white flesh with iodine. "It's a trick you can do at home," he says. If the apple is ripe, the iodine should blacken just the outside edges. But almost the entire flesh darkens, indicating the starch has not yet started converting to sugar.
Another day until harvest, he predicts.
Four days later and the Ambrosia is still not ready. I duck out to visit Wilfrid's brother Brian and his partner, Linda Edwards, who have a 56-acre orchard down the road. Brian was the first to plant the Ambrosia commercially.
Which brings me to confluence number five. Brian and Linda became partners about the time Wilfrid was puzzling over the wild seedling rudely sprouting among his new cultivars. Linda grew up on a farm in Saskatchewan. Back then, girls did not become farmers, so she became an expert, taking a master's in entomology. She worked as a consultant to fruit growers in the Similkameen and Okanagan, for both organic and conventional orchards. One of the main pests affecting orchards then was the codling moth. Linda began to see pesticides as the problem, rather than the codling moth.
"Some of the conventional pesticides were toxic," she says. "I'd get headaches going into the orchards."
To combat the coddling moth on their own orchard, Linda and Brian stopped spraying conventional pesticide in order to re-establish a balance of natural predators and parasites. They also brought in a non-toxic control recently developed at pioneering organic orchards, called mating disruption. This entails confusing the hell out of male codling moths by tying twist ties to trees that have been drenched in a synthesized version of the scent female moths send out to attract males.
The more Linda learned about working with nature rather than against it, the more sense organics made to her. "I was really fortunate because, over a number of years, I got to see what the organic guys were doing, and the conventional, and to compare the results." Linda encouraged Brian to go organic, then Robert and Jane followed, and, finally, Sally and Wilfrid. Today, Linda estimates that nearly half of the Similkameen's 2,000 acres of fruit trees are now organic.
And the organic market proved to be a boon for the Ambrosia. According to researchers at Agriculture and Agri-Food Canada, an experimental orchard might produce 750,000 trees in 20 years, but only 100 of any quality; only a tiny handful of those pass all the tests necessary to bring a new apple to the general public. The conventional, big-volume sellers, according to Wilfrid, looked at the Ambrosia and said, "Come back when you have a thousand bins." The organic market, on the other hand, greeted the Ambrosia with absolute excitement. "Brian sent a bag of apples to a seller in the United States, and he said, next year, I want everything you can produce."
Says Sally: "We had the incredible fortune of this apple coming to us, and one does feel a strong sense of responsibility. We asked ourselves, how do we do what's best for this apple in the long run?"
Without a model to follow, they turned to the newly founded Okanagan Plant Improvement Company (PICO) for guidance and eventually agreed to develop the new variety together. Wilfrid and Sally obtained a patent on the Ambrosia, giving them exclusive ownership for up to 20 years and royalties for the sale of each tree, which they share with PICO.
To help market the new apple, Wilfrid and Sally turned to those they wanted it to benefit: B.C. growers. After gaining approval from British Columbia's minister of agriculture, B.C. growers established the New Varieties Development Council, a democratic, grower-driven organization. The council voted a $1 levy on each box of Ambrosia sold, to pay for development and promotion costs, which attracted matching industry and government funds. It hired a public relations firm to create media buzz and held an Ambrosia recipe contest -- Karen Barnaby, a top Vancouver chef, won for her Tunnel of Ambrosia Cake.
Once consumers tasted the Ambrosia, they wanted it. Growers sold early shipments of organic Ambrosia for $1.10 a pound, and it continues to be a price leader among B.C. apples. And what did this mean for the growers? Linda laughs. "My God," she says. "We paid off our mortgages."
A slice of the original
On the last day of my visit, Wilfrid decides that the Ambrosia are ready to harvest. But there is something I still have to do: see the chance seedling in Sally's orchard, the one that started everything, the one they now call the Mother Tree.
This quiet lush parcel lies on the lower part of the bench, set far back from the road. The land here pitches and rolls, feels wilder, primordial. At the end of one undulating row is the Mother Tree. And it really looks like a mother that has produced about a million baby trees. The trunk is thick and gnarled and gashed, with slashes from a thousand wounds to extract bud wood. The canopy is a head of writhing snakes—the branches grown out to provide scion wood rather than carefully pruned for fruit.
Wilfrid and Sally marvel at the tree. It must be 19 years old now, they guess, and this is the first summer they haven't raided the branches for wood. Left alone, the tree has produced a bounty of apples.
Strangely enough, I forget to pick one. For even stranger, I am moved by a queer stirring, a feeling of cosmic connection between this tree and this family and this valley. And maybe also with something larger -- some knowledge of working with nature that we might all learn yet.
Luckily, Wilfrid remembers to pick an Ambrosia, one from the highest branches, sun-warmed, perfect. Back at the house, Sally orchestrates a tasting but, of course, it's not that simple. Nothing is with the Mennells. They've set up a taste test, the Ambrosia along with four other varieties they've collected at their exact moment of ripeness. I go along with it, blindfolded.
One apple stands out. It is crispy, with a satisfying bite, and sweet but not overly. It's juicy yet has a clear, clean, refreshing finish and, I'll give Wilfrid this, notes of the divine.