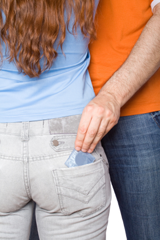 A new report is buzzing about how lots of Canadian teens are in the dark about the birds and bees. The good news -- compared to the Puritans down south and their teen sex state of emergency, we're still looking pretty good. The bad news -- almost everyone looks good compared to them.
The report -- one of the largest Canadian studies on teen sexual health, which surveyed 1, 216 Toronto-area teens from diverse geographical areas and cultural backgrounds -- was released yesterday. It found out some encouraging stuff -- like that 92 per cent of 13-18-year-olds have had some form of sex ed (most of the eight per cent who miss out are new to Canada), and that those teens who get access to good information tend to engage in much less, or no, high-risk behavior. It also found that there aren't large differences between the sexual behaviors reported by young men and young women, including high risk behavior. Yay.
But though we're waaaay better at providing information about sex to our young 'uns than Americans are, we sure shouldn't be smug. Among the red flags: STI rates are up and sexual knowledge is down.
Teens still ignorant about sexual health
"There is a significant gap in the sexual health knowledge of youth, particularly younger teenagers under 16," concludes the 52-page report, produced collaboratively by Planned Parenthood Toronto, York University, the University of Toronto, Wilfred Laurier University and Toronto Public Health.
"Despite rising STI rates creating the potential for increased HIV infection among youth, their knowledge about the disease has declined since 1989. Youth are now more likely to believe there is a cure for AIDS and fewer know about blood tests for HIV. Some believe the birth control pill protects against HIV. Their knowledge about emergency contraception is often inaccurate, and there continues to be confusion among youth about how to use condoms effectively. In general, Canadian youth lack comprehensive knowledge of the risks associated with unprotected sexual activity and the necessary skills required to ensure the protection of their sexual health.
"At the same time, youth complain about their sexual health education, claiming it focuses too much on biology, offers too little too late, provides few opportunities for discussion, is often non-existent, and is seldom sex-positive in nature. Another concern is its relatively heavy focus on the risks and problems of adolescent sexuality to the exclusion of sexual desire and healthy sexual relationships. In addition, the 'one-size-fits all' approach to sexual health education fails to address factors that influence the sexual health needs and practices of diverse youth communities. The emphasis on vaginal intercourse as 'real sex' limits the possibility for considering other forms of sexual pleasure and excludes the sexual experiences of sexually diverse youth. Cultural practices at odds with standard sexual health education are seldom addressed. Given all of these limitations, there is an urgent need for more effective sexual health education for youth."
Uh-oh.
Adult attitudes the problem
There are some systemic problems preventing teens from accessing enough information (more on those in a minute), but underlying all of those is a bigger problem: many adults don't think teens should be sexually active. That leads to denial that kids are active and therefore need information. And while the head-in-the-sand approach might work for ostriches, apparently it doesn't work so well in mitigating high-risk teen sexual behavior.
In addition to the mix of denial and ignorance, there's stigma. As one service provider in the report said, "parents want to know where [teens] go all the time. If they find out they went [somewhere to find out about] sexual health, the family finds out, honour is broken."
Those kinds of attitudes make teens themselves shy away from going to clinics, talking to their doctor, school nurse and so on, partly because they fear the disapproval of their parents, and partly because they fear that the service providers will also judge them. Or worse -- not keep their information confidential. That's one hot aphrodisiac.
I guess some adults figure teen girls should just be sitting around shrieking about Robert Pattinson (which is fun and all...).
Teens need practice space
A couple of weeks ago, Cambridge veterinary anatomist David Bainbridge released a book titled Teenagers: A Natural History, in which he argues that adults currently struggle to understand teen sex because they misunderstand the teenage decade generally, and don't realize it's the toughest and most crucial stage of our species' development.
In an interview with the Globe and Mail, he says that many mammals take a decade to grow up, but humans take twice as long, and that second decade is when we develop cognitive reasoning, social skills, and risk-taking abilities. "You have to learn to deal with risk-taking," he says. "You have to learn to play with your social interactions and interact with different people in different ways." 20,000 years ago, teens fell out of trees or got eaten by lions, but now they drive on wet roads or have unprotected sex. So nowadays, important teen development is misunderstood as rudeness or the inability to avoid high-risk sexual behavior.
What teens need is information and practice -- including when it comes to sex. Then they do develop well. "Many people are sexually happy and well adjusted by the time they get to 21," Bainbridge says. "And usually, that's because they've had sex with people. There's a bit of a contradiction in adult attitudes to sex, that we want people to get to that stage by their early 20s, and yet we don't actually want them to have any sex."
It seems parents need to wake up and realize teens are going to be sexually active, and that that's usually not a bad thing if they have enough info.
The solution: information, access, trust
The report offers a few dozen recommendations about how to improve the level of information in Canada, each of which have been proven to greatly reduce teen high-risk behavior: offer mandatory sex ed from kindergarten to Grade 12, put health centres in all neighbourhoods (teen centres are often clumped right now, leaving large unserviced areas), tailor programs to meet the needs of diverse populations (clinics and information aren't culturally diverse enough right now), provide free or low-cost condoms and birth-control pills, ensure stable funding (centres are often funded only for two to five years at a time), communicate more about confidentiality and privacy rights, and build sex ed into ESL curriculum.
For teens to start behaving more responsibly, it seems adults need to recognize that the birds and the bees buzz around our teen kids no matter what we have to say about it. Offering the facts of life might be a good start.
Related Tyee stories: