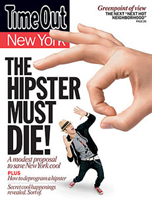 The evolution of a cool neighbourhood seems to follow a predictable pattern. Skinny-jeaned, angular-haircutted young bohemians move into a rough part of town, make it palatable for creative professionals and people with money, in turn luring developers who cash in by building condos and Lululemon outlets, and before you know it, you have Kitsilano in Vancouver.
The now blandified area spurs the next generation of American Apparel unitard thong-lovers somewhere else, thus completing the life cycle of hip.
If hipsters were a fungus, they'd be lichens -- pioneers that make the first inroads into the hard rock of underground culture. They're often among the first gentrifiers of an area, turning tough urban neighbourhoods into bohemian bastions of urban chic.
Poor is no joke
But if there is a hipster ethos, it bears a host of contradictions. For one, most of the scenesters I know are sympathetic to Vancouver's growing wealth disparity, the increasingly displaced Downtown Eastside community, and other effects of gentrification, but rarely do they acknowledge being a cause of it.
Worse, the hipster's love of all things ironic means 'slumming it' is somehow cool -- strange, considering it's practiced by people who are often well-educated, liberal humanists.
Living in a poverty-stricken part of town, eating at crappy diners and dressing like a hobo might be chic when you're in on the joke. But it's also a slap in the face when the jokester is an upper middle class ex-suburbanite feigning homelessness for no apparent reason.
Take Vancouver's underground-ish nightlife. For the past few years, the indie scene has hopped from bar to bar in the Downtown Eastside -- the Astoria, the Balmoral, the Royal Unicorn Cabaret, the Waldorf, etc. I wonder if regulars appreciate being taken over, and whether there's any acknowledgement of the change when these original communities are eventually displaced.
Why is poor somehow more real, and skid row more authentic? And how does irony excuse knocking people who happen to like trucker hats and greasy diners? This isn't to suggest that class segregation is the answer, but crossing socioeconomic boundaries does require a degree of sensitivity and emotional intelligence.
Debating the hipster soul
Adbusters recently ran an anti-hipster piece that criticized the group for being vapid, unoriginal and flaccidly subversive. The piece was clearly a polemic, to which Sean Orr at Beyond Robson made a reasonable defence, noting that a lot of so-called hipsters are socially conscious, politically active, and just normal, creative people who happen to have an appreciation of style. He also noted that counter-culture has always been co-opted by shallow fashionistas who like it for the look, and these types are the real target of the Adbusters piece, though it's not mentioned outright.
Perhaps the point is that whitewashing an entire group of people is, well, kind of dumb, and that labels like hipster create inaccurate stereotypes.
That said, the Adbusters critique might be a pretty accurate assessment of the fashionistas. But it's not the point. Yes, it's hard to be authentic in a culture saturated with irony and overloaded with bullshit. I think we all knew that.
Who, me?
The hipster malaise -- riding a bike, making arts and crafts, feeling superior for thinking you haven't sold out -- stems from the frustration of genuine-identitylessness. But latching onto the mores of the underprivileged is just as misguided as driving a blinged out Benz and wearing diamond grills.
I don't know, maybe I'm a hipster. I have shaggy hair, I wear hoodies almost exclusively, and I ride an old bike. I even wrote an article in these pages a few years ago extolling the virtues of legions as watering holes for young people. But now whenever I go to a karaoke night at the Main Street Anavets -- inevitably teeming with deep v-necks, oversized summer scarves and fluorescent checkered vans -- I can't help but wonder what the handful of regulars think. Did they have any say?
Related Tyee stories: